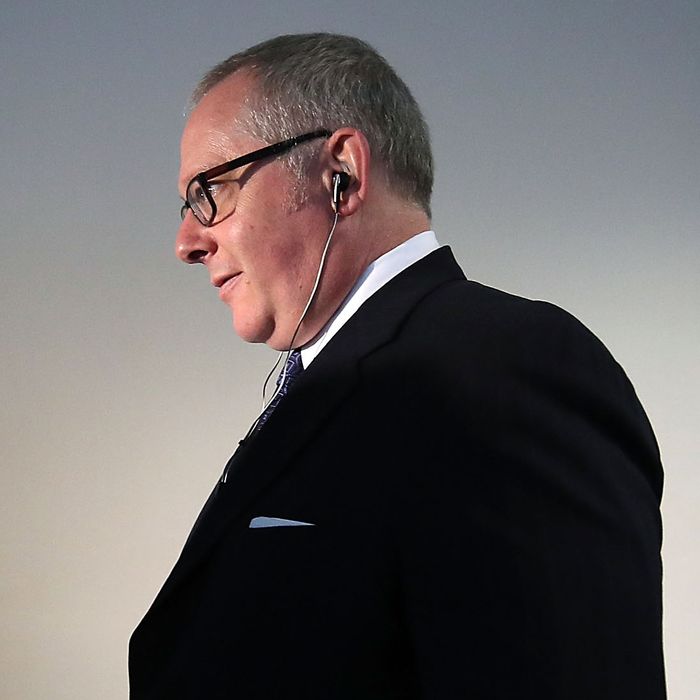 Robert Mueller has some questions for Michael Caputo.
Photo: Mark Wilson/Getty Images
Wednesday morning at 11:30, Michael Caputo was directed to meet a sedan with dark-tinted windows outside of the Washington, D.C., hotel where his lawyer, Dennis Vacco, is staying. The sedan was arranged by the government for the purpose of discreetly transporting Caputo to a mysterious office building where, once inside, he would arrive to his noon appointment with federal investigators working for special counsel Robert Mueller. Caputo confirmed the scheduled meeting to New York.
A year into his review of Russian interference in the 2016 election, the former FBI director has questioned dozens of individuals connected to Donald Trump's political activities. A senior official on the campaign during the Republican primary with an unusual background as a political operative in the U.S. and in Russia, Caputo is the latest to march through the corridors of what he refers to as the deep state to answer questions in an investigation he's called, "an attack on the presidency."
Last July, Caputo spoke to the House Intelligence Committee, and this past Tuesday, he appeared before its counterpart in the Senate. After three hours, he delivered a closing statement of more than 800 words in which he condemned the investigation and asked who he could blame for the negative effects it's had on his life, in the form of death threats and more than $125,000 in legal fees he said have forced him to dip into the college fund for his kids and consider moving from his home in Buffalo to Washington or Miami, where he believes he would make more money (last week, he announced the Michael Caputo Legal Fund). His statement concluded, "I want to know because God Damn you to Hell."
His Wednesday interview comes amid new revelations about the nature of Mueller's interests and his resolve to get answers from the president. It also comes as Caputo, who is 56, emerges from a challenging year in an unsettled emotional state to begin a different act: working with an ensemble of creative types, including the celebrated Russian ballerina Diana Vishneva, on Sleeping Beauty Dreams, an avant-garde dance production about the internal world of the cursed princess during the one hundred years she was asleep, premiering in Miami in December before going on to New York and then on what Caputo says will be a 30-city tour in 2019.
The Donald Trump campaign and a trippy, highbrow performance-art show based on a fairy tale might not sound like events that would attract the same talent, but Caputo has always been conflicted about his compulsion to join political campaigns, which he likens to an addiction, and his interest in the arts. (He is a Deadhead, not uncommon among conservatives, to the extent that he cried when he told me that he missed Jerry Garcia's last tour, and he basically doesn't listen to any other music.)
Optimistically, Caputo sees this first week of May — double-booked as he is with Official Inquiries — as the end of the era of the Russia investigations that control his life, even if, in reality, he and Vacco understand that he may be called for yet more interviews, or subject to yet more document requests, either by the special counsel or the committees. The dream for Caputo is to leave all of this behind, work on the Russian ballet, write a book (he's acquired an agent), land a paid TV talking gig, consult politicians on the side, but never work on a campaign again. Campaigns, he says, place staffers like himself in unique legal jeopardy. He blames this solely on the Democratic Party, and he does not entertain the idea that perhaps the problem is specific to Donald Trump. (Gordon Hensley, a pharmaceutical consultant and friend of Caputo's since their days working for George H.W. Bush, said that to "generalize" about the potential legal perils of working on Republican campaigns was "bullshit." The problem, of course, is the kind of campaigns one chooses to work on.)
But Caputo is done with the whole racket, he says. "I'm pressing play on my life again." With this, he referred to what he considers the diversionary pause of his political activities over the last several years. After Bush, Caputo went to Russia, where he served as a press aide to Boris Yeltsin and a consultant for pro-Putin Gazprom-Media (Caputo told New York that he met Putin in the early 1990s, but that he never worked for him. He added that he only worked for Gazprom-Media for "ten days" in 2001, and claimed that he "wrote very critical things" about him.) He also worked for what he called Rock the Vote Russia, an MTV-style campaign to encourage young Russians to vote. Asked about the unusual degree to which Russia figures into his biography, Caputo said, "I studied Russia in college and became a big admirer of Russian literature and ballet. I worked hard in the Cold War to defeat Russia, and after the Wall fell I grew curious about the Russian people. I wanted to see the results."
Now, he is "going forward on things I wanted to do before Donald Trump came down that stairway in Trump Tower," he said.
A friend he met in Russia — "he managed, like, the Russian Rolling Stones" — eventually joined him in the U.S. and they discussed going into the music-festival business. "And then I got mixed up in the Trump campaign, and we never did one," he said, noting with regret — as he frequently does — that he once promised his wife he'd never work on a campaign again. "I should've listened to my wife," he said.
The Office of Special Counsel first reached out about Caputo's stint on the Trump campaign last month, asking Vacco if he would be, "willing to accept the service of a subpoena," on Caputo's behalf. Vacco responded by saying a subpoena wouldn't be necessary, he told New York, and instead volunteered his client for an interview. "I was not surprised by the call, although I was always hoping that the call would not come," Vacco said.
A former United States Attorney and attorney general for New York, Vacco has represented Caputo for a little over a year, but as a Republican traveling in similar circles — Vacco is also a Buffalo native, and both men consider Carl Paladino a "dear friend" — he's known him much longer. "I believe Michael played a diminutive role on the campaign and certainly didn't play any role that put him near any of the allegations that the Special Counsel Office is ostensibly looking into," Vacco said. "But we decided that we were not going to stonewall them."
Caputo told New York that he produced "upwards of a thousand" documents at the special counsel's request, including email correspondence with Roger Stone, Paul Manafort, and Rick Gates, but Vacco said his client was mistaken and likely confusing the requests of the congressional committees with the special counsel. "There hasn't been a demand for any documents," Vacco said. (Manafort and Gates, former campaign aides, were indicted by Mueller last October, and Gates is now cooperating with the investigation. Asked about the matter on Monday, Stone, an adviser to Trump since the '70s, told New York that he had not yet been contacted by the Office of Special Counsel.)
Caputo said that he expected his Wednesday interview would be similar in focus to his appearances before the congressional committees: his time on the Trump campaign, where he was the director of the New York primary and then a senior communications adviser; his work in Russia beginning in the '90s; and his friendships with Stone and Manafort, both of whom the White House reportedly believes to be of continued interest to Mueller.
"There is nothing Michael Caputo could tell them," Stone told New York. "It's a waste of time, because he knows nothing about Russian collusion — and neither do I." He joked, "I would say he's a comrade, but that might get me indicted."
On Sunday, before his trip to Washington, Caputo spent four hours at a place called the Schvitz, a Russian bathhouse and sauna, or "banya," in Buffalo. "It's 220 degrees, and you go in and out of an ice bath and a sauna, and then you lay down on your stomach and a man beats you with birch, and then you get a massage. That's how I'm preparing for Mueller," he said. He laughed.
Afterward, he drove to see Vacco, who "scolded" him birchlessly about the importance of "behaving," i.e., not responding to investigators the way he responds to journalists or commentators who offer critical assessments of the president on CNN, like when he dismissed Stormy Daniels by saying, "She once said that this didn't happen. She's changed her position, which I guess she does five or six times every video she's ever done." (Kirsten Powers shot back, "I think you missed the whole #MeToo movement that just happened.")
"Michael talks too much about what he and I talk about. But yeah, we met for several hours on Sunday to prepare," Vacco said, "and that's normal and logical and what we need to do." He and Caputo planned to meet again Wednesday morning, an hour before the FBI mystery machine would whisk them off to what the Washington Post has described as a loading dock in the back of a drab concrete office building in southwest Washington.
But even a few hours before his date with Vacco or with Mr. Witch Hunt himself, Caputo made time to talk about Sleeping Beauty Dreams, requesting that caution be exercised when discussing the show's creative director, Rem Khass, who Caputo and the ballerina, Vishneva, told me fled Russia to seek asylum in the U.S. "He ran up against some political things and it's not safe for him in Russia anymore," Caputo said.
Vishneva, on the other hand, is the toast of the Kremlin (and of American critics, who mourned her departure from the American Ballet Theatre last June). She splits her time between her home country and an apartment near the park on the Upper East Side that a real-estate agent would describe as having a lot of natural light. When I spoke to her there, sitting around a dining-room table with Caputo and a translator, she explained that, beyond knowing that Caputo worked for Trump, she didn't think much about politics in relation to the show.
"The whole theme of the show is 'What does it take to live happily ever after?'" Caputo said, "It's how do you get from cursed to happily ever after?" He added, "I think it's a really important show, but to me, it's an apology to my wife and children, more than anything."
Earnestness aside, surely Caputo sees some humor in the absurdity here, with a figure involved in the House, Senate, and Justice Department Russia investigations making a new start for himself with … a Russian ballet? "Sure, I see the humor, it makes me smile," he said. "As far as I'm concerned, all these people who continue to freak out over the bogus Russia collusion delusion? They can continue. I'm not participating."