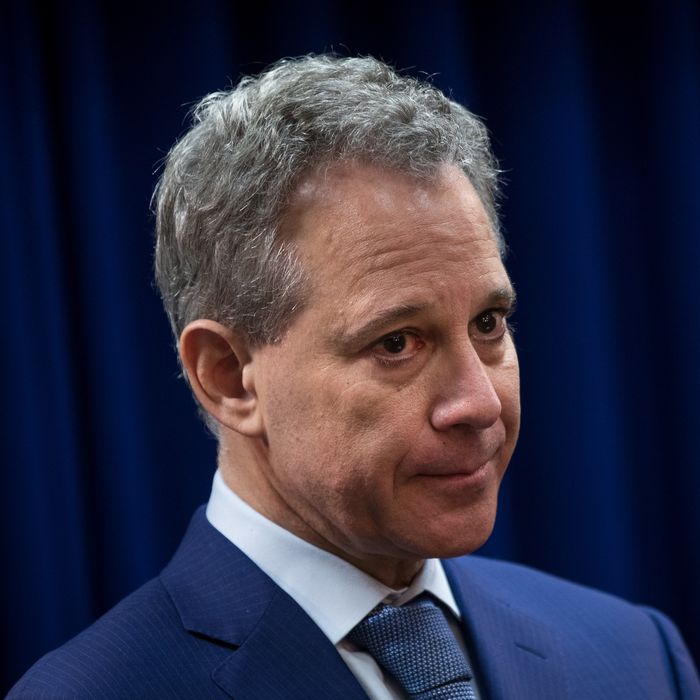 Eric Schneiderman has been regarded as a champion of women who were abused and harassed. Now he stands accused himself.
Photo: Drew Angerer/Getty Images
New York attorney general Eric Schneiderman announced his resignation on Monday night just hours after four women accused him of physically abusing them.
In a report from The New Yorker's Jane Mayer and Ronan Farrow the four women — three of whom had romantic relationships with Schneiderman, and a fourth who rebuffed his advances — accused him of choking and slapping them, and engaging in other controlling, demeaning, and threatening behavior. Two of the women, Michelle Manning Barish and Tanya Selvaratnam, went on the record:
They allege that he repeatedly hit them, often after drinking, frequently in bed and never with their consent. Manning Barish and Selvaratnam categorize the abuse he inflicted on them as "assault." They did not report their allegations to the police at the time, but both say that they eventually sought medical attention after having been slapped hard across the ear and face, and also choked. Selvaratnam says that Schneiderman warned her he could have her followed and her phones tapped, and both say that he threatened to kill them if they broke up with him. 
These are not allegations from way back in the day, like many that have finally come to light due to the recent reckoning over sexual harassment. Manning Barish dated the attorney general from the summer of 2013 until the end of 2015. Selvaratnam was with him from the summer of 2016 to the fall of 2017.
During that time, Schneiderman was positioning himself as a champion of the #MeToo movement. He filed a civil-rights suit against Harvey Weinstein and his company to secure greater compensation for the victims of the mogul's unwelcome attentions and alleged crimes.
Schneiderman, a Democrat, was first elected attorney general in 2010, and was planning to seek a third term this year. He is divorced and has a 24-year-old daughter.
Before stating in his resignation announcement that he continues to "strongly contest" the allegations, Schneiderman denied the women's claims to The New Yorker, suggesting they might be part of consensual role-playing:
In the privacy of intimate relationships, I have engaged in role-playing and other consensual sexual activity. I have not assaulted anyone. I have never engaged in nonconsensual sex, which is a line I would not cross.
Schneiderman's ex-wife Jennifer Cunningham was one of the few people who came to his defense. Cunningham currently serves as one of Schneiderman's political consultants, and in the New Yorker piece Selvaratnam claims she conferred with her on a cover story after the AG cut his face during a night of heavy drinking on the eve of Trump's inauguration.
New York mayor Bill de Blasio said he wasn't ready to comment on the allegations:
But other prominent New York lawmakers were quick to call for his resignation, including Governor Andrew Cuomo, Senator Kirsten Gillibrand, and the state Republican Party.
"I do not believe it is possible for Eric Schneiderman to continue to serve as attorney general, and for the good of the office, he should resign," Cuomo said in a statement.
"No one is above the law, including New York's top legal officer. I will be asking the appropriate New York District Attorney(s) to commence an immediate investigation and proceed as the facts merit," he said.
The New York Police Department issued a statement on Monday night saying it has no complaints on file against Schneiderman, but if any are received the department will "investigate them thoroughly."
Schneiderman was expected to run for governor one day, and he'd raised his public profile recently by mounting several legal challenges against President Trump and his administration. He filed a suit against Trump University in 2013, which eventually settled for $25 million. He also launched an investigation into Trump's charitable foundation shortly before the 2016 election. Trump then announced he would shut down the foundation, but Schneiderman said it couldn't be dissolved until the probe concluded. Last month the AG moved to close a loophole that would allow him and other local prosecutors to bring criminal charges against Trump aides who have been pardoned.
Solicitor General Barbara Underwood will take over for Schneiderman when he officially steps down at the end of the business day on Tuesday. Under New York's constitution, the state legislature will select his permanent replacement. Many names were already being floated on Monday night, including local stars like U.S. Attorney Preet Bharara and Fordham Law professor Zephyr Teachout, and little known state lawmakers. Assembly Democrats, who will likely determine who serves out the rest of Schneiderman's term, are meeting on Tuesday morning to discuss the issue.
The filing deadline for those hoping to run for the seat in the fall isn't until July 12. That will likely become a crowded race, if state lawmakers don't appoint someone who clears the field for November.
This post has been updated throughout.