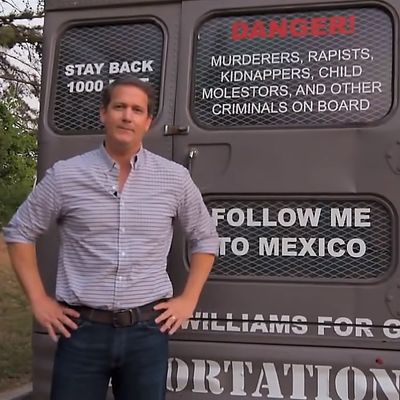 Michael Williams.
Photo: Michael Williams for Governor
Any hope Georgia state senator Michael Williams had that his "deportation bus" stunt would revive his flagging gubernatorial campaign has most definitely broken down, like the bus itself, as ABC reports:
The "deportation bus" that a candidate in Georgia's Republican gubernatorial primary is using to promote a tough stance on illegal immigration broke down Thursday, a campaign spokesman said.




State Sen. Michael Williams is taking the bus on a tour with stops in what he calls Georgia's "dangerous sanctuary cities." The former state co-chair for Donald Trump's presidential campaign says he wants to send people living in the country illegally "home."
The video he put up announcing this fascistic gesture was taken down by YouTube yesterday on grounds that it violated the platform's "hate speech" ban — but then was put back up. I guess there's a fine line between hate speech and just good solid pro-Trump politics these days.
But then the bus, which seems to have gotten a bad tank of gas, broke down. According to ABC, that happened on I-75 near the northwest Georgia town of Calhoun. That's interesting, since that's nowhere near the small handful of Georgia jurisdictions that have pushed back at all on cooperation with ICE — whether or not they merit description as "sanctuary cities." (An announced Williams appearance with his bus at a Cracker Barrel restaurant near the college town of Athens produced a crowd of protestors, but the candidate was a no-show).
Fact is, the mishap involving the "deportation bus" could be a metaphor for Williams's campaign. The first poll of the gubernatorial contest in a good while, from SurveyUSA (commissioned by an Atlanta TV station) showed the fiery MAGA-man running a poor fifth in the GOP primary field with just a few days of campaigning left. He's at a booming 3 percent, while Lieutenant Governor Casey Cagle is at 35 percent, followed by Secretary of State Brian Kemp (who has promised to round up "criminal illegals" in his own pick-up truck) at 17 percent, fellow conservative firebrand Hunter Hill at 10 percent, and "outsider" Clay Tippins at 8 percent. It looks like Cagle will be in a runoff with either Kemp or Hill, leaving Williams to rant and rave to himself or his unfortunate family and friends.
The SUSA poll also tested the nationally prominent Democratic primary between two state legislators with the same first name, and showed long-time front-runner Stacey Abrams leading Stacey Evans by a 43-24 margin with a third of the vote undecided. Abrams added to her long list of national progressive supporters with an endorsement from Bernie Sanders, while Evans is relying on a last-minute ad blitz to close the gap. The new survey showed both Democrats as competitive with Cagle, the GOP front-runner, in a general-election trial heat, with Evans a bit closer at 41/45 and Abrams at 41/46. The Democratic nominee in the last Georgia gubernatorial race, Jason Carter, lost by eight points.