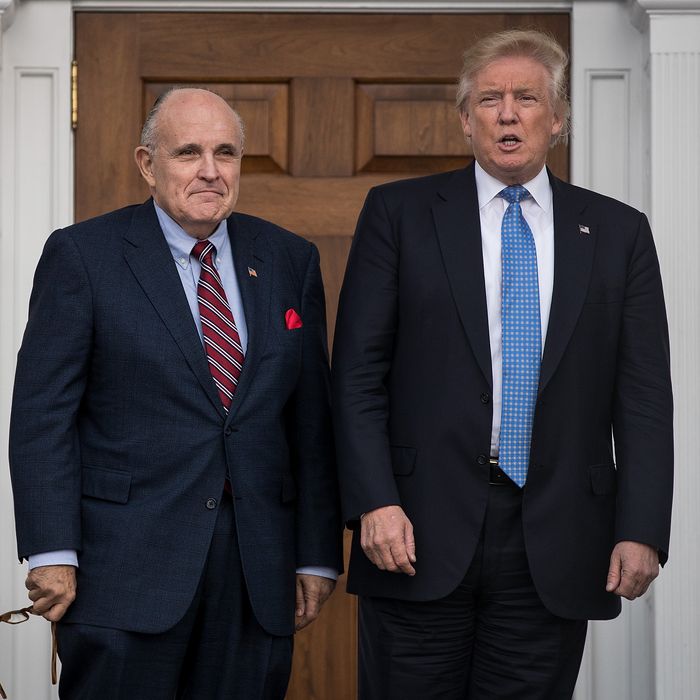 All I need in this life of sin is me and my similarly unhinged former mayor.
Photo: Drew Angerer/Getty Images
President Trump probably wouldn't appreciate the comparison, but it looks like he's going to fulfill Bill Clinton's promise of "two for the price of one" — except in this case, rather than a politically engaged First Lady, the American people are getting a second Trump: former New York mayor turned Fox News conspiracy theorist Rudy Giuliani.
In the two weeks that he's officially helmed Trump's legal team, Giuliani launched a campaign of leaks and unfiltered media appearances that was meant to undermine Special Counsel Robert Mueller's credibility. However, so far he's only made the Stormy Daniels scandal worse, and undermined Trump's arguments in three legal cases.
In several interviews on Thursday, Giuliani insisted that he hadn't angered the president by revealing that he reimbursed fixer Michael Cohen for the $130,000 he paid to Daniels — in fact, they'd hatched the strategy together a few days earlier. "He was well aware that at some point when I saw the opportunity, I was going to get this over with," Giuliani told the Washington Post.
Other reports suggest that Giuliani's unhinged Hannity appearance was the kickoff to a new strategy he and and Trump have been plotting for some time. As Politico explains, their theory is that Mueller will adhere to the Justice Department practice that a sitting president can't be indicted, so they're focusing on attacking him in the media to ward off impeachment after Democrats (presumably) retake the House in November.
"The public strategy has now subsumed the legal strategy," said a source who has worked with Trump's lawyers. "The public stance is fight, fight, fight. So the legal strategy is now fight, fight, fight."
No one on team Trump was informed of this shift. The Post reports that neither White House counsel Donald McGahn nor Emmet Flood, the White House attorney just hired to handle the Mueller probe, were aware that Trump had reimbursed Cohen. The White House press office didn't book Giuliani's Hannity appearance and didn't help him with talking points. "The first awareness I had was during the interview last night," White House press secretary Sarah Huckabee Sanders said of Giuliani's disclosure during Thursday's press briefing.
"Rudy and Trump are talking by phone, and others aren't in the loop," one senior White House official said.
Giuliani acknowledged that White House staffers were shocked by his Hannity appearance, and said that was intentional. "They were. There was no way they wouldn't be. The president is my client. I don't talk to them," he told CNN.
Many anonymous White House sources reacted to Giuliani's media blitz in the same way they usually describe the fallout from a string of crazy Trump tweets or sudden firings. The Post said staffers were left scrambling on Thursday, and "expressed a mixture of exasperation and horror." One White House official texted a reporter "a string of emoji characters in response, including a tiny container of popcorn." The Wall Street Journal's sources, however, seemed numb to the chaos. "You try to do the best you can under the circumstances," one official said. They summed up their situation with a different silent symbol of exasperation. "Another official, asked about the thinking behind Wednesday's announcement, responded by text only an emoji of a man shrugging," the Journal reported.
There was one White House official who managed to come up with a more professional way to convey what it's like for staffers to realize that they're now subject to the whims of two celebrities who could call in to Fox News and start ranting at any moment.
"People in the White House are a little concerned about what looks like the roller-coaster ride ahead," the official said.