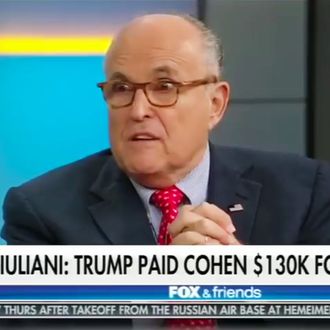 Rudy Giuliani might not be a supernaturally terrible attorney — but he plays one on TV.
Last night, the president's new lawyer went on national television and suggested that his client had fired James Comey for refusing to do his bidding on the Russia investigation (which would implicate Trump in obstruction of justice), and also that, contrary to the president's own public statements, Trump had repaid Michael Cohen for the infamous, $130,000 hush payment to Stormy Daniels (which would implicate the president's campaign in a campaign finance violation).
Previously, Trump had insisted that his lawyer Michael Cohen unilaterally decided to buy his (alleged) paramour's silence in October 2016 — and that he never reimbursed Cohen for that expense. That narrative did nothing to refute the charge that Cohen's payment violated campaign finance law: Paying someone not to disclose information that would damage a political campaign qualifies as an "in-kind contribution" to that campaign, under federal rules, and $130,000 is far more than any individual can contribute to a single campaign. Still, if Cohen hadn't been repaid, then the offense was his own.
But on Hannity, Giuliani insisted that "the president repaid it," suggesting that this rendered the payment "not campaign money," and that therefore, there was "no campaign finance violation." Alas, this analysis was entirely wrong: While Trump could legally make contributions of any size to his own campaign, his campaign cannot accept loans of any size from outside contributors; and if Cohen made a $130,000 payment to Daniels with the intention of aiding Trump's candidacy, and was subsequently reimbursed, then that payment would constitute an excessively large loan — and the Trump campaign's failure to report it would have been a campaign finance violation.
So, on Friday morning, Giuliani returned to Fox News to clean up his mess. In an interview with Fox & Friends, the former New York mayor turned his attention to the heart of the matter: Did Michael Cohen secretly buy Stormy Daniels's silence to help the president personally (which is legal) or politically (which is not).
"If we had to defend this as not being a campaign contribution, I think we could do that," Giuliani said. "This is for personal reasons … The president had been hurt personally, not politically, personally so much — and the First Lady — by some of the false allegations. That one more false allegation [is] six years old, I think [Cohen] was trying to help the family. For that he's treated like some kind of villain."
In a nutshell, Giuliani's new story is that the flood of allegations that followed the "Access Hollywood tape" was hurting Donald and Melania personally, and Cohen paid off Daniels to spare the couple more humiliation. The president reinforced this narrative in a series of legalistic tweets Thursday morning.
The big problem with this story is that the payment was made mere weeks before the 2016 election — and it's exceedingly difficult to believe that the political ramifications of Stormy telling tales played no role in Cohen's thinking.
In fact, it is so difficult to believe that Giuliani couldn't even pretend to believe it for longer than two minutes: Shortly after explaining that the payment had nothing to do with politics, Giuliani confirmed that it totally did.
"Imagine if that came out of October 15, 2016, in the middle of the last debate with Hillary Clinton," Giuliani instructed the Fox morning crew. "Cohen made it go away. He did his job."
Giuliani, on the other hand, didn't do his.