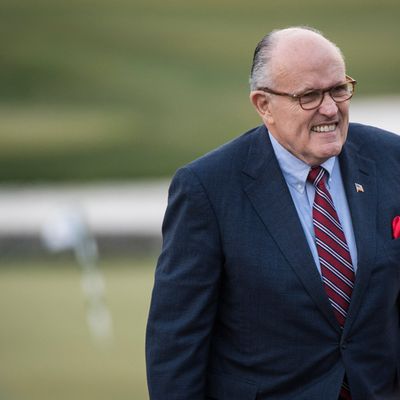 Perhaps not the legal eagle he used to be.
Photo: The Washington Post/The Washington Post/Getty Images
President Trump is known for saying "the quiet part out loud," a habit that has served him shockingly well as a politician. One arena where this practice remains almost universally frowned upon is the legal profession. But a single brave lawyer is throwing convention to the wind there, too, and his name is Rudolph Giuliani.
During his first few days as counsel to the president, the former New York mayor made a huge unforced error on Fox News, telling Sean Hannity that Trump reimbursed Michael Cohen for his $130,000 payment to Stormy Daniels in 2016.
On Friday, the former New York mayor was at it again.
In an interview with HuffPost, Giuliani implied that Trump personally intervened to block the  merger between Time Warner and AT&T, which the White House has vociferously denied. The comment was meant as a defense of the president in the wake of revelations, first brought to light by Stormy Daniels lawyer Michael Avenatti, that Trump fixer Michael Cohen had been paid by AT&T for consulting work after Trump's election.
"Whatever lobbying was done didn't reach the president," Giuliani said. "He did drain the swamp … The president denied the merger. They didn't get the result they wanted."
Trump has personally railed against the Time Warner-AT&T deal, a stance that may well have more to do with his burning hatred of CNN than anything else. The Department of Justice's opposition to the detail raised eyebrows because, while its position may be defensible on antitrust grounds, it doesn't fit with the rest of the Trump administration's laissez-faire ideology. The Trump administration has insisted that the president's personal opinions have nothing to do with the DOJ's position.
Someone apparently forgot to send Giuliani the memo, and on Saturday, he once again had to walk back a careless remark.
President Trump was reportedly angry over Giuliani's undisciplined media appearances last week; he is not likely to be thrilled this time around, either.
On Friday, AT&T has called its contract with Cohen a "big mistake," and forced out the executive who had arranged it.
As for the AT&T-Time Warner merger, its fate will be decided by U.S. District Judge Richard Leon, who presided over a week-long trial that wrapped up last week. He is expected to rule by June 12.