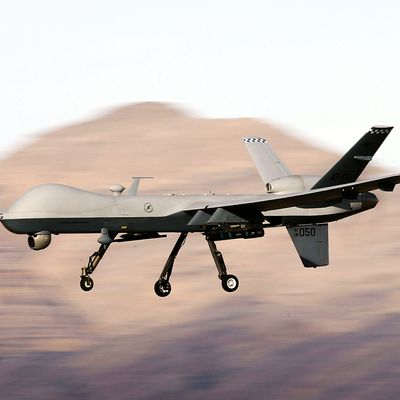 Photo: Isaac Brekken/Getty Images
Among the many debates currently roiling Silicon Valley is a reexamination of the industry's ties to the government, and specifically the military. Shortly after Trump's election, for instance, thousands of Silicon Valley workers signed a pledge to not help the government build a database of Muslim residents. Now employees at Google are sparring with management over the company's involvement in a Pentagon AI initiative called Maven. So far, Google's defense of its involvement to employees has been that the company is only developing tools to process video, not the drone missiles that such a tool might help to guide.
According to the New York Times, the debate has caused a rift at Google, where executives have yet to come up with a justification for involvement other than the fact that military contracts pay a ton of money. But, man, are they trying:
Last Thursday, Mr. [Sergey] Brin, the company's co-founder, responded to a question at a companywide meeting about Google's work on Maven. According to two Google employees, Mr. Brin said he understood the controversy and had discussed the matter extensively with Mr. [Larry] Page and Mr. [Sundar] Pichai. However, he said he thought that it was better for peace if the world's militaries were intertwined with international organizations like Google rather than working solely with nationalistic defense contractors.
This is the exact same thinking that Mark Zuckerberg has insisted upon — positioning Facebook, generally implicitly but sometimes explicitly, as a global network outside the rule of law. Tech companies in general tend to see themselves as an extra-national layer on top of sovereign countries, joining them together as if they had no way of communicating before a decade ago. Brin's thinking is basically that Google can act as an intermediary between armies and that will make countries stop fighting, which is, in my opinion, really dumb. Google thinks it can augment and maintain global peace by helping the Pentagon build weapons of war.
The main problem with this stance is that the public has no say in the matter. These companies are not public officers, they do not work on behalf of their country or their constituents. Google and its executives and its employees exist primarily for the benefit of themselves. Google is not an organization for international diplomacy — it is an ad-sales company that thinks the best way to prevent military action is to get in bed with the military, and it can't be voted out of office.