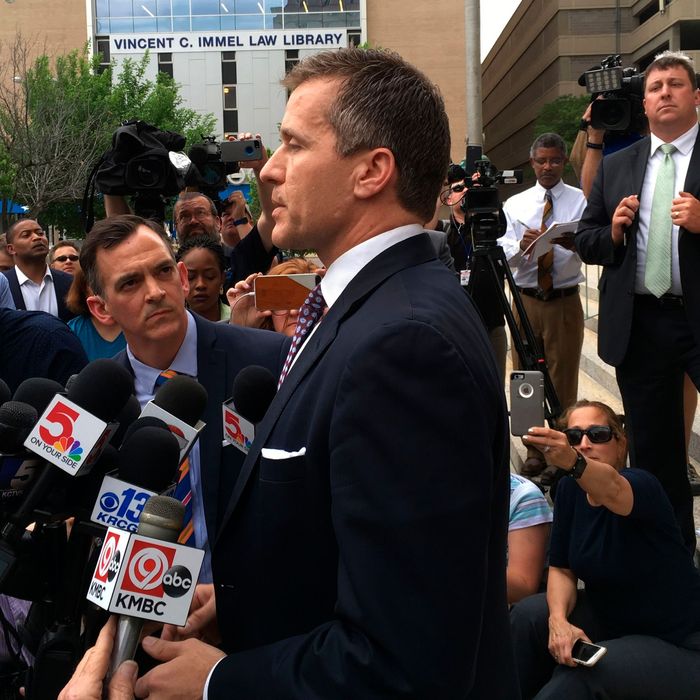 Greitens was surprisingly confident for a man still facing impeachment and at least one felony charge.
Photo: Jim Salter/AP/REX/Shutterstock/Jim Salter/AP/REX/Shutterstock
Embattled Missouri governor Eric Greitens got some good news on Monday when prosecutors dropped their felony invasion-of-privacy charge against him just days before his trial was set to begin. Greitens proclaimed it a "great victory" in a statement on the courthouse steps — though the St. Louis Circuit Attorney's office said it's seeking a special prosecutor, the case may be refiled, and he's still facing a political storm that could end his governorship.
Prosecutors said that Greitens took a nude photo of his lover without her consent in 2015, then threatened release the image if she didn't keep quiet about the affair. The charge was dropped after a judge ruled on Monday that the defense could call Circuit Attorney Kim Gardner, who filed the felony charge, as a witness. Greitens's attorneys have accused her of misconduct, and covering for a lead investigator committing perjury.
The ruling didn't mean that prosecutors had to drop the charge, but other issues threatened to undermine their case: some of their expert witnesses were disqualified, the woman in the case has been reluctant to go public, and they've failed to find any evidence of the photo in Greitens's phone or iCloud. The woman said she heard his phone click, but she was blindfolded and never saw the image.
Without a photo the charge could be difficult to prove, and Anders Walker, a law professor at St. Louis University, told the New York Times that he doubts prosecutors would bring a similar charge. "I think the circuit attorney sat down over lunch, decided that since no photograph was found in discovery, that this case was over," Walker said.
Greitens certainly isn't out of the woods. A special legislative session that could lead to the governor's impeachment is set to start on Friday. In testimony to legislators, Greitens's former lover accused him of various violent, nonconsensual sex acts. He's admitted to the affair, but says it was entirely consensual. Senate Majority Floor Leader Mike Kehoe said the prosecutors' decision would not affect the legislative investigation.
"There are unfortunately a lot of disturbing allegations surfacing besides the original allegation," Kehoe said. "When the committee is ready, they will present what they found to the full House and they will make a decision based on the facts, and not from what you may or may not be seeing in St. Louis."
Greitens is also facing another felony charge related to allegations that he illegally obtained the donor list from a veterans' charity he founded and used it to raise money for his 2016 campaign.
Nevertheless, on Monday Greitens spoke like a man who's battled adversity beyond his control, and suggested there's something universal about the experience of being accused of attempting to blackmail one's former mistress:
This experience has been humbling, and I have emerged from it a changed man. I think that in all of our lives, we have to deal with pain. I think that if we work through it in the right way, we can work through pain and find wisdom. In all of our lives we have to deal with suffering. If we deal with suffering in the right way we can emerge with strength. I also believe, as I think many people of faith do, that even in the hardest and most difficult situations, we can find tremendous blessings.
His statement included one line apologizing for the "pain that this process and my actions have caused my family, my friends, and the people of Missouri." However, Greitens quickly moved on to asking "people of goodwill to come together so that all of us can continue to do good together" (assuming that he isn't removed from office or found guilty of a separate felony).