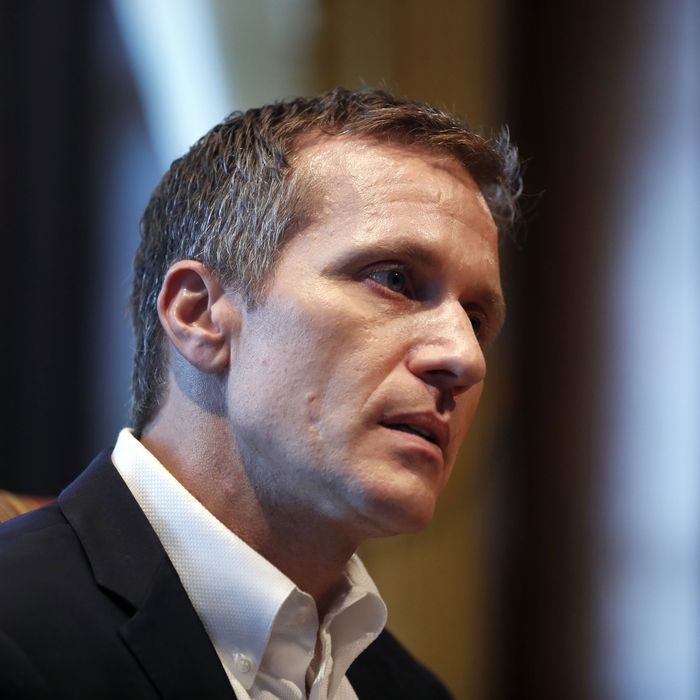 The wolves aren't just at the door of Missouri Governor Eric Greitens: they're dividing up his political carcass.
Photo: Jeff Roberson/AP/REX/Shutterstock
At this point the big question involving the career of Missouri Governor Eric Greitens is whether he's going to be convicted of a serious crime, or impeached, or cop a plea and resign. If he avoids all these bad things and finishes his term (which doesn't run out until 2021), he's Houdini reincarnated.
Here's the latest blow to the pol who was once considered a national rising star for his Republican Party, as reported by the St. Louis Post-Dispatch:
Gov. Eric Greitens ran an off-the-books political campaign in 2014, took a charity donor list to raise campaign funds and lied about that list in a signed statement to the state's ethics commission, according to documents and testimony from six of his former employees.




The findings are outlined in a 23-page report released Wednesday by a Missouri House committee investigating Greitens, a Republican. The report contains evidence that Greitens and associates lied in campaign filings, a class A misdemeanor, and violated campaign finance law — a civil offense — when he operated a shadow campaign before filing required paperwork with election authorities.
Compared to the other forms of legal peril Greitens is facing, that doesn't sound so bad. But the political damage to him and to his party is terrible when you think about it:
The report and its reams of exhibits plot the former Navy SEAL's methodical rise from non-profit founder to "conservative outsider" governor of Missouri — by relying on money he raised from members of the charity's donor list he had pledged to keep private.
Compounding the seediness of the story is the charge that Greitens set up a campaign staffer for the fall by getting him to pretend to be the one who obtained the purloined list.
The legislative findings will speed the work of criminal prosecutors in St. Louis who have charged Greitens with felony computer tampering in connection with misuse of the charity donor list. That's separate from the charges in the same jurisdiction of felony invasion of privacy in connection with a lurid sex scandal in which he allegedly forced his lover into sex acts, hit her, took a nude photo without her consent, and threatened to blackmail her into silence during his gubernatorial campaign (according to another state legislative investigatory report). Oh, and Greitens also faces a lawsuit for allegedly destroying public records.
Before the latest revelations, legislative leaders, and not just Democrats, were lining up to show Greitens the door, as the Kansas City Star reports:
Republican leaders in the House and Senate have already asked Greitens to resign over the allegations of abuse and blackmail stemming from his affair. Senate President Pro Tem Ron Richard, R-Joplin, called for Greitens' immediate impeachment if he refuses.
And Republican House Speaker Todd Richardson wants legislators to return for a special session this summer to decide the governor's fate — or more likely, to talk him into going quietly.
The clock is ticking not just for Greitens but for his fellow party members who don't want to go into a general election season with this millstone around their necks (all members of the Missouri House and half of the Missouri Senate are up for reelection this year). That is particularly true of the GOP's putative nominee in the critical fight to take down Senator Claire McCaskill: Attorney General Josh Hawley, who has investigated Greitens himself and called for his speedy resignation.
It will be interesting to see exactly how stubborn Eric Greitens proves to be.