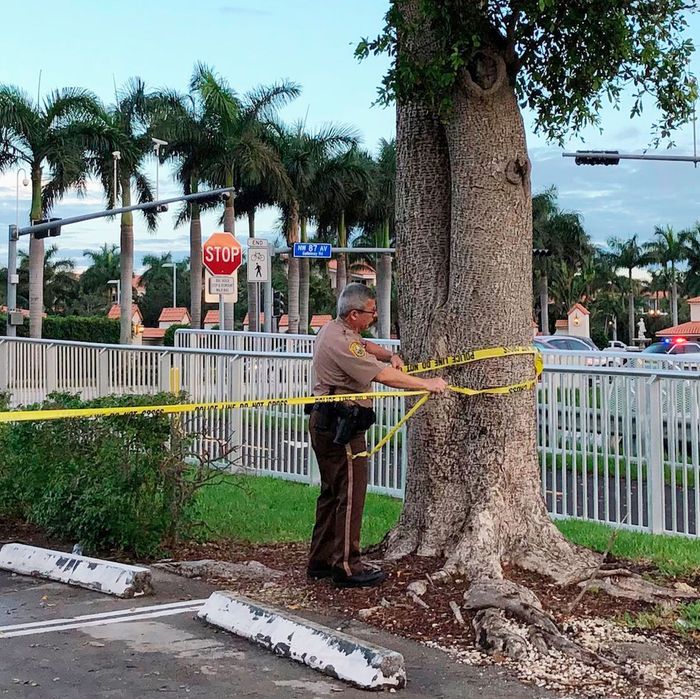 Police tape off an area by the Trump National Doral resort.
Photo: Frieda Frisaro/AP/REX/Shutterstock
A man yelling "anti-Trump rhetoric" at one of President Trump's South Florida resorts was shot by police after walking into the lobby of the hotel and opening fire early Friday morning.
Police said the man, identified as 42-year-old Jonathan Oddi, lured them into the lobby of the Trump National Doral Golf Club at around 1:30 a.m. in hopes of a gunfight. He got one. Oddi, who had draped an American flag over a counter, was shot several times in the lower body and taken to a local hospital. One police officer was also injured, but not from gunfire.
"He was yelling and spewing some information about President Trump," Juan Perez, director of the Miami-Dade police, said in a press conference. He added that the man's motive was unknown: "Not saying terrorism; not discounting anything at this point."
Perez went on: "What officers did today was nothing short of heroic. They did not hesitate one second to engage an individual who was actively shooting in the lobby of the hotel."
President Trump's son Eric tweeted his appreciation of local police Friday morning.
By sunrise, the hotel was full of federal agents, including the FBI, Secret Service, and Department of Homeland Security.