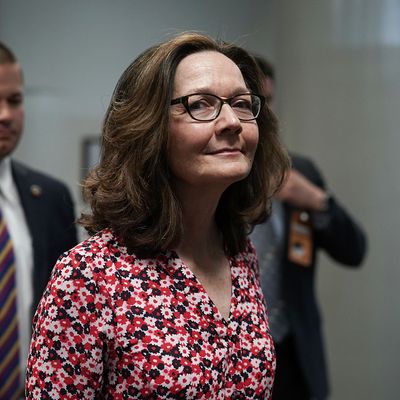 Haspel, who has no plans to violate the law.
Photo: Alex Wong/Getty Images
We learned last week that President Trump's nominee to lead the CIA, Deputy Director Gina Haspel, nearly withdrew her name from consideration over fears that she would face a brutal confirmation process that would damage her reputation and that of the CIA. The White House talked her out of it, but it's still unclear if she can be confirmed. Senate Democrats, and a few Republicans, have serious concerns about her time directing "black site" interrogation centers post-9/11, and her successful push for the destruction of nearly 100 videos documenting interrogation sessions.
But on the eve of Wednesday's confirmation hearing, excerpts of what she plans to tell the Senate Intelligence Committee revealed that lawmakers have absolutely nothing to worry about. If confirmed, Haspel won't restart the horrific torture program that led to the closing of the black sites and the passage of new anti-torture legislation — she promises!
"Having served in that tumultuous time, I can offer you my personal commitment, clearly and without reservation, that under my leadership CIA will not restart such a detention and interrogation program," Haspel plans to say.
Haspel's critics object to her refusal to declassify documents related to her 30-year career at the CIA, and according to the Washington Post, her prepared testimony is peppered with dramatic yet vague allusions to her work.
"I recall my first foreign agent meeting was on a dark, moonless night with an agent I'd never met before," she is expected to say. "When I picked him up, he passed me the intelligence, and I passed him extra money for the men he led."
Haspel will have the opportunity to share more information with senators in a closed-door hearing following her public testimony. She plans to say that "if we can't share aspects of our secret work with the public, we should do so with their elected representatives."
One unlikely source is pushing to be allowed to share his view of Haspel: Khalid Sheikh Mohammed. The New York Times reports that this week the architect of the 9/11 attack asked a military judge at Guantánamo Bay for permission to share six paragraphs of information about Haspel with the Senate Intelligence Committee. It's unclear if the judge will rule in time for Haspel's hearing.
The committee previously found Mohammed underwent 15 waterboarding sessions, and was also subjected to unnecessary "rectal rehydration," deprived of sleep, put into stress positions, slapped, and slammed into a wall. He was held in secret CIA prisons in Afghanistan and Poland. We know that Haspel supervised a "black site" in Thailand where Al Qaeda suspects were waterboarded in 2002, but it's unknown if she had any connection to Mohammed's torture.
President Trump has often spoken highly of so-called "enhanced interrogation," and he once proclaimed "torture works" (though Mohammed offered up false information during such interrogations). On Monday Trump tweeted that Haspel is being criticized merely because "she was too tough on Terrorists [sic]." Other Trump officials suggested that anyone who opposes her nomination doesn't really support women.
Haspel received another large show of support from outside the Trump administration on Tuesday. Thirty-six former CIA chiefs, intelligence community leaders, and lawmakers signed a letter to the Senate Intelligence Committee calling Haspel an "excellent choice to lead the CIA at a time when our intelligence community is under significant pressure at home and abroad."
"As a human intelligence officer, there is no doubt that Ms. Haspel was often called upon to make tough choices and to work on matters that some find deeply controversial," the letter says. "But she did so with dedication and commitment to the cause of freedom, democracy, and the rule of law, as well as to the safety and security of our nation and its citizens."