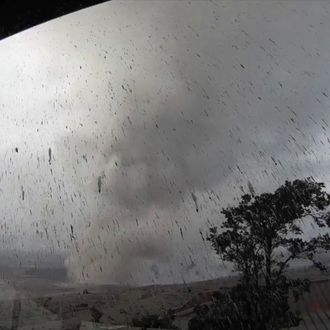 An eruption early Thursday morning at Kilauea's summit.
Photo: US Geological Survey
Hawaii's Kilauea volcano sent ash six miles into the sky Thursday morning, the most powerful recent eruption from the trouble-making volcano, which has terrorized Hawaii's Big Island with lava, ash, and minor earthquakes for the past two weeks.
The eruption took place before 4 a.m. local time and lasted just a few minutes. An ash plume rose 30,000 feet into the air, leading to an ashfall advisory for the Big Island, where less than one-quarter of an inch is expected to accumulate. The eruption led to school closures due to high levels of sulfur dioxide, volcanic gas.
Michelle Coombs of the United States Geological Survey told reporters that despite the giant plume of ash shot into the sky, this eruption was not the "big one" that could be coming from Kilauea. "There may not necessarily be a big one, based on past eruptions at Kilauea," she said, but if there is, it could come in the days and weeks ahead.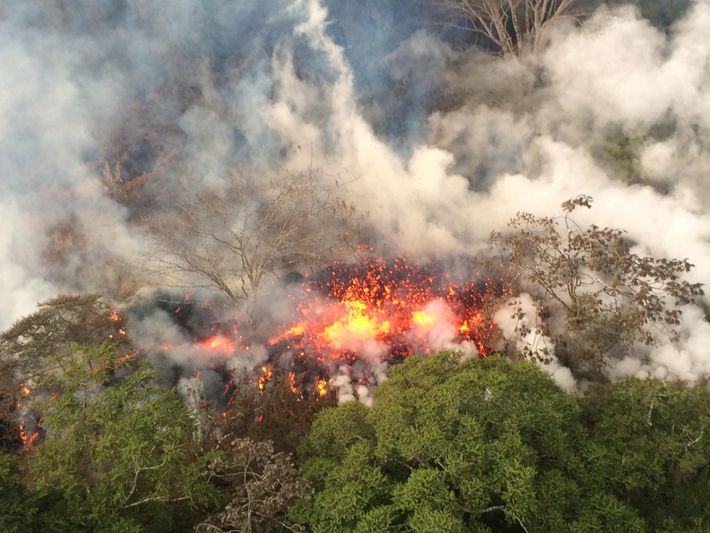 Hawaii Volcanoes National Park remains closed given the threat of further activity, which could include more eruptions and earthquakes. On Wednesday alone, "125 shallow quakes rattled Kilauea's summit and neighboring communities, causing minor damage to roads and buildings," Hawaii News Now reports.
Experts have also warned that an eruption larger than Thursday's could result in dangerous amounts of ashfall and giant rocks being rocketed into the sky. "It could be large rocks, it could be boulders the size of cows," Jessica Ferracane of the Hawaii Volcanoes National Park said.