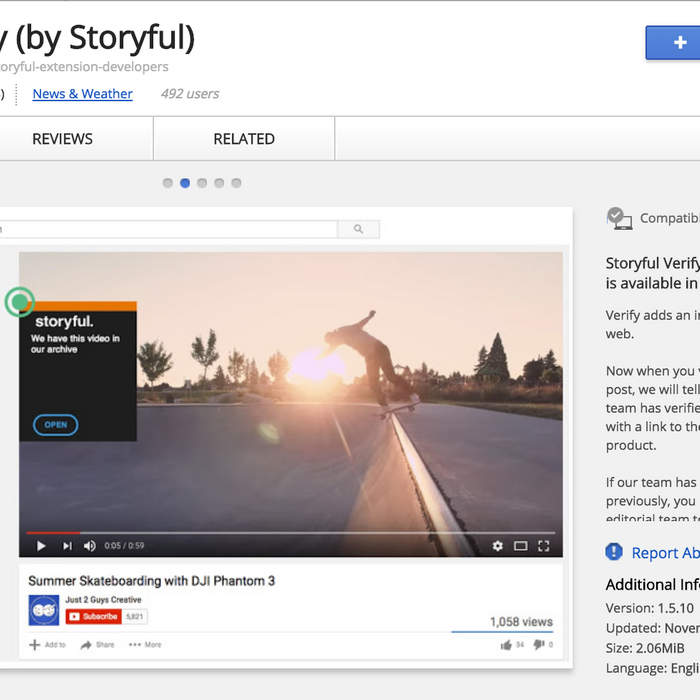 Storyful's Verify Chrome plug-in, which was used to closely monitor what journalists were looking at online.
The Guardian has a scoop today that Storyful, a News Corp.–owned viral-social-media aggregator used by a number of major outlets, kept a very close eye on what journalists using its service were looking at on social media. In fact, it even had a Slack channel where Storyful employees could watch in real time to see what content Storyful clients were viewing.
From the Guardian:
More than 40 Storyful employees, including journalists, editors and senior executives at the company's offices in Dublin, London, New York and Sydney, have been granted access to the feed, providing them with a window into what other journalists are looking at on social media.




The Guardian has obtained a recording of the feed, which is a purpose-built channel in Slack, a commonly used office software. The channel, called #verify-notifications, displays a constantly updated list of videos and pictures being viewed on social media. Over a four-hour period, more than 200 videos and photos are shown, beside the notification: "New item viewed by client."
If you don't spend all day spinning through social-media feeds looking for something, anything that can draw eyeballs, it can be hard to understand what Storyful even does. The company, founded in 2010 and acquired by News Corp. in 2013, has journalists around the globe monitor social media for potentially viral content (read: video), attempt to verify it, and then license it for use. Large news publishers like Mashable and ABC News then pay Storyful a hefty monthly fee to use that content. (If you've ever spotted a viral video of a news event in the wild and seen the dozens of "Hi! I work at [random news outlet]; could we have permission to use this video?" replies, Storyful is basically handling that grunt work.)
Its Verify plug-in was supposed to make things even easier for clients. It would append a small red or green dot to content, letting producers and journalists at media outlets know if the content had been verified, and if so, allow them to buy it for use. Of course, to show that information, the Storyful plug-in would need to scan a web page and check videos and photos against its own database. Where things get grimy is that Storyful started sharing internally the information its plug-in was gathering. A former Storyful employee, speaking to the Guardian, said that the ability to see what journalists at major outlets were looking at was seen as giving Storyful an edge on spotting potentially viral content.
Storyful, in a statement to the Guardian, defended the practice and said it was used to "improve the user experience in order to serve our customers better." When the Guardian pointed out that photos and videos viewed by journalists not related to work, such a wedding photos, were also imported into the Slack channel, the company said it was "patently obvious" when the plug-in was being used, and "clear disclosures relating to privacy and the functionality of the tool are given to all Newswire users that opt to install the Verify extension prior to installation."
It's exhausting that once again a company is blaming users for not reading the terms of service and understanding that when using its product, they were under constant surveillance. But unlike, say, the Unroll.me or Cambridge Analytica scandals, it's harder to muster up real outrage about this. The small number of journalists using the plug-in — it was downloaded just under 500 times — should have known better than the average person how much data is kept about what users look at on the web. Detailed metrics and internal analytics are what online journalists live and die by. Storyful needed to gather some of this information in order for its plug-in to work. Still, the ethical thing for Storyful to do would have been to wipe this information as it was gathered. Storyful instead decided to automate it into a Slack channel, and use that for competitive advantage. It's now likely having some very uncomfortable conversations with the clients it was so closely monitoring.