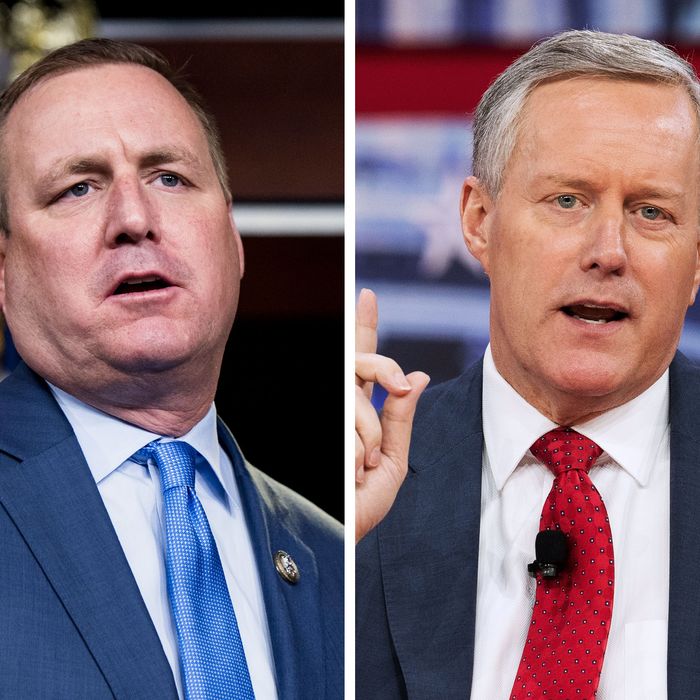 Conservative leader Mark Meadows and would-be Dreamer-saver Jeff Denham are squeezing Paul Ryan and the House GOP leadership between their conflicting demands on immigration.
Photo: Bill Clark/CQ; Michael Brochstein/SOPA via Getty Images
It seems House Republicans are planning to vote on long-stalled immigration legislation during the third week of June. And then they expect to pass the Farm Bill that an immigration dispute helped derail last week.
The catch is this: It's entirely unclear whether the House will vote on one or two or four immigration proposals, as conservative and moderate GOP factions place conflicting pressures on lame duck Speaker Paul Ryan.
House Republicans have been divided for a long time between two groups. The first is the bulk of conservatives who have largely coalesced behind a hard-core bill from Judiciary Committee chairman Bob Goodlatte. The second is the much smaller but strategically positioned group of relatively moderate members from districts that are either heavily Latino and/or vulnerable to a Democratic wave. They want a path to citizenship for Dreamers without the kind of legal-immigration restrictions and border-wall provisions the president proposed in January. The right-wing House Freedom Caucus was promised a vote on the Goodlatte bill back when its votes were needed to keep the federal government open. But the moderates, led by California's Jeff Denham and Florida's Carlos Curbelo, tired of being marginalized, started collecting signatures on the rare and controversial device of a discharge petition — in which a majority of members can force floor action on any issue — to get votes on immigration.
When Denham and Curbelo got within five signatures of a majority (including all House Democrats) for its discharge petition, the HFC struck back by withholding their votes from the Farm Bill pending a vote on the Goodlatte bill. And that's what brought us to the current stalemate.
Under the discharge petition, votes would be held on four immigration proposals: the Goodlatte bill, a narrowly drawn Dreamer/border-control bill favored by GOP moderates, a Democratic bill, and a fourth bill that Ryan would be free to devise, with the measure gaining the most votes passing. It is generally conceded that thanks to Democratic votes, creating a "path to citizenship" — "amnesty" in conservative-speak — for Dreamers, would likely prevail. That would not only upset HFC members but violate the informal "Hastert Rule" whereby no bill opposed by a majority of House Republicans should ever see the light of day.
Paul Ryan and the rest of the House leadership really don't want to see that happen, but they can't stop it without an alternative that appeases the moderates. And they can't get a Farm Bill without HFC support, and the HFC doesn't want to allow votes on any "amnesty" plan. Hence the dilemma for Ryan — and that's without factoring in the possibility that Donald Trump may come blundering into sensitive negotiations with his own demands or denunciations.
There is a window during which these negotiations can operate: Votes forced by a discharge petition wouldn't actually happen until June 25. In the meantime, conservatives hope to tinker with the Goodlatte bill just enough to give it a chance of passing the House, preempting the whole dispute, as The Hill reports:
One of the major proposed changes would expand the renewable legal status for DACA recipients from three years to six years, though they still would not be granted citizenship.




The modified version also doubles the cap for the family-sponsored green cards from 7 percent to 15 percent; creates a new green-card category to allow for 6,000 nurses; and allows children who are U.S. citizens and sponsoring their parents to come to the U.S. to sign an affidavit of support.




Goodlatte already made some minor tweaks earlier this year to appease the agricultural industry's concerns over the guest worker program that is established by the legislation.
Meanwhile, the leadership is negotiating with the moderates to see if they can short-circuit the discharge petition:
House Republican leaders have been negotiating with Denham and other moderates who oppose the Goodlatte-McCaul bill to come up with legislation that they can support and a majority of the Republican Conference can also support …




It's unclear if any bill Republicans craft on their own can get enough votes to pass the House, but Denham believes a compromise can be reached. He said if that bill moves on a rule along with the Goodlatte-McCaul bill that would cancel out the discharge petition.
And there's your two-bill option.
Complicating everything is the much-reported tension between Paul Ryan and his heir-apparent, House Majority Leader Kevin McCarthy, who tends to sympathize with the HFC in ideological disputes (as does McCarthy's buddy the president). There are reports that McCarthy wants to show Ryan the door well before his planned retirement at the end of this Congress, and a House GOP meltdown over immigration that endangers a Farm Bill could be just the lever needed to send Ryan home.
If this all seems murky, it's because there is every indication that House Republicans are groping forward without a clear sense of direction. That's never a good idea on an issue as explosive as immigration.