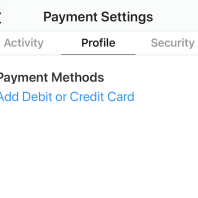 Photo: Screenshot via TechCrunch
In a move that could be good for its wallet but bad for yours, Instagram is testing a feature that would allow users to make in-app purchases using their credit cards. Previously, if you saw something you wanted to buy — even if the item is from a brand account and has a "shoppable tag" showing the price — you'd have to leave the app. The feature, which appears to still be in the testing phase, was spotted by TechCrunch earlier this week.
"A spokesperson confirmed that native payments for booking appointments like at restaurants or salons is now live for a limited set of partners," TechCrunch reports. Users with the feature are given the option to link a credit or debit card to their account and select a PIN number to use to confirm purchases. Earlier this year, Snapchat tested an e-commerce store in the app where users could purchase Snap-branded items. (Like a costume-version of the much beloved dancing hot-dog filter.) Since then, it hasn't made any other e-commerce features available to users. Though if Instagram is doing it … just give it time. And then get ready to give it your money.