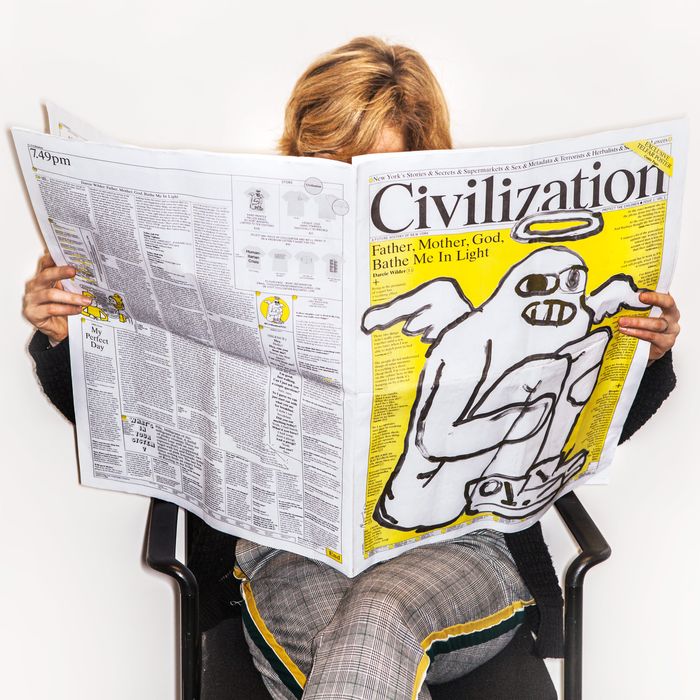 Civilization
in the wild.
Photo: Konstantin Sergeyev
A reader of the first issue of Civilization, a new, limited-edition newspaper about life in New York City, might be forgiven for wondering how such a publication exists in 2018. For one thing, it's print-only — no website, no social media presence (although there are T-shirts). For another, it's locally focused at a time when even the New York Times has decided that its Metro section should feature "fewer stories about fires in the Bronx."
The jumbo-sized, black-and-yellow paper is anachronistically heavy on text, to the point that it's hard to take in all of the information on a single sheet. The design is intricate and playful, punctuating the pages with cartoons, mini feature boxes, and lists. And then there is the actual content, which includes everything from a digressive diary by internet darling Darcie Wilder to a pictorial chronicle of a house party to a history of the radical left-wing group Weather Underground's accidental 1970 bomb explosion in Greenwich Village. The inaugural edition tackles "supermarkets, middle-school, the NYPD, parties, mushrooms, cam girls, ballerinas, mathematicians, croissants, love, herbalism, terrorism, neoliberalism, hygiene, filth, vermin, Home Depot, Zara, spas, sex, panic attacks, the bomb, cancer, shoplifting, money, art fairs, halal karts, the future, the past, the middle, charts, graphs, data, me, you." It all comes off like a heady mix of early Vice and some long-vanished alt-weekly.
Civilization, which is available at select downtown book and magazine stores (McNally Jackson, Casa, Printed Matter, etc.) and can be ordered online, was founded by designer Richard Turley, filmmaker Mia Kerlin, and artist Lucas Mascatello. Turley, a British transplant, is best known in the U.S. for the provocative covers and ambitious design revamp he oversaw as the creative director of Bloomberg Businessweek a few years ago, and is now executive director at the ad agency Wieden+Kennedy. Daily Intelligencer talked to him about the inspiration for his new project.
What made you want to put out an idiosyncratic limited-edition newspaper?
My history is one of editorial design, and I never lost that love of newspapers and magazines. The project itself came out of a frustration with walking into a store on Varick and being confronted by corn snacks instead of periodicals, and wishing there was more out there. Also, at the time, I was working on projects at Wieden where I was talking to 16- and 17-year-old kids who were craving physicality and tangibility, something other than disappearing Instagram Stories. So it was a few factors happening concurrently.
What was the process behind getting the paper up and running?
It was mostly a network of friends who put it together, over the course of about four months. I'm doing a day job at the same time, so once Lucas and Mia came aboard, it made it a lot easier to gather contributors and open networks of various different people who we could talk to who had interesting stories. The whole thing came together — both in creating it and laying it out — a bit like a jigsaw puzzle. There was never really a grand master plan, but in my head I thought I wanted something that looked like an old Victorian newspaper. There's also a thing in magazines I like where you have themes; in the newspaper, there are a few different pieces that touch on the West 11th Street bomb. I quite like the idea that there are these echoes, that you didn't cluster things together, but that they run through the pages.
You said in an interview in Civilization itself that you've looked around at the way other publications cover New York and been underwhelmed. What's your major gripe?
I'm a big fan of the East Village Other, an old paper from the late '60s, really radical. I have a latent interest in that kind of '60s counterculture, which was a crucible of editorial content. The Other was one of many, but that's the one that sort of percolated for me. We're supposed to have different kind of forums for that kind of content now, but — do we? The internet promised there would be a place for everything, but I feel underserved by that notion, currently. And I'm feeling kind of underserved by print media in New York, and have a general kind of feeling that we've forgotten how to write about the city.
The order of business for publications over the last ten years is that you have to scale to hit your numbers, and a consequence of that is that you don't talk about New York the way you used to, because you have to appeal to a global audience. So you have to talk about … well, of course the tractor beam of Trump, but also #MeToo and gender roles and everything else, at a certain expense of talking about the city we live in. And I don't want to be dismissive of our great New York media institutions, but I suppose I felt like I missed something that was highly localized, that really wanted to cover New York in a way that was cognizant of the way we perceive things now — the infinite scroll of life, data mashed together in this stream of content. I was wondering if we could use Victorian technology to talk about 21st-century living. Can we try do something that really feels like walking around the streets of Manhattan? And I emphasize the word try.
It's largely written and put together by people under the age of 30, so they don't really operate under the same rules, because there are no rules for them. Print doesn't have the same sort of historical impact or resonance, so maybe there are some interesting ways we can think about content.
Do you think this sort of niche publication is the future of print? Is there a mass-market audience left?
I think it's very difficult for anything to be mass market — you have those little blips, these little incendiary flares that people gather around — Trump, or something like the Childish Gambino video. But there's that theory of the long tail, of everything being atomized …
What has been very hard for the media industry is to get any form of investment. We live in a VC world, where media is driven by mid-term investment, and who the fuck is gonna invest in a magazine? No one, because they're not gonna make those returns the pension funds require them to. So that is an almost insurmountable problem. Does that mean that as human beings we don't want physical objects? No, of course not. The one example that always resonates for me is my kid reading a Dorling Kindersley book. You see his eyes grazing around, taking the information in, in a way that he could never do on an iPad. For me, that was an eye-opening moment. There's a function to paper, and there's a function to books, beyond them being purely tactile objects that satisfy us, even though they are tactile objects that satisfy us.
What was the thinking behind releasing only a thousand copies?
The thinking was to make it affordable, because i'm paying for this out of my savings. Let's put a thousand out there and see if people like them. What business strategy there is behind this – fyi, very little — is to see if we can do something people like and work from that position, as opposed to going around in six months with a begging bowl.
Are there going to be more of these?
Yeah, quite quickly. There should be another one in July. And we're gonna keep on doing it. Honestly, the feedback we've had on this is kind of incredible — we seem to be dropping more copies at McNally Jackson every day. I don't want to self-aggrandize here, but these things are selling, so it does feel like there's an appetite. Certainly there'll be one in July, and one in October. Apparently I'm a newspaper publisher now.
This interview has been edited for clarity.