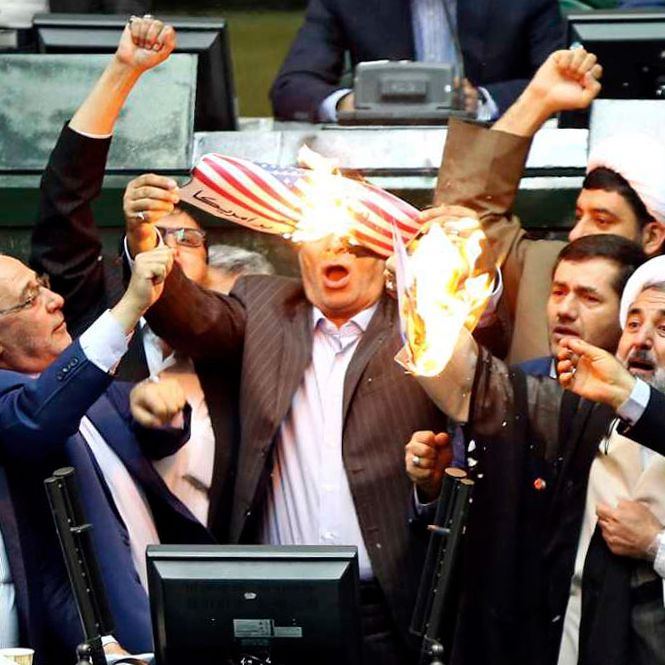 Iranian lawmakers burn two pieces of papers representing the U.S. flag and the nuclear deal.
Photo: Iranian Parliament
Iranian lawmakers did not take kindly to President Trump's announcement Tuesday that the U.S. is walking away from the Iran nuclear deal, chanting "Death to America" and torching a paper American flag on the floor of Parliament in Tehran Wednesday. While the burning of Old Glory isn't rare in Iran, this was the "first time political observers could remember anything being burned inside the parliament itself," the AP reports.
The angry lawmakers also burned a piece of paper meant to represent the nuclear deal and stomped on its ashes. Despite the symbolism of that move, Iranian leaders are hoping to save the agreement by working with the European, Russian, and Chinese signatories who remain onboard despite Trump's withdrawal. Still, Iranian president Hassan Rouhani warned that the country may restart its nuclear program if no progress on the negotiations are made.
Rouhani, considered a moderate by Iranian standards, joined in the criticism of the U.S., and said, "The U.S. is a country that has never adhered to its commitments." But that was nothing compared to the vitriol coming from some other Iranian leaders.
Parliament speaker Ali Larijani told the fired-up lawmakers in Parliament Wednesday that "Trump does not have the mental capacity to deal with issues." He added someone ominously: "It is obvious that Trump only understands the language of force."
Ayatollah Ali Khamenei addressed Trump directly, saying "You cannot do a damn thing." He added that Trump's remarks on the nuclear deal were "silly and superficial," before reminding the schoolteachers with whom he was meeting that Iran will be around long after Trump has left office, and the Earth.
"The body of this man, Trump, will turn to ashes and become the food of the worms and ants, while the Islamic Republic continues to stand," Khamenei said.