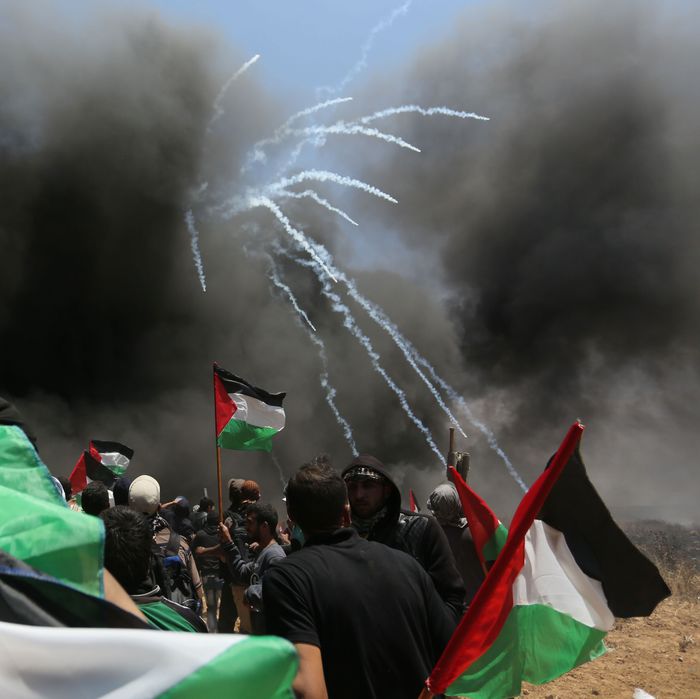 The Gaza Strip on Monday.
Photo: Anadolu Agency/Getty Images
As the U.S. prepares to open its new embassy in Jerusalem on Monday, violence is spiraling out of control on the Gaza Strip.
Palestinian health officials said Israeli forces killed at least 41 Palestinian protesters and injured more than 1,500 as of Monday morning, with the death toll rising by the hour.
Thousands of Palestinian protesters attempted to breach the border fence between Gaza and Israeli territory, hurling rocks and flaming tires, and were turned back by Israeli tear gas and live rifle fire. Protesters also launched several flaming kites across the border.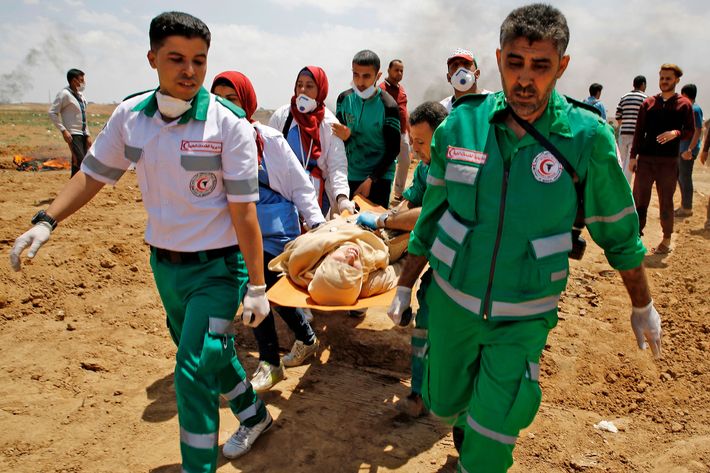 "Today is the big day when we will cross the fence and tell Israel and the world we will not accept being occupied forever," Gaza resident Ali, who declined to give his last name, told Reuters.
The single-day death toll, which reportedly includes multiple children and a medic, is the highest in the area since the end of the 2014 Israel-Gaza War.
Protests in Gaza have been boiling over for months, with huge numbers of Palestinians joining in what has been dubbed "the Great March of Return." The protests, which began in earnest in March, have been sparked by a confluence of factors: persistently abject conditions in Gaza, the 70th anniversary of the creation of Israel this month, and the embassy move, which the U.S. has tied to the anniversary.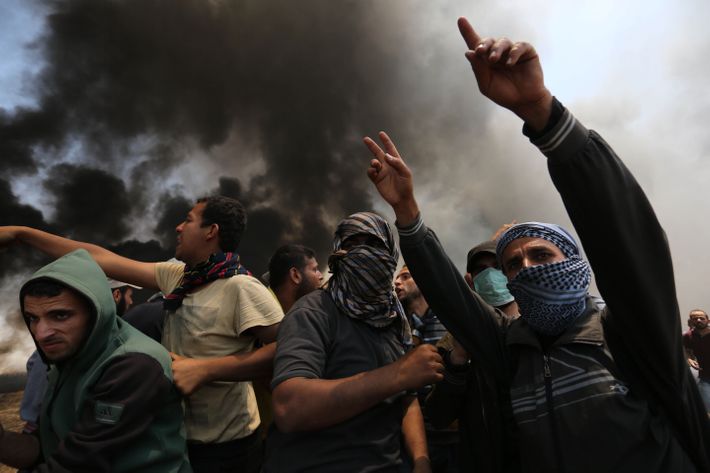 Israeli armed forces have killed at least 49 protesters — including several who were unarmed — and injured 2,300 since March in actions that have drawn condemnation from human-rights groups. Israeli officials have said that protesters ignored warnings to stay away from the border fence, and blamed Hamas, the militant organization that governs Gaza, for inciting the violence.
Hours before a Trump-administration delegation prepared to mark the opening of the Jerusalem embassy — a hugely controversial move that Palestinians see as a betrayal of their interests — protests spread to several cities in the West Bank, though no deaths were reported there.
An even larger Gaza protest is planned for Tuesday.