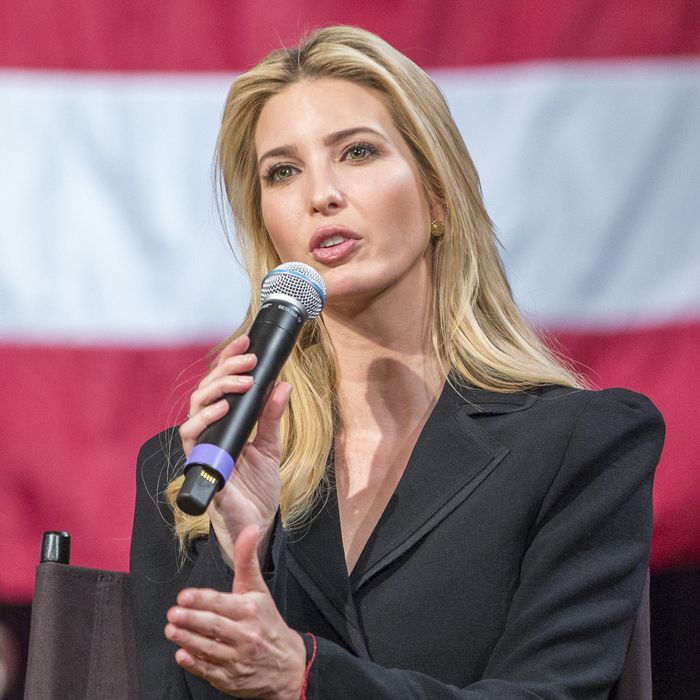 International businesswoman/White House adviser Ivanka Trump discusses U.S. economic policy in New Hampshire on April 17, 2018.
Photo: Bloomberg/Bloomberg via Getty Images
There are many different theories about why President Trump suddenly developed an interest in saving Chinese jobs on May 13; one involved the possibility that he saw it as another way to enrich himself. About 72 hours before Trump started tweeting about ZTE — the Chinese telecommunications company being crushed by U.S. punishments for sanctions violations — the Chinese government agreed to pump $500 million into an Indonesian theme park that will feature several Trump-branded properties.
The ink is barely dry on a letter from 60 Democratic lawmakers demanding an ethics investigation into the president's relationship with China, and now there are new questions about his daughter's business ties to Beijing. On Sunday, China approved Ivanka Trump's seventh trademark in the last month, raising concerns about the White House adviser's conflicts of interest. The New York Times reports:
Six days before the ZTE announcement [on May 13], China said it approved five of Ms. Trump's trademarks, according to data from China's trademark office. Then, on May 21, China awarded Ms. Trump two more trademarks in snacks, spices and bleaching preparations. In total, Ms. Trump now has 34 trademarks in China that would allow her to capitalize on her brand in the world's second-largest economy.
The timing may seem suspicious, but experts doubted that it was directly tied to ZTE. Still, some suggested her trademarks are moving more quickly than usual. Ivanka applied for six of the trademarks in March 2017, and another in May 2016. Charles Feng, head of the intellectual property division at the law firm East & Concord Partners, told the paper it usually takea China up to 18 months to get trademarks approved.
Laura Young, a trademark lawyer at Wang & Wang, didn't think the timing was that unusual, but she noted that celebrities are often treated differently. "When a person is famous, and the examiners say: 'Oh, I've heard of this person,' it can be decided more quickly than if the examiner is not sure and has to consult others or go to a committee," Young said.
Ivanka's representatives said they were merely preventing others from profiting off her name, but it's hard to sort out whether she's getting special treatment as a First Daughter and White House adviser because she refused to divest herself fully of her businesses and her ties to the Trump Organization.
This certainly is far from the first time the blurring of her business and political roles has raised concerns about conflicts of interest. Some of her other trademarks were approved on the same day she and her father met Chinese president Xi Jinping at Mar-a-Lago. In February 2017, White House adviser Kellyanne Conway plugged Ivanka's clothing line on Fox News, and the president refused to discipline her. Several months later the State Department's Twitter feed was caught promoting her book Women Who Work. In March of this year we learned that she's still earning more than $1 million annually from the Trump Organization, which continues to do business around the world.
Of course, it's unlikely that Ivanka will face any consequences for these conflicts of interest. President Trump has more than 100 trademarks in China, and lawsuits that allege he's violating the Constitution's emoluments clauses are still working their way through the courts.