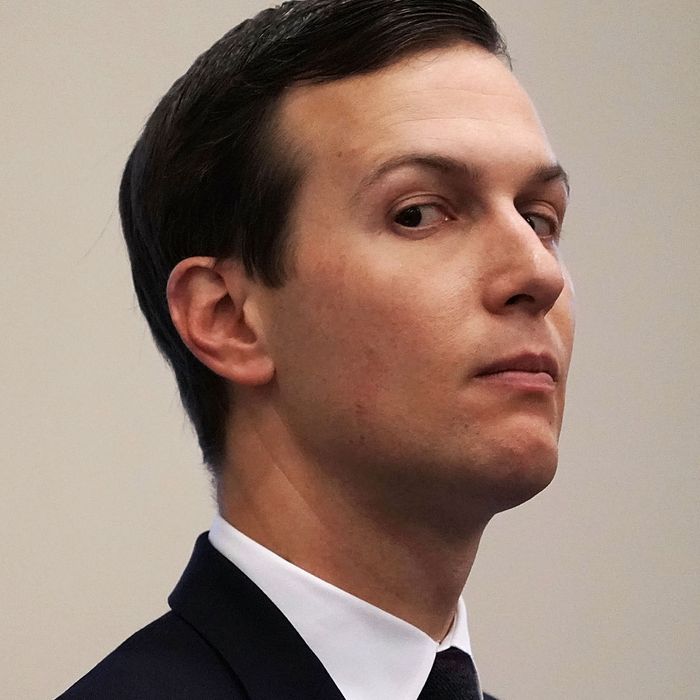 Senior White House Adviser.
Photo: Alex Wong/Getty Images
After more than 12 months of background checks and three months of diminished access to classified information, Trump senior adviser and son-in-law Jared Kushner has finally received permanent security clearance.
The renewed access to top-secret intelligence comes three months after Kushner's level of security clearance was downgraded from "top secret" to merely "secret." The shake-up was a part of a White House overhaul of security clearance procedures brought on by the controversy over Rob Porter, the former White House staff secretary who was operating on a temporary security clearance despite accusations of domestic violence.
The White House has defended the lengthy process of granting Kushner's clearance, saying it is not uncommon for people with complicated business ties and many foreign contacts to have to wait as long as he did. But those were not the only issues delaying Kushner's clearance. There was also Robert Mueller's probe into Russian interference in the 2016 election, which includes investigations into Kushner's contacts with Russian representatives during the campaign. Among his meetings drawing scrutiny were sit-downs with Russian ambassador Sergey Kislyak and Kremlin-linked lawyer Natalia Veselnitskaya.
Kushner failed to disclose those meetings on his initial applications for security clearance, raising concerns about attempts to hide them. He eventually amended the application, which was filled with an unprecedented number of mistakes, according to the head of the government agency responsible for clearing background checks.
His lawyer, who said Kushner recently sat for a second interview with Mueller's team, denied that those mistakes had anything to do with the delay. "His application was properly submitted, reviewed by career officials, and went through the normal process," Abbe Lowell said in a statement. "Having completed these processes, Mr. Kushner is looking forward to continuing the work the president has asked him to do."