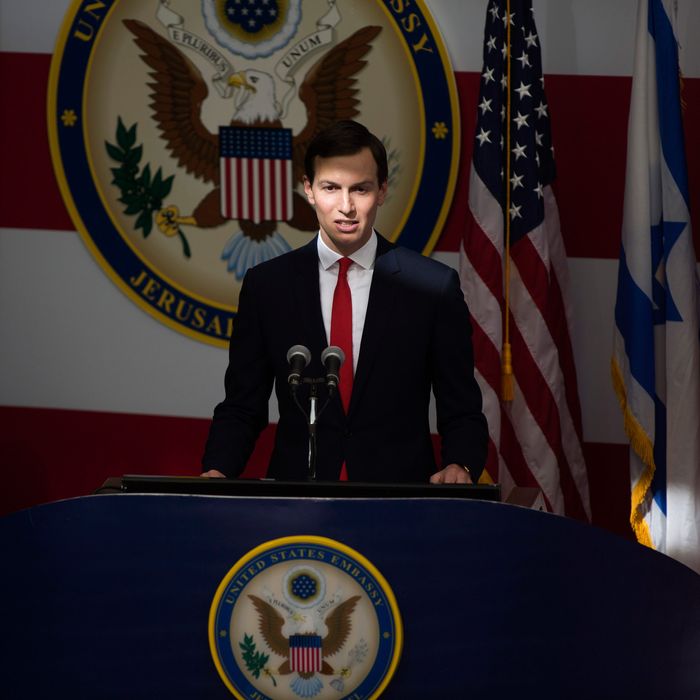 A shadowy figure.
Photo: Lior Mizrahi/Getty Images
Speaking at the opening of the new U.S. embassy in Jerusalem, Jared Kushner made a passing reference to Monday's carnage in the Gaza Strip, where at least 52 Palestinian protesters were shot and killed by Israeli security forces in the worst violence there in almost four years.
"As we have seen from the protests of the last month and even today, those provoking violence are part of the problem and not part of the solution," Kushner said.
The notion that Israeli forces were blameless in the ongoing violence, even as their role has been been condemned by human-rights groups and several governments over the last several weeks, is consistent with a White House that backs Benjamin Netanyahu's heavy-handed tactics at every turn. Deputy Press Secretary Raj Shah said on Monday that the deaths amounted to a "propaganda attempt" by Hamas, the militant organization that controls Gaza.
Still, Kushner's remark was sufficiently callous that it was excised from the official White House transcript.
The rest of Kushner's speech offered a mixture of calls for peace and praise for President Trump's bold decision to move the embassy — rhetoric that seemed jarring when held up in contrast to events on the ground in Gaza.
The move itself was one of the prime reasons Palestinians charged the border fence with Israel, armed with rocks, tires, and homemade explosives. The 70th anniversary of Israel's creation as a state, with which the embassy move was timed to coincide, was another.