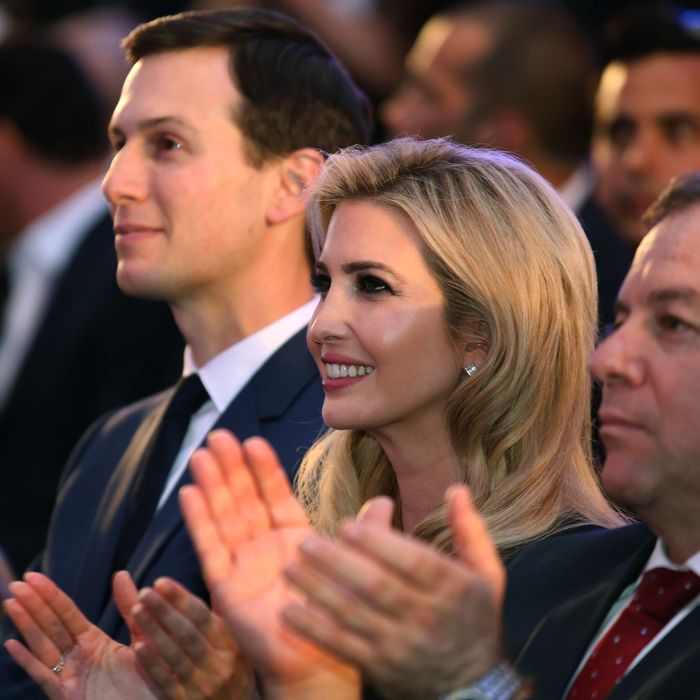 Jared and Ivanka attend a reception celebrating the opening of the U.S. embassy in Jerusalem on May 13, 2018.
Photo: GALI TIBBON/AFP/Getty Images
On Monday the United States will officially move its embassy from Tel Aviv to Jerusalem. This is, of course, a highly controversial move, but aside from the ways it upsets various international relationships, members of the Trump administration are drawing criticism over the religious leaders they've included in the celebrations.
Rabbi Yitzhak Yosef, the Sephardi chief rabbi of Israel, spoke at a reception held in honor of the U.S. delegation at the Waldorf Astoria Hotel in Jerusalem on Sunday, offering high praise for President Trump. "America has always been a kingdom of grace, but President Trump himself is a king of kindness," he said.
After the speech White House advisers Ivanka Trump and her husband Jared Kushner approached Yosef and asked for his blessing, according to The Jewish Press.
In March, Yosef was criticized by the Anti-Defamation League after using the term "kushi," a derogatory Hebrew word for black people, in a sermon, and comparing them to monkeys.
"You can't make the blessing on every 'kushi' you see — in America you see one every five minutes, so you make it only on a person with a white father and mother," he said. "How do would you know? Let's say you know! So they had a monkey as a son, a son like this, so you say the blessing on him."
Yosef's office said he was quoting the Talmud, not using the modern slur. But the ADL still said his remarks were unacceptable.
Yosef has made other controversial remarks in the past, such as suggesting immodestly dressed secular women behave like animals and claiming that according to Jewish law non-Jews are forbidden from living in Israel.
Meanwhile, Mitt Romney, who is running for the Senate in Utah, was irked by a different religious figure.
Jeffress, who runs the First Baptist Church in Dallas, has referred to Islam and Mormonism as "a heresy from the pit of hell." He's also claimed that Islam promotes pedophilia, called Catholicism the "genius of Satan," and dismissed various other religions as cults. Unsurprisingly, he's also denounced homosexuality as a "filthy practice" and vividly railed against the legalization of same-sex marriage.
So why is he giving the opening prayer at the U.S. embassy opening? He's also a frequent Fox News contributor and informal adviser to President Trump, who delivered a sermon during his inauguration festivities. Jeffress is known for giving religious justifications for Trump's policies, such as claiming God is "is not necessarily an open borders guy," and declaring that "God has given Trump authority to take out Kim Jong-un."
In an interview with NBC News in response to Romney's criticism, Jeffress denied that he's a bigot, but said he thinks Mormonism is "wrong" and a "cult."
"Mormonism has never been considered a part of historic Christianity. People may disagree with that view, but it's not a view unique to me," he said.