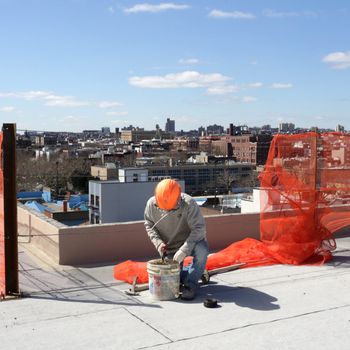 Taking care of business.
Photo: Yana Paskova/Bloomberg via Getty Images
The last time America's unemployment rate was this low, "Smooth" by Santana was topping the charts, and officials were still counting "hanging chads" in Broward County, Florida.
In April, only 3.9 percent of Americans who were looking for work couldn't find it, according to the jobs report released by the Labor Department Friday. A few short years ago, well-regarded economists were arguing that it would be irresponsible to let unemployment fall that low — in fact, one of President Trump's recent nominees for the Federal Reserve suggested that unemployment should kept above 7 percent, lest a too-tight labor market send wages and prices soaring uncontrollably.
But now, unemployment is lower than at any point since December 2000; and wage growth and inflation are resolutely tepid. In April, average hourly earnings grew by only 0.1 percent from the prior month, and 2.6 percent from a year ago, underperforming expectations. The fact that America's inflation rate is still lower than the Federal Reserve's target — even as unemployment dips below 4 percent, and the annual federal budget deficit climbs to over $800 billion — challenges the core assumptions of many a right-leaning economist. (One of the right's main arguments against fiscal stimulus throughout the Obama years was that high deficits and "too-low" unemployment would inevitably trigger runaway inflation.)
All this said, the 0.2 percent decline in America's unemployment rate between March and April isn't unambiguously good news. Much of that drop is the product of Americans exiting the labor force instead of finding jobs. Payrolls grew by only 164,000 last month, significantly lower than the 192,000 economists had predicted. But 410,000 Americans exited the workforce, sending both the labor force participation rate and employment-to-population ratio down by 0.1 percent. Fortunately, this was largely the result of workers aging out of the labor market, rather than dropping out due to frustration: The employment-to-population ratio among prime age workers was 79.2 percent last month, which is quite close to its pre-recession value.
Nonetheless, the baby-boomers aren't going to stop getting older anytime soon. And the contraction in America's labor force will put limits on growth — and fiscal pressure on Social Security — unless we start implementing policies that make having children less difficult for America's young people, and that allow more prime-age workers to enter the country through immigration.
For the moment though, America's economy is still (relatively) good, but not great. Which is to say: President Trump has not yet squandered his (economic) inheritance, and that good fortune appears to be keeping his approval rating afloat, even as Stormy scandals rock his White House.