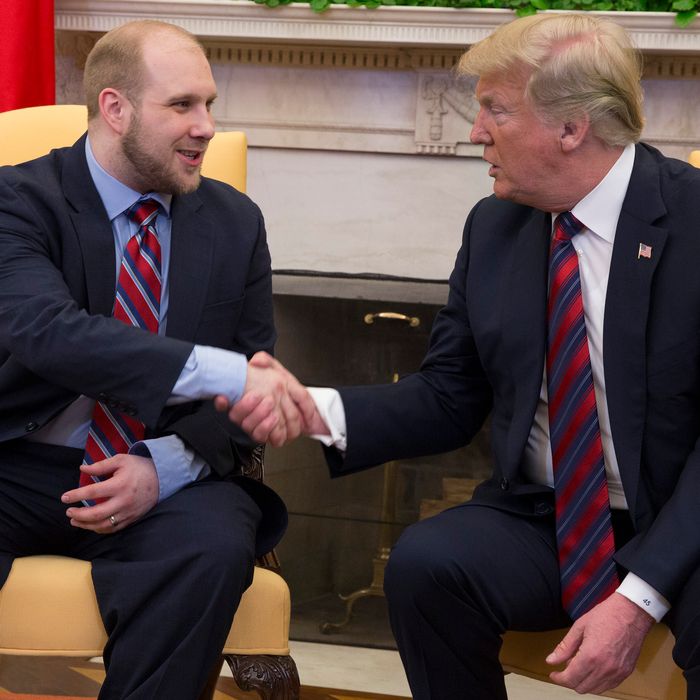 Holt and Trump Saturday night.
Photo: Pool/Getty Images
Joshua Holt, an American who had been held in a Venezuelan prison for more than two years, was released to the United States on Saturday, and soon after met with President Trump in the Oval Office.
As the two posed for photos, surrounded by Holt's family and several other lawmakers, Trump told Holt, "You've gone through a lot. More than most people could endure."
He also hinted that more hostages held in other countries would be released soon, saying "we have some others coming."
Holt, a 26-year-old Utahn, had traveled to Venezuela in 2016 to marry a woman he had met online. In June of that year, he was arrested by the government, which accused him — with the help of planted evidence, observers say — of stockpiling weapons as part of an American effort to topple the government of President Nicolás Maduro. Holt was held in a notorious Caracas prison, and was expected to go on trial in the coming months. He recently appeared in a secretly shot video in which he begged for help from the U.S. government, and claimed his life was being threatened.
Holt's imprisonment had drawn the attention of multiple U.S. senators. Utah Senator Orrin Hatch had been working to secure his release since 2016, in negotiations that involved President Obama and Maduro's administration.
The diplomatic coup de grâce came when Tennessee Senator Bob Corker made a surprise trip to Venezuela this week, where he shook hands with Maduro and apparently secured Holt's release.
Last week, Maduro won a second term as president, despite the economic catastrophe he has presided over, in a vote that was labeled rigged by independent observers. The U.S. promptly slapped new sanctions on the country, and Maduro expelled the top two American diplomats in Venezuela as payback. President Trump has previously dangled the threat of military force against Venezuela.
Saturday's release may signal a softer approach, at least temporarily. In the Holt transaction, both sides appear to have gotten what they want: the release of the prisoner for the U.S., and the appearance of legitimacy for Maduro.
In a statement, the Holt family said, "We thank you for your collaboration during this time of anguish. We ask that you allow us to meet with our son and his wife before giving any interviews and statements. We are grateful to all who participated in this miracle."