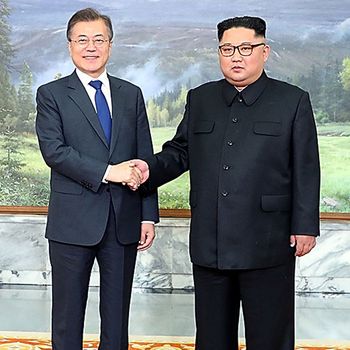 Friends again.
Photo: Handout/Getty Images
Two days after President Trump canceled his June 12 meeting with Kim Jong-un, the North Korean dictator met with South Korean President Moon Jae-in for a surprise summit that appeared to indicate both leaders' strong appetite for continuing diplomacy involving the United States.
The two-hour meeting was held in the Demilitarized Zone that separates the two countries. It was the sequel to a previous, groundbreaking summit in April between the two, during which Kim became the first North Korean leader to set foot in South Korea since the war.
"The two heads of state had a frank exchange of views on the implementation of the April 27 summit agreement and for the successful holding of the North Korea-United States summit," a spokesman for Moon said in a statement to reporters.
Left unsaid: whose idea the meeting was in the first place.
On Friday, the Trump administration sent mixed signals about its next steps on North Korea. After North Korea responded to Trump's cancellation letter by sending a conciliatory note in which it said it was "willing to sit down with the United States any time, in any format, to resolve the problems," President Trump told reporters that his meeting with Kim could be rescheduled, or might still take place on June 12, repeating that point on Twitter.
But at least one official contradicted him later, claiming that the logistics had become next to impossible to arrange so close to the date.
As is typical in the administration, there is no unified approach on the matter. Superhawk John Bolton, whose suggestion that the U.S. would follow the "Libya model" in denuclearizing North Korea, prompted an angry response from the country, would rather the summit not take place at all, while Trump and Secretary of State Mike Pompeo have increasingly backed off their unrealistic demands that North Korea destroy its entire nuclear arsenal.
On Saturday, Trump claimed, unconvincingly, that any reports of dissension within the administration were incorrect.
He also accused the Times of making up a source to cast doubt on the viability of a June 12 meeting, even though a senior administration official had expressed those sentiments in a room full of reporters.
Trump's ramblings aside, the American security apparatus has not yet given up on the possibility that the president's letter was a mere bump in the road on the way to Singapore