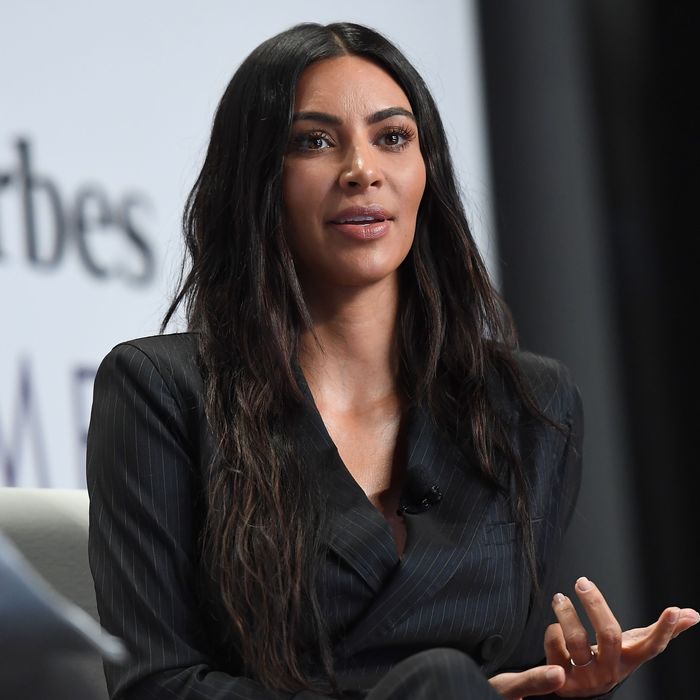 So now we're just letting reality-TV stars into the Oval Office?
Photo: ANGELA WEISS/AFP/Getty Images
Early on Wednesday morning, Vanity Fair published a report that initially sounds like a bizarre game of Mad Libs. Kim Kardashian West is set to meet with President Trump on Wednesday, likely in the Oval Office, to ask him to pardon a 62-year-old great-grandmother serving a life sentence without parole for a nonviolent drug offense. This follows "months of talks" between Kardashian West and Jared Kushner about prison reform.
Yes, this is real life, and it's not actually as crazy as it sounds — at least, not on Kardashian West's part.
Kanye West's recent embrace of the MAGA hat and all it stands for was nearly inescapable, so most people are aware that his wife was a vocal Hillary Clinton supporter, and has made it clear that she's still not a huge Trump fan. But many may not know that in between welcoming her third child (plus two new nieces) and promoting a new fragrance that comes in a bottle shaped like her naked torso in recent months, Kardashian West has been publicly promoting clemency for Alice Marie Johnson.
The case of Johnson, who's been in prison since 1996 on money-laundering and drug-conspiracy charges, came to Kardashian's attention when she spotted a video Mic posted to Twitter in October.
The Daily Beast summed up how Johnson wound up with such a harsh sentence, though it was her first offense:
At trial, prosecutors called 10 of her co-conspirators to testify against her in exchange for reduced or, in some cases, dropped charges. The co-defendants who testified against her were given sentences ranging from probation without jail time to 10 years, while Johnson was sentenced to life in prison without parole, plus 25 years.




Johnson admits she acted as a go-between, relaying coded messages by telephone, but says that she never personally made drug deals or sold drugs.
Kardashian West confirmed earlier this month that she'd had several phone calls with Trump's son-in-law/adviser about Johnson's case. (She's also involved in the effort to free Cyntoia Brown, a woman sentenced to 60 years for killing a man who she says was soliciting her for sex at 16 after she was forced into prostitution.)
While Kardashian West is already drawing flak on social media for both working with the Trump administration and not being a prison-reform expert, she explained her stance in an interview with Mic several weeks ago. When asked about accusations that she's legitimizing Trump's broader policies, she suggested she's willing to put her other gripes with Trump aside to help Johnson.
"I'm just focused on criminal-justice reform and helping one person at a time. And so far, the White House has been really receptive to my calls, and I'm grateful for that," she said. "And I'm not going to stop that because people personally don't like Trump."
Is Kim betraying the Resistance by (presumably) giving Trump a photo op and some good press? Maybe, but seems strange to criticize her for trying to put her celebrity to good use, rather than focusing on the Trump administration's contradictory approach to the issue.
Inspired by his father's stint in the federal prison system, Kushner has made prison reform one of his pet causes (along with peace in the Middle East). A Kushner-inspired bipartisan prison-reform bill, the First Step Act, was recently passed by the House, but it faces an uncertain future in the Senate, with some Republicans saying it's too generous, and Democrats arguing it does not go far enough.
At the tail end of the Obama administration, sentencing reform seemed like the rare issue that could bring the two parties together, but following Trump's "law and order" campaign, Republican interest in addressing the reason why so many people end up serving long prison terms has dwindled. Now Kushner and Republicans aligned with him on prison reform argue that incremental changes are all that's possible right now, and Democrats are hypocrites for not welcoming the legislation (which they think is inadequate, and could even make some problems worse).
President Trump supports the First Step Act, but in many other ways he and his administration have worked to undermine broader prison reform. Attorney General Jeff Sessions is adamantly opposed to sentencing reform, and he worked to dismantle Obama's efforts to improve prison conditions, including cutting the federal corrections budget, dismantling its school system, and laying off 6,000 prison staffers. Sessions's Justice Department has also reduced funding for halfway houses, embraced private prisons, and ordered federal prosecutors to seek harsher penalties for low-level offenses.
Of course, Trump's rhetoric on incarceration has also generated much confusion. One day he's promising to sign the First Step Act, saying "Our whole nation benefits if former inmates are able to reenter our society as productive, law-abiding citizens." Then at other times, he's repeatedly endorsing the death penalty for drug dealers.
"Some countries have a very, very tough penalty — the ultimate penalty," Trump said in March. "And, by the way, they have much less of a problem."
Obama backed up his prison-reform efforts by commuting the sentences of more than 1,700 people in prison for nonviolent drug crimes. So far, Trump has shown he's willing to use his pardon power to help out friends who horrifically abused minorities, and people who draw media attention or have celebrities backing their cause, like the late boxer Jack Johnson. That's a good sign for Alice Marie Johnson, but it probably won't mean much for the thousands of other incarcerated people waiting for broader reforms.