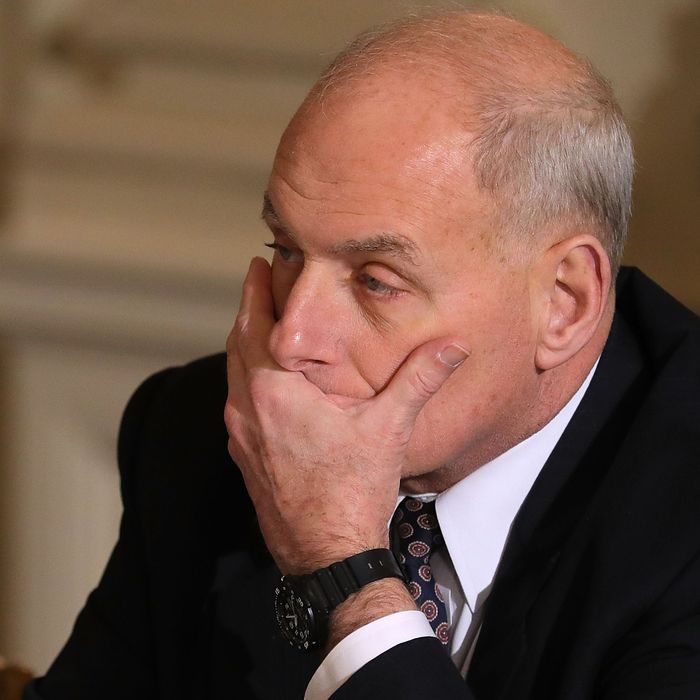 New White House policy: no talking in general.
Photo: Chip Somodevilla/Getty Images
Nearly two weeks ago, a White House communications staffer dismissed Senator John McCain's concerns about the incoming CIA director's stance on torture by quipping, "It doesn't matter, he's dying anyway."
Since President Trump is opposed to apologies — particularly when they involved his war hero political foe — the White House refused to publicly acknowledge that it's not cool to make fun of a senator battling brain cancer. Instead, they focused on admonishing communications staffers for leaking a remark made during a private meeting, and embarked on a quest to figure out who shared the comment with reporters. Both of these efforts were promptly leaked to the press.
Trump has demanded changes to his communications team to crack down on leaks, Politico reports, and now some mid-level and junior aides are expected to be purged from the team — according to "three people familiar with the situation."
White House Chief of Staff John Kelly reportedly signed off on this plan. No time frame was offered for the firings and reassignments, but it seems like a tall order. On Tuesday a source shared Kelly's comments to some of the administration's latest staffers. Per Politico:
Kelly, whose relationship with Trump has been distant over the past few months, is a close ally of the president in the matter. In an orientation session for some of the administration's recent hires on Tuesday morning, he sought to explain Sadler's remark, telling the group that it was merely a factual statement — not a morbid joke.




He went on to criticize the news media, according to an administration official briefed on his comments, complaining that its coverage of Trump is too often based on anonymous sourcing, unfair to the president and completely inaccurate. At the same time, Kelly, a retired Marine general, made clear he has the utmost respect for McCain and considers him an American hero, the administration official said.
Maybe this was one of those "leaks that aren't leaks" — an authorized attempt to let it be known that the unofficial White House stance is shifting from "it was a bad joke" to "it was a meditation on the fact that we're all dying a little every day." Or perhaps the newest batch of White House hires can't keep their mouths shut either.
But don't worry. In due time those responsible for leaking about the sacking of leakers will be sacked.