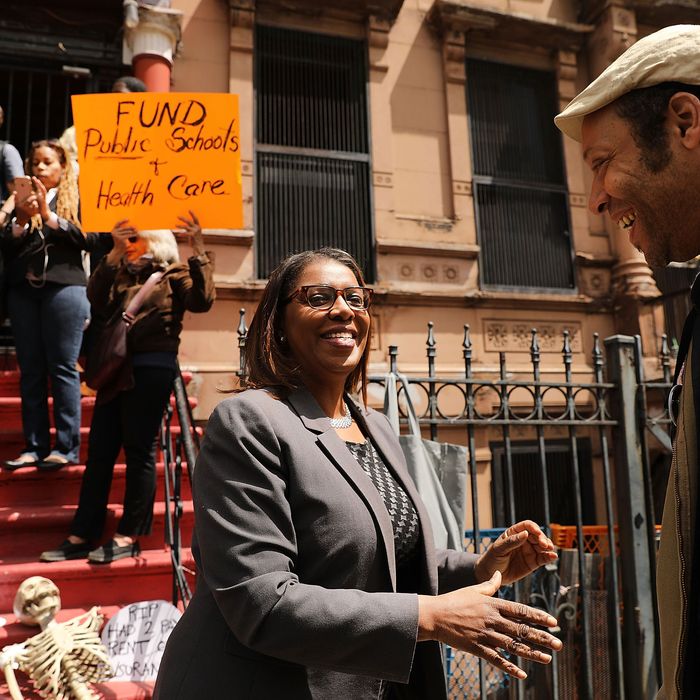 Letitia James on the campaign trail.
Photo: Spencer Platt/Getty Images
Preet Bharara announced on Twitter that he had been fired by Donald Trump, and not 60 seconds passed before Letitia James was out with the first official statement: "Run, Preet, Run," she wrote in a reply to him.
Fourteen months later, a missive from James is more likely to read, "Don't Preet, Don't."
James has emerged as the early but still overwhelming front-runner to be the next attorney general of New York. According to Albany sources, the city's public advocate has been aggressively laying the groundwork for a run, already securing the support of key union groups, and is seen as largely acceptable to the capital's warring factions that line up behind either Governor Andrew Cuomo or the progressives that make up the Working Families Party and other lefty outfits. James has twice been elected citywide and in the Democratic primary of the attorney general race 60 percent of the vote is likely to come from the five boroughs. Being the first African-American woman elected statewide in New York could at least provide some measure of redemption for an office still reeling from the fallout of Eric Schneiderman's abrupt departure.
For a moment last week, it looked as if James would already be the attorney general by now. In the event of a vacancy, it is the job of the legislature to pick someone to fill the open seat. The appointment of James would have meant that she would be removed from the list of mayoral contenders in 2021, which made large swaths of Assembly Democrats, many of whom are already lined up behind would-be mayors, inclined to pick her.
But the editorial boards raised a ruckus at the possibility that a "backroom deal" would decide who would be the state's next top cop, particularly since another statewide elected official, Comptroller Thomas DiNapoli, was installed in a similar manner in 2007 even though a panel of experts found him to be unqualified for the job. (He has now served in the job for over a decade without facing a meaningful primary in this overwhelmingly Democratic state.)
The legislature, in a rare show of restraint, heeded the editorial boards. James decided to wait and pursue the nomination at the state Democratic convention later this month, and anyone else with a serious interest in the job decided the same.
The only problem is that what was at first shaping up into an all-out political brawl is quickly becoming a more predictable political race. James is formidable — if not quite unbeatable. She has only $30,000 on hand after spending close to $1.7 million in her 2017 reelection with only token opposition. Business is frightened of her. She can be a powerful presence on the stump, but has a tendency to get ahead of herself too — as when on her first day on the job she falsely claimed that she was the impetus for the New York Times 2013 series on Dasani, a homeless 12-year-old girl living in Brooklyn; or when she bashed Mayor Mike Bloomberg at her inauguration, even as he was sitting a few feet away from her on a day usually devoted to encomiums about the virtues of public service and praise for the outgoing administration.
Even that "Run, Preet, Run" tweet raised eyebrows, since not only had Bharara spent much of his time as U.S. Attorney pursuing corruption among the city's political class, but the city's and the state's political scenes were filled with Democrats running for reelection. "He walked out with his head up high, and he should consider running for office," James told Politico before declining further interviews on the topic. "He should remain in public office; otherwise it would be a disservice to New Yorkers. He rises above the fray, he focuses on corruption, he's a man of integrity, he's independent, he's brash and he takes no prisoners."
It's some endorsement, but Bharara is looking less and less likely to run. The Democratic convention is a week away, and James seems poised to secure enough votes there that anyone else who wants to run would have to gather signatures to get on the ballot. The primary is in 120 days, and political insiders say that being able to raise $5–$10 million is the baseline for entry.
"Unless you have a readymade infrastructure — field, fundraisers, consultants, endorsements lined up, I just don't see how it is doable," said one.
Bharara has been coy about his intentions. "I think politics is not really for me, but it's an important job, it's an important time, so we'll see," he said on his podcast. But there isn't much more time to be coy if he wants to run as a Democrat. It has been floated either by "a source familiar" or by people who want to see it happen, that Bharara may run as some combination of a Republican/Independent this fall, which would buy him slightly more time to put together a campaign — but he would still face daunting odds in a year in which Democrats are looking to send to a message to Washington.
If Bharara takes a pass, it is hard to see who can slow James. Kathleen Rice, a moderate Democratic congresswoman from Long Island who ran for attorney general in 2010, announced on Tuesday that she wouldn't run after her campaign's lawyers determined that doing so would mean leaving the ballot line in her congressional race vacant, a move that would deprive Democrats of a safe seat. Sean Patrick Maloney, an upstate congressman, would be the state's first gay attorney general if he won, but he faces the same legal thicket that Rice's team decided disqualified her. Stephanie Miner, the former mayor of Syracuse, and Leecia Eve, a Buffalo attorney with a long career in the background of state politics, may run, but an upstater in a Democratic primary in New York faces daunting odds.
The most formidable challenger to James may be someone even closer to Cuomo than she is: Alphonso David, the governor's counsel, has been making phone calls and looks set to announce a campaign in the next couple of days. David, who is openly gay, fled Liberia as a child and from his perch as Cuomo's deputy for civil rights earlier in the administration helped shepherd New York's landmark same-sex marriage law through the legislature.
David would benefit from Democrats and members of the business community wary of James, but might find it difficult to get much traction with the Democratic Establishment if the governor is choosing the public advocate over his administration's lawyer. And he will have to prove to voters that as attorney general he can be an independent overseer of the governor who has employed him over the past two terms.
If David drops, the only other chance of keeping this contest from being a coronation may rest in the hands of two downstate Democrats. One is Zephyr Teachout, a constitutional law professor at Fordham. She has already formed an exploratory committee and has sounded very much like a candidate since Schneiderman resigned. Teachout won plaudits for surprisingly strong showing against Cuomo in 2014, winning over 30 percent of the vote despite a massive fundraising and endorsement deficit, and remains a favorite among liberals. But she has few ties to unions or community groups, and lost badly in a winnable congressional race in 2016.
Mike Gianaris, a state senator from Queens, has over $2 million in the bank and has long had his eye on the AG's job. He is expected to announce whether or not he is running this week, but an outer-borough white guy would face long odds against James, especially in a race that could easily hinge on thorny questions of race and gender. With the party, from Andrew Cuomo on down, seemingly prepared to line up behind James, why take the risk?