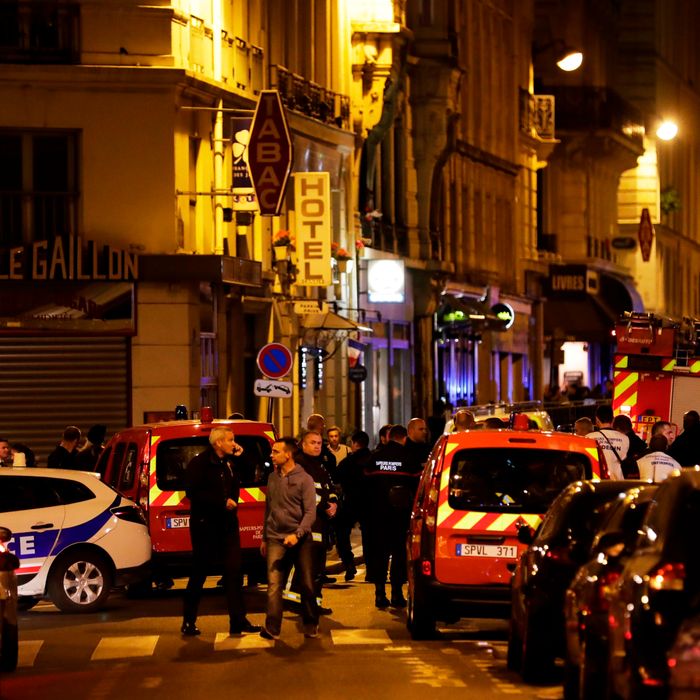 Policemen and emergency service members stand in a blocked street in Paris centre after one person was killed and several injured by a man armed with a knife, who was shot dead by police in Paris on May 12, 2018.
Photo: Thomas Samson/AFP/Getty Images
A 20-year-old man killed one person and injured four others in a stabbing attack near the Palais Garnier in Paris on Saturday night. The attacker, who had been previously flagged as a security risk by French counterterrorism authorities, was soon shot and killed by police. ISIS later claimed that the man, a French national named Khamzat Azimov who had migrated to the country from Chechnya with his family in 2010, was a "soldier of the Islamic State." Azimov allegedly shouted "Allahu akbar" during the attack, according to witnesses.
The knife-wielding attacker apparently chose his victims at random, walking from restaurant to restaurant on Rue Monsigny near the Paris Opera, threatening everyone he saw. People ran or hid inside the restaurants during the attack, according to the Guardian. Azimov murdered a 29-year-old man who was walking in the street, and two of his four other victims received serious injuries. When police arrived, they were reportedly unable to subdue Azimov using a Taser. When he then tried to attack the officers, they shot and killed him.
Hours after the attack, ISIS claimed Azimov as one of their own using their Amaq News Agency, saying he was targeting coalition forces. On Saturday night, French president Emmanuel Macron tweeted that "France is paying in blood once again, but it will not give one inch to the enemies of freedom."
Azimov, who had no criminal record, had been interviewed by French counterterrorism police several months ago after he was identified as a friend of a man who had travelled to Syria with his wife and who was listed as a security threat — along with about 20,000 other people — by French authorities.