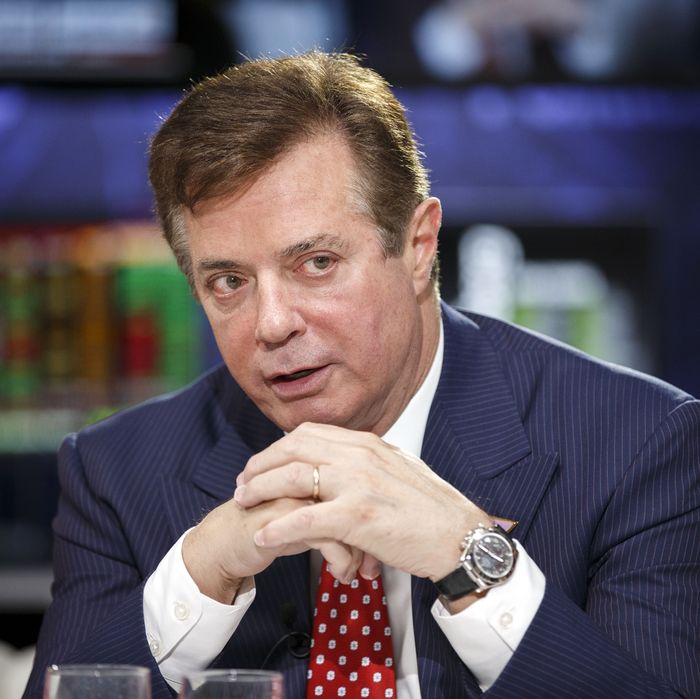 Paul Manafort.
Photo: Patrick T. Fallon/Bloomberg via Getty Images
Jeffrey Yohai, Paul Manafort's former son-in-law, pleaded guilty to federal criminal charges in January and has agreed to cooperate with federal prosecutors as part of his plea deal. His attorney, James Hicks, told BuzzFeed, "I can only confirm that he has reached a plea agreement," and it's unclear exactly what he pleaded guilty to. Reports from Politico and The Wall Street Journal said he pleaded guilty to either fraud or conspiracy charges related to real-estate loans on properties in New York and California.
Yohai, who was divorced from Manafort's daughter Jessica in August, worked with his father-in-law on a number of real-estate projects, which led to several bankruptcy filings in late 2016. One of the indictments Special Counsel Robert Mueller brought against President Trump's former campaign manager accused him of committing bank fraud by telling one of his son-in-laws to pretend he was living in a Manhattan apartment that they were renting out. According to the Journal, Yohai also pleaded guilty to misrepresenting his income and assets to obtain an American Express Black Card, then running up charges he couldn't pay.
Mueller brought charges against Manafort over an elaborate bank fraud and money laundering scheme; he pleaded not guilty and is set to go to trial in Virginia in July, and in D.C. in September. Rick Gates, who was Manafort's longtime business partner and worked under him in the Trump campaign, was facing similar charges but cut a plea deal in February.
While Mueller is believed to be trying to pressure Manafort to flip too, he's been fighting the charges. This week one judge rejected his claim that Mueller doesn't have the authority to charge him for crimes outside of Russian election meddling, but the judge in the other case is still considering that argument. On Thursday prosecutors gave U.S. District Judge T.S. Ellis III an un-redacted copy of a memo detailing what specific activities Deputy Attorney General Rod Rosenstein authorized Mueller to investigate. Trump's allies in Congress are trying to obtain a copy of the memo, though DOJ precedent prohibits them from sharing records from an ongoing investigation.
It's unclear if Yohai will be asked to provide information that could be used in Mueller's prosecution of Manafort. In a May 10 court filing, Yohai said he had missed deadlines in a New York civil case partly "due to his involvement in the federal investigation by Office of Special Counsel." A lawyer for the opposing side said the judge told him that he needed to produce documents and sit for a deposition, "special counsel or no special counsel."