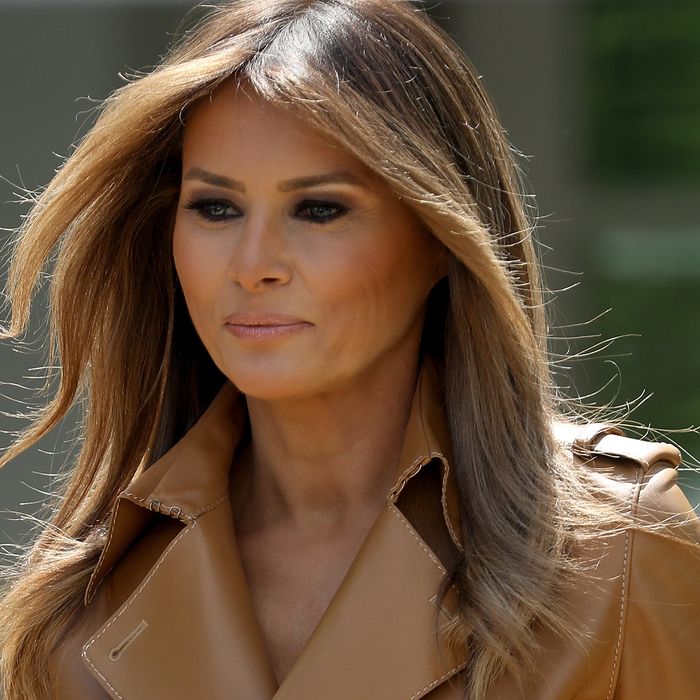 First Lady Melania Trump at her "Be Best" presentation at the White House on May 7.
Photo: Win McNamee/Getty Images
First Lady Melania Trump was released from the hospital on Saturday morning after a five-day stay following kidney surgery. She has returned to the White House, according to a statement from her office, and is "resting comfortably and remains in high spirits."
The 48-year-old Trump underwent surgery on Monday for a "benign kidney condition" at Walter Reed National Military Medical Center, which is where she remained and recovered for the rest of the week — though President Trump originally indicated she would be out in a few days, slightly contradicting an earlier White House statement which said she would remain at the hospital for the duration of the week.
As CNN points out, it's still not clear why such a long hospital stay was required, or if her "benign" condition was a tumor. Ms. Trump's communications director, Stephanie Grisham, hasn't offered any explanation, citing the first lady's privacy. The procedure Trump underwent, an embolization that cuts off the blood supply to the kidney, typically only requires a day of recovery. According to some medical experts, it's possible that her procedure may have been more complex than it typically is — thought not necessarily more dangerous — or that her medical team was just using an abundance of caution.
President Trump visited Melania three times during her stay in the hospital. He tweeted about the news that she was home on Saturday afternoon, originally misspelling her name:
As that tweet points out, Dennis Rodman's similar offense got him fired from All-Star Celebrity Apprentice. As seen in the video recap below, when it happened, Trump claimed he noticed right away:
This post has been updated to include President Trump's tweet.