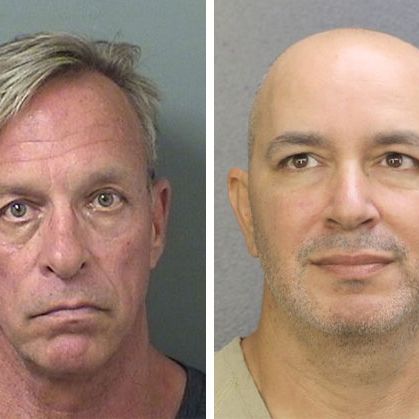 Photo: Palm Beach Sheriff's Office; Broward Sheriffs' Office
Here's a fun bit of irony: The owners of Mugshots.com, the infamous site that has ruined countless lives, now have mugshots to call their own. Sahar Sarid and Thomas Keesee were arrested in Florida on Wednesday after the California attorney general's office charged them and two others with crimes related to the website. Keesee and Sarid as well as partners Kishore Vidya Bhavnanie and David Usdan were hit with charges of "extortion, money laundering, and identity theft."
The way Mugshots.com works is that it would mine booking photos from police departments across the country and then publish them online. They would often show up if someone were Googled, along with details of their arrest. The site then bills people to the tune of hundreds of dollars to remove the listings.
"This pay-for-removal scheme attempts to profit off of someone else's humiliation," California attorney general Xavier Becerra said in a press release. "Those who can't afford to pay into this scheme to have their information removed pay the price when they look for a job, housing, or try to build relationships with others. This is exploitation, plain and simple."
The reason Mugshots.com has been able to operate for so long is because mugshots are public records, available to anyone who requests them. Combining that with the distribution power of the internet and you've got a recipe for an extortion scheme. Mugshots.com would leave the photos up even in cases of wrongful arrest or if the person was not charged or convicted of a crime. In 2014, California made it illegal to charge for the removal of mugshots from a website.