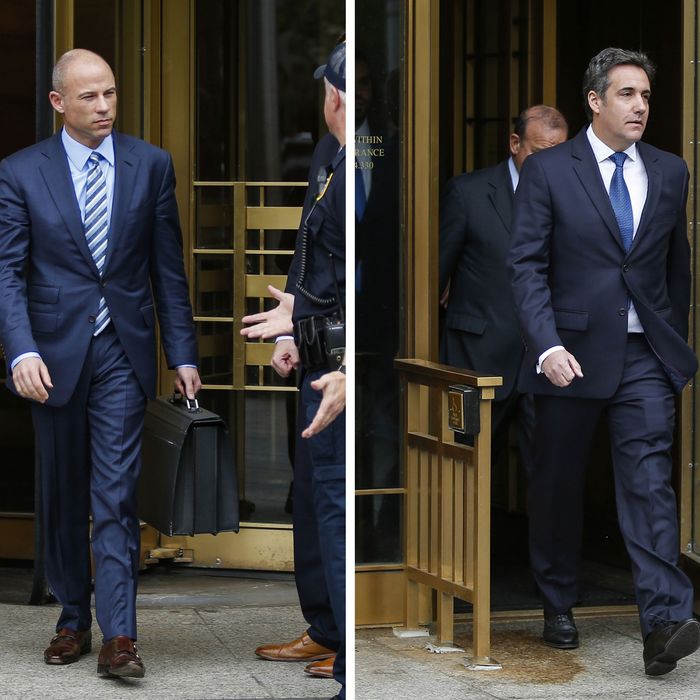 The Michaels.
Photo: Eduardo Munoz Alvarez/Getty Images
On Wednesday, there were no fewer than a dozen lawyers in the well of the courtroom of U.S. Senior District Judge Kimba Wood, the affable, soft-spoken judge who has had the fortune of presiding over one of the most bizarre legal spectacles the august Southern District of New York has seen in recent years. At the center of it lies Michael Cohen, Donald Trump's longtime loyalist, fixer, and attorney, who since April has had to lawyer up himself to head off a federal investigation into his bank records, business dealings, and side hustle of silencing and paying off women who say they've had affairs with the president of the United States.
At the outer margins of Cohen's growing legal troubles, and sitting the farthest from Wood during Wednesday's proceedings, is Michael Avenatti, the omnipresent legal eagle representing one of these women, Stephanie Clifford, the adult-film actress better known as Stormy Daniels. Technically speaking, Avenatti shouldn't even have been in the lawyers' section of the courtroom: He's not licensed to practice law in New York and hadn't yet been granted permission to appear in Wood's courtroom pro hac vice — the routine procedure through which out-of-state attorneys are given the professional courtesy of representing their clients' interests in faraway jurisdictions.
But in the Trump era, even these perfunctory requests are contested. And in Avenatti's case, Cohen's legal team has been fighting tooth and nail to keep him as far away from the New York controversy as possible. Ahead of Wednesday's hearing, the lawyers filed a document attempting to paint Avenatti as a shady legal practitioner — pointing to a recent $10 million bankruptcy judgment against his now-defunct law firm, Eagan Avenatti, and disclosures he made about Cohen's bank records, later confirmed by an explosive whistleblower account in The New Yorker, that ended up implicating innocent Cohens from Israel and Canada. And forget about Avenatti's hundreds of media appearances and magazine profiles and snarky tweets — all of those, his adversaries argued, provided grounds for keeping him out of the Cohen affair playing out in the esteemed courthouse in downtown Manhattan.
In an extended, impassioned plea opposing Avenatti's participation in Cohen's ongoing tug-of-war with federal prosecutors, Stephen Ryan, one of Cohen's lawyers, accused Daniels's attorney of engaging in "a premeditated drive-by shooting" of Cohen's reputation — beginning with the release of a document earlier this month that all but suggested that Cohen was committing bank fraud by relying on his shell company, Essential Consultants, to receive outsize wire payments from a number of companies, including one with Russian ties. "He published that information gratuitously," Ryan charged, adding that the move by Avenatti was "entirely reckless and improper."
"This is about the aggrandizement of a single attorney and his client," Ryan continued. Before long, he was apologizing to Judge Wood for his "vehemence" in opposing Avenatti's otherwise uncontroversial motion to appear in her courtroom. Joanna Hendon, a former prosecutor now representing Trump, jumped in and pointed out that on her way to the hearing, she noticed a podium with eight microphones set up outside the courthouse. "I don't think that podium is there for Michael Cohen, for Mr. Ryan, or for me," she said.
The reason Cohen's confrontation with the Feds has attracted a swarm of lawyers — Avenatti, lawyers for the Trump Organization, ones for Trump himself — is the trove of documents and files federal prosecutors were able to seize from him in the April raids, which may or may not have yielded sensitive, attorney-client confidences. Because the government wouldn't be able to lay eyes on those, Cohen decided to challenge the searches in federal court and argue that he may be, after all, a real lawyer with a real interest in keeping his legal client work beyond the reach of law enforcement — and to insist that federal prosecutors have no business looking at those communications. Wood appointed an outside, independent arbiter, retired federal judge Barbara Jones, to make the call on that question.
Cohen's concerns about privilege are entirely justified, his own non-lawyerly dealings with major corporations hoping to curry favor with the Trump administration notwithstanding. Deep down, the Cohen saga is merely a pre-indictment disagreement about which materials gathered in the federal raid are or aren't fair game to use in a criminal probe. But in the eyes of Avenatti, this is about Stormy Daniels — and how the seized materials could help her own case against Cohen and the president, each of whom she's sued in hopes of vindicating her honor and her right to speak freely about an affair that is the subject of a hush agreement she says was signed under false pretenses and coercive tactics.
With his now characteristic made-for-TV swagger, Avenatti made his way to the lectern and told Wood that the main reason he wanted in on the seized Cohen materials was to ensure that certain "audio recordings" between Daniels and Keith Davidson, the lawyer who helped her seal the $130,000 hush-money payment before the election, weren't somehow in Cohen's possession. Daniels, after all, had never granted Davidson permission to discuss her business with someone adverse to her, Avenatti said. And why were there tapes of those discussions, anyway? He added that he was deeply troubled when a reporter called him to inquire about the recordings.
Wood was unimpressed. And in what's likely the most humiliating judicial beatdown Avenatti has received since he's become a thorn in Cohen's and the president's sides, the judge essentially gave Avenatti a choice: Pick between appearing in the courtroom or on all the cable networks. Pointing to the rules of professional conduct for New York lawyers, Wood admonished Avenatti that he "would have to stop doing some of the things that [he's] been doing" if he's even remotely interested in being given permission to represent his client in her courtroom. "There would have to be a change in conduct," she warned.
Noting Avenatti's penchant for what she called a "publicity tour," Wood then let him have it: "You're entitled to publicity, I can't stop you. Unless you're participating in a matter before me." Moments later, the beatdown continued, but this time the judge's focus turned to the potential ramifications for Cohen. Should his case ever evolve into a full-blown federal prosecution, she said, Avenatti's love for the camera and his media savvy could easily deprive Trump's lawyer of his right to a fair trial and an untainted jury of his peers. "You will not be permitted to use this court as a platform for anything," Wood said.
A little over an hour had passed since Wood's admonition when Avenatti made his choice clear: He filed a notice telling the judge that he was withdrawing his initial request to be provisionally admitted in federal court in New York. Cohen's lawyers — and Trump's, who had also expressed reservations about Avenatti's potential intervention — had effectively scored a win. Avenatti didn't miss a beat. Within hours, he was back on the cable networks making his case in the court of public opinion; he even made a bit of news by telling MSNBC's Ari Melber that he knows "for a fact" that, among the seized files, there are taped conversations between Trump and Cohen. His "truth tour," as he called it, riffing on Wood's wrist-slap, would go on.
In the end, however, all that was the sideshow. As for the real reason Wood summoned everyone to her courtroom on Wednesday? Cohen's legal team has little reason to celebrate. The judge told the team they were moving way too slowly in their review of the seized documents. Todd Harrison, another Cohen lawyer, had lamented that his operation of 15 lawyers and two data specialists was "moving heaven and earth" to finish its review of 3.7 million documents. Wood showed no sympathy when Harrison said they had worked through the Memorial Day weekend and were even sleeping on couches to meet her demands. All told, she gave them until June 15 to wrap it up, or else turn over what's left over to prosecutors to make the privilege calls.
"It's important for the court to balance the slow deliberate needs of those asserting attorney-client privilege with the need for an investigation to go forward," she said, all but ensuring one long, hot summer for Cohen and the president. Expect fireworks.