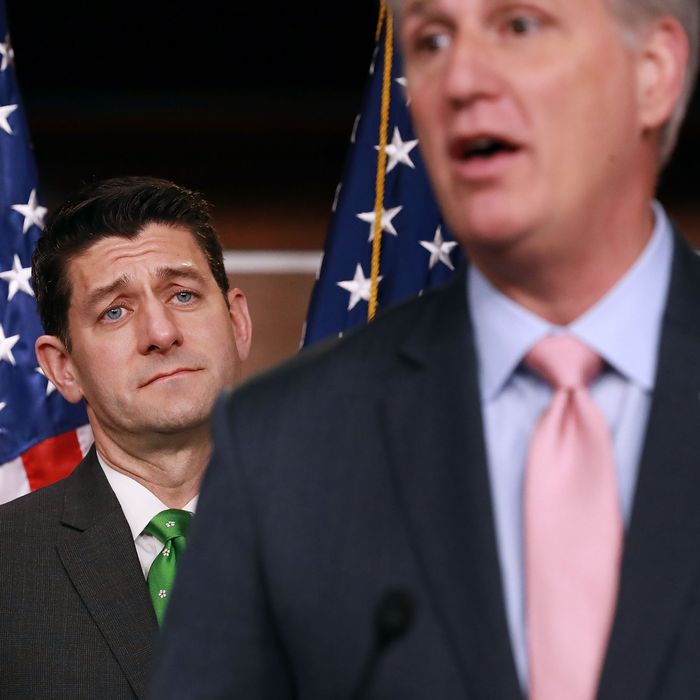 Ryan just can't compete with "my Kevin," as Trump calls him.
Photo: Chip Somodevilla/Getty Images
Paul Ryan was not Donald Trump's biggest supporter during his presidential campaign, but since the election he's helped him tremendously, passing a wildly unpopular bill to gut Obamacare and the Trump tax cuts, while burying efforts to hold Trump accountable and quietly enabling efforts to undermine the Russia investigation.
In return for his loyalty, a top White House official just publicly endorsed a rumored plan to oust Ryan as speaker, even though that would probably be bad for the GOP.
When Ryan announced a month ago that he'll retire from Congress at the end of this term, he endorsed Majority Leader Kevin McCarthy to succeed him as speaker. The job is seen as McCarthy's to lose, as it seems everyone has moved past the issues that led him to abruptly withdraw from the race for speaker in 2015. (In the age of Trump, a rumored affair just isn't that big a deal.)
Ryan made it clear that he intends to remain speaker through January 2019, but soon chatter emerged about him being forced out earlier. Talk of a coup gained momentum in the past two days thanks to a pair of reports from The Weekly Standard. First, they reported that top Republicans have been discussing a plan to push Ryan out this summer to make way for McCarthy. Supposedly Trump and McCarthy were both aware of this:
A source involved in the conversations and who has discussed the idea with President Donald Trump told THE WEEKLY STANDARD that Trump believes there is merit to the plan, but has not formed a final position. McCarthy has been weighing the effort alongside a small group of trusted advisers, considering the pros and cons of forcing Ryan's hand, and debating the best time to launch the effort. As of last week he had not spoken to Ryan about the idea, the source said.
On Monday, The Weekly Standard revealed that White House budget director Mick Mulvaney actually endorsed the idea openly a day earlier at a conference the magazine hosted in Colorado.
"I've talked with Kevin about this privately but not as much publicly," Mulvaney said when Fox News' Bret Baier asked him about the plan. "Wouldn't it be great to force a Democrat running in a tight race to have to put up or shut up about voting for Nancy Pelosi eight weeks before an election? That's a really, really good vote for us to force if we can figure out how to do it."
As the Washington Post's Dave Weigel explains, the remark shows Mulvaney doesn't understand the dynamics among House Democrats. While about a third of all GOP midterm ads in this cycle have attacked Pelosi, there are only a few close races where a vote for or against the minority leader could be a factor. Nearly every incumbent Democrat has already voted for her at least once, and someone like Democratic Representative Conor Lamb might welcome the opportunity to vote against her just weeks before an election in Trump country.
Or as one senior House GOP source told The Weekly Standard, "The idea of having a speaker's vote now in the hopes of forcing vulnerable Democrats to vote for Pelosi is painfully dumb."
Ryan suffered some high-profile embarrassments last week and there's a growing sense that he's losing his grip on the caucus. The GOP farm bill failed to pass on Friday, and there's an effort afoot to circumvent Ryan and force an immigration vote via a discharge petition.
While anonymous GOP sources have pointed to Ryan's weakened status as the problem — "He can make calls to members to urge them to vote for something, but who will care?" said a senior Republican source — McCarthy's election as speaker isn't going to magically solve divisions within the GOP. As Politico notes, if the vote were held today, he might not even be elected:
Republicans from all camps agree that McCarthy currently wouldn't have 218 votes to be speaker — mainly because he hasn't yet cut a deal with Freedom Caucus members for their votes.
Stirring up the caucus with a tussle over the speakership just months before the midterms doesn't make much sense, and Politico said that McCarthy and the White House are worried that talk of pushing Ryan out might spark a backlash.
Mulvaney spokesperson Meghan Burris issued a statement claiming his remarks were "purely hypothetical." Burris said:
He is supportive of the Speaker. He is also supportive of any ideas that unite Republicans and divide Democrats, which is what his comments at the conference referenced. He is not "working behind the scenes" for an early Speaker's race nor getting involved in any leadership races.
McCarthy also strongly denied that he's involved in any plot to oust Ryan.
"Not on any planet," McCarthy told reporters. "Look, Mulvaney and I are longtime friends. We go to dinner when we're back here on the early nights. The only thing Mulvaney has ever talked about was will you go to run for speaker if we keep the majority. Nothing different than that whatsoever."
Jonathan Swan of Axios reported on Sunday that McCarthy's allies believe his enemies are "planting stories amping up the Ryan-McCarthy divide to 'drive a wedge' between the two men." But Mulvaney is one of McCarthy's allies so he wouldn't be pursuing that strategy.
Perhaps Mulvaney just slipped up and said too much. Presumably there's a lot of excitement in the White House about trading in the reliable but wonky Ryan for McCarthy, who won Trump over with Starburst candy, late-night phone calls, and a midterm briefing filled with pictures and charts.