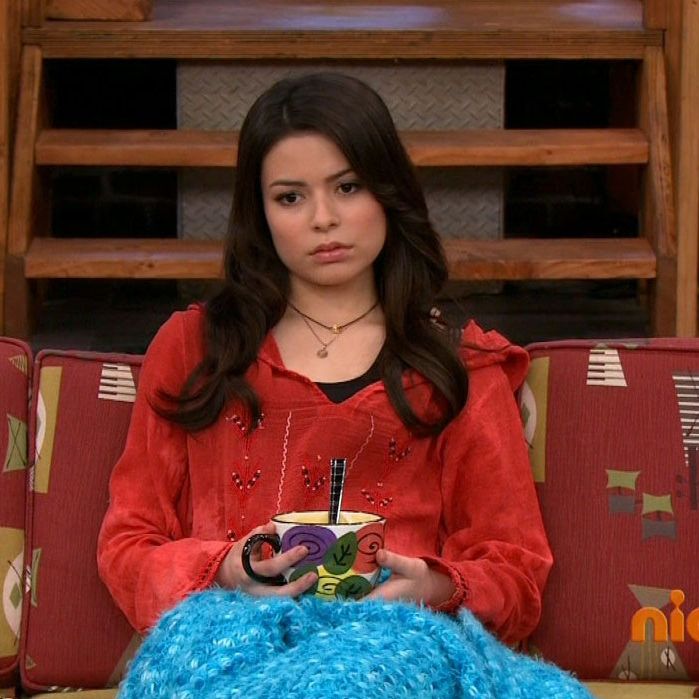 Miranda Cosgrove.
Photo: Nickelodeon
There are moments when, reading a Twitter thread, you have to do a double take. Is that Miranda Cosgrove? You've just spotted an image of the pop singer and iCarly star smiling eerily from the front seat of her car. Memes aren't always egalitarian. Is that her face, superimposed over a burning kitchen hob? Inside a storm drain channeling Pennywise? With an older man (caption: "Elon Musk and Grimes")?
Cosgrove has, quietly, over the course of the last decade, become the queen of memes. This status was highlighted when two recent and unrelated news items set Google Alerts tuned to "Miranda Cosgrove" aflame. The first involves Lil Tay, a 9-year-old self-proclaimed Instagram coke dealer (and exhibit A in a future internet-regulation bill), who was involved in a brawl with meme turned rapper Bhad Bhabie (Danielle Bregoli, or "Cash Me Outside") in Los Angeles. Tay claims on various social-media accounts to be involved with Miranda Cosgrove in some way. Often, she is called Cosgrove's younger sister — the kind of perfect urban legend that you almost don't want to check.
As it happens, Lil Tay is not Cosgrove's sister. What she is is a big fan of rapper Lil Pump; Lil Pump, in turn, has declared unceasing love for Miranda Cosgrove, which he displayed by baking a cake with her face on it. Seizing this opportunity, Lil Tay briefly adjusted her Instagram bio to add that she was managed by Cosgrove. She does look, a little bit, like Cosgrove — enough, at any rate, to trigger a conspiracy theory that the two are siblings.
The second reason Cosgrove has been lighting up social media lately is an account named iCarly Brasil, which has gained attention for an arduous campaign undertaken in Kanye West's replies. The cause: getting Cosgrove to come to Brazil. "Bring iCarly to Brazil right now or else we will report you to Brazil's President," one tweet said. The account told Insider that they specifically want Cosgrove and her former co-star Jennette McCurdy to perform in concert with West funding it. It's a very unorthodox promotion. After Kanye tweeted, "we got love," the account posted a picture of a shoe with Cosgrove's face on it.
It's appropriate for Cosgrove-as-meme to collide with the "Come to Brazil" meme, since both have roots in the internet's stan culture, in which fans, assembled in armies, obsessively tweet about and at the celebrity objects of their affection. But while "Come to Brazil" is relatively straightforward — it means "come to Brazil" — Cosgrove memes tip toward Dadaism and absurdity. Meme-makers indulge in body horror — lips replacing eye sockets, or Cosgrove Animorphing into a pair of Crocs.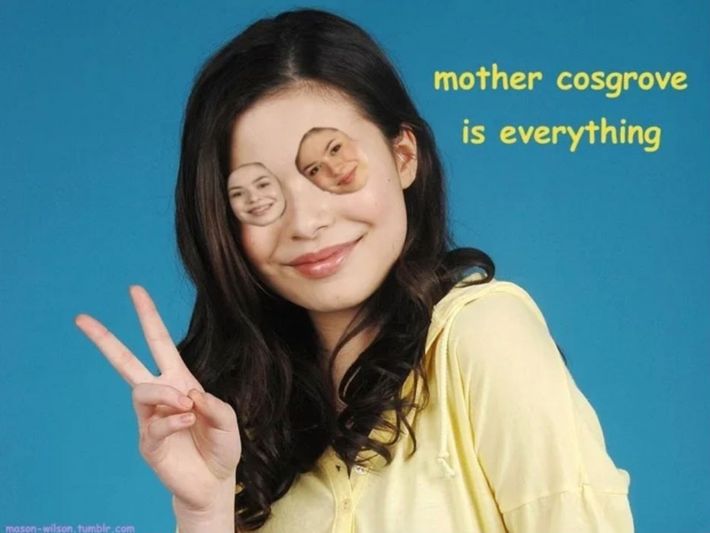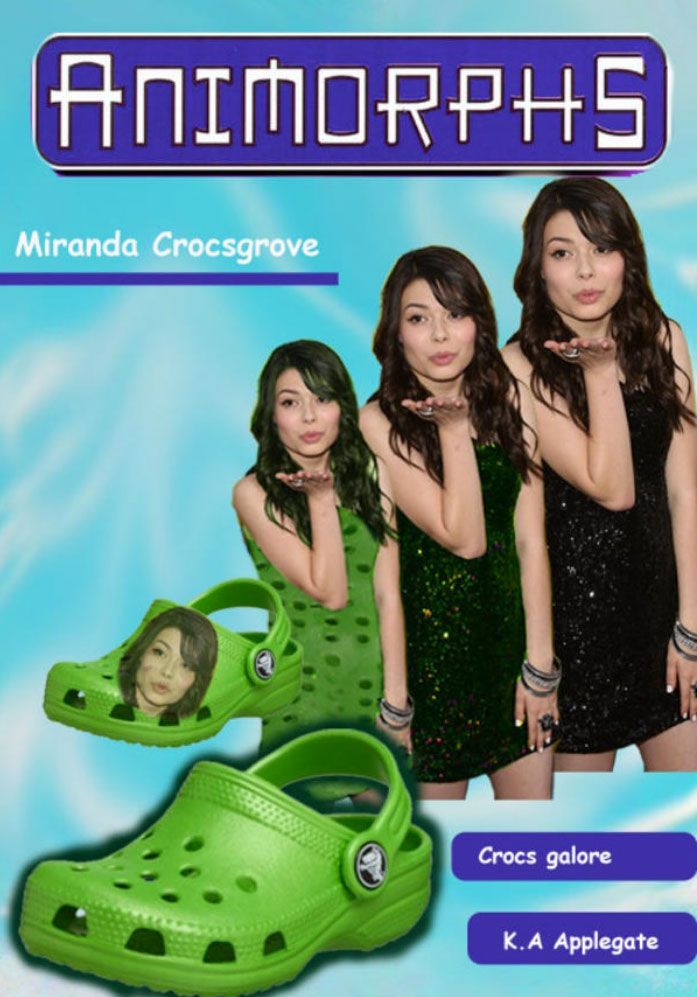 The question, of course, is why. Non-millennials might recognize Cosgrove from her very first role, as a sort of Daria-like 10-year-old named Summer Hathaway in School of Rock, or from her Neutrogena ads, or even from her recent career as a pop singer. But it's a fair bet that the most enthusiastic Cosgrove-meme obsessives know her best for her starring role as Carly Shay in iCarly, a Nickelodeon series about a middle schooler running her own web show with her two best friends.
iCarly premiered in 2007, and ended in 2012. It was among Nickelodeon's most well-known and beloved franchise — and, importantly, it was about a certain kind of job, and fame, enabled by the relatively new technology of video-streaming. iCarly obviously didn't invent vlogging, or the YouTube star. But it did introduce it conceptually to a significant number of people.
Cosgrove has since had a successful-enough career as a singer. But her real talent is being a kind of natural resource of memes. If you judged celebrity by the number of memes created about a person, she'd be one of the biggest stars on the planet. The Cosgrove meme survived both the Bush and Obama administration, which says a lot. And it's a sustainable meme: It's not problematic or mean — nothing pointed or controversial ever erupts from it, though. There's no mocking attitude toward the actress.
Cosgrove's ascension as a young industry giant isn't unfamiliar — Selena Gomez, Demi Lovato, the Jonas Brothers all walked the same path. So how come Cosgrove is the only one exploited by the meme-industrial complex? (Aside from that one photo of Demi Lovato.) It helps that Cosgrove looks a lot like Rebecca Givens, commonly known as the most overexposed stock-photo model.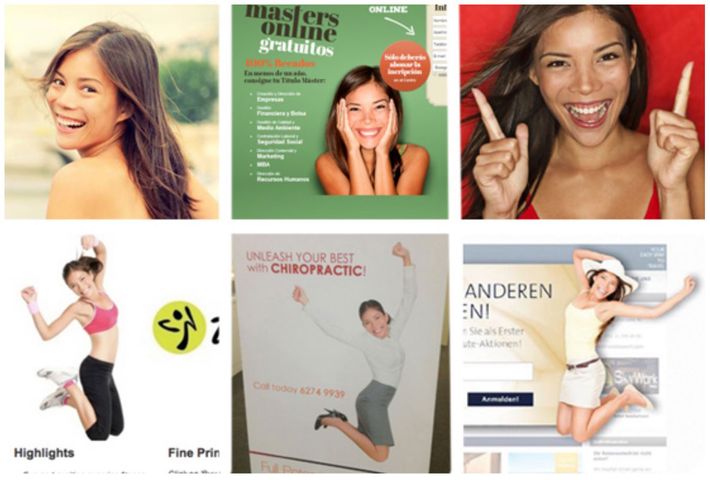 But staring through the memes, I think what makes Cosgrove stick out is her uncanny ability to maintain an identical, neutral facial expression through all of her photos. You might compare her to the stoic subjects of 19th-century photo prints, where early technology made it harder to smile because of the long exposure time. In this sense, I position Cosgrove the way others do Keanu Reeves — a timeless, unaging, unchanging figure observing human life. The very first Miranda Cosgrove meme came from 2009, when user @KatlynLynn wrote, "I stared at the Miranda Cosgrove picture at the bottom of my TV screen because I thought she blinked..Lmao! (:"