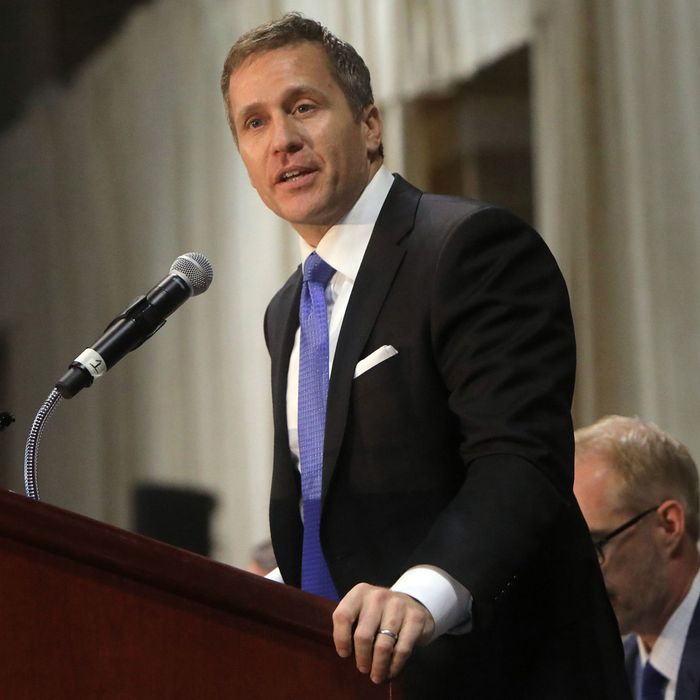 Greitens was facing impeachment and a possible trip to the hoosegow after multiple investigations of his conduct.
Photo: Laurie Skrivan/TNS via Getty Images
In one of the less surprising political developments of this turbulent year, embattled Missouri governor Eric Greitens resigned today, spitting defiance at his many critics (which included many prominent figures in his own Republican Party) and depicting himself as the victim of dark political forces that brought him down. By doing so, he avoided what might have been an imminent impeachment by the GOP-controlled legislature. But to hear him, he's just abandoning his fight for redemption in order to mitigate the pain it's caused for his friends and family. "Let's walk off the battlefield with heads held high."
It's actually not going to be that easy. Greitens faces at least one, and perhaps multiple, criminal proceedings stemming from alleged corrupt campaign practices and a sex/blackmail scandal that drew unwholesome attention to him and his state when it went public. Here's how the Kansas City Star summarizes his brief tenure (he took office in 2017):
His first year in office was dominated by a steady stream of corruption allegations, most stemming from his reliance on anonymous campaign contributions routed through secretive nonprofits.




The night last January when he delivered his 2018 State of the State address to a joint session of the legislature, the scandal that would begin the end of his time as governor became public. A woman with whom he had an affair in 2015 alleged that he took a nude photo without her consent to use as blackmail to keep her from talking about their relationship.
He was indicted for felony invasion of privacy in the sex/blackmail case — an indictment that was later dropped (but could be renewed in the near future). But what probably guaranteed his ultimate defenestration was a legislative investigatory report that showed him behaving as an arrogant and abusive thug toward a hairdresser with whom he was having an (admitted) illicit affair. Law-breaking or not, this was just too much, particularly from a pol noted for pious self-righteousness and casting the first stone against his many bipartisan enemies.
The campaign-finance irregularities the Star noted, along with apparently false oaths associated with various public filings, were the more immediate legal problems faced by the governor, including another felony indictment and additional fuel for the impeachment fire. But the speed of his downfall was clearly accelerated by the desire of his fellow Republicans to get rid of the millstone he represented in the 2018 campaign cycle. And like a lot of "young men in a hurry," Greitens did a lot to make himself easy to dispose of, as the Star observes:
A Rhodes scholar and former Navy SEAL, Greitens was once considered one of the brightest stars in the Republican Party — a rock star who traveled the country campaigning for his fellow GOP governors, all while building his national profile and donor base for an almost inevitable run at the White House….




[T]he governor's mansion was never more than a pit stop for the ambitious 44-year-old who had never even sought public office before his successful 2016 campaign.
And his contempt for the people around him was manifest in office as well as the campaign trail, notes the St. Louis Post-Dispatch:
Installed in office, Greitens showed that his approach to governing was more about browbeating legislators on social media than about making deals or finding consensus.
In his resignation statement, Grietens, after very nonspecifically admitting his non-infallibility, said "I have not broken any laws or committed any offense worthy of this treatment." The courts will have the final say over that first assertion. As for the latter, he is just the latest pol to learn that if you are going to attack the integrity of everyone in sight, you'd best be beyond reproach.
When Greitens formally leaves office at the end of the week, Republicans in the state will heave a sigh of relief:
Mike Parson, 63, a fellow Republican and former sheriff who served 11 years in the General Assembly before being elected as lieutenant governor in 2016, will take over as Missouri's 57th governor. He'll finish Greitens' term, which runs until January 2021.
He's very likely to be less dramatic than his predecessor.