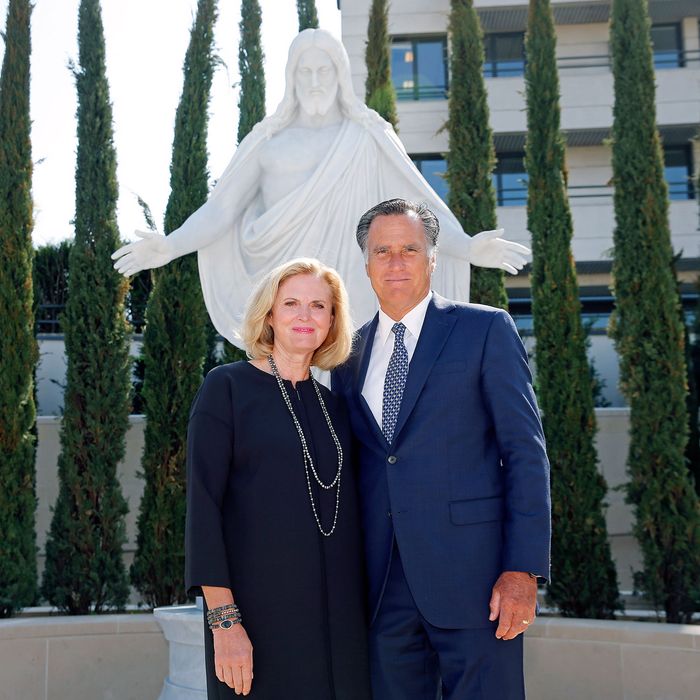 Ann, Mitt, and Jesus.
Photo: Chesnot/Getty Images
Like a lot of Americans, Mitt Romney wasn't happy with his choices on Election Day 2016. So like a lot of Americans, he voted for a write-in candidate rather than cast his ballot for Hillary Clinton, who he'd previously suggested is a phony, Donald Trump, who he'd previously called a "fraud," or any of the third-party candidates running.
"It's a matter of personal conscience," he said in the summer of 2016. "I can't vote for either of those two people."
So whom did he vote for? His wife, Ann Romney, he told the Deseret News this week. "I wrote in the name of a person who I admire deeply, who I think would be an excellent president," he said. "I realized it wasn't going to go anywhere, but nonetheless felt that I was putting in a very solid name."
The former Massachusetts governor, who was born in Michigan and is now running for Senate in Utah, may face a similar conundrum on 2020. He says he's still not ready to commit to a second Trump term and he seems unlikely to cast a vote for whoever the Democrats nominate. That might mean another vote for his wife, or maybe next time he'll write in his other true love: hot dog.