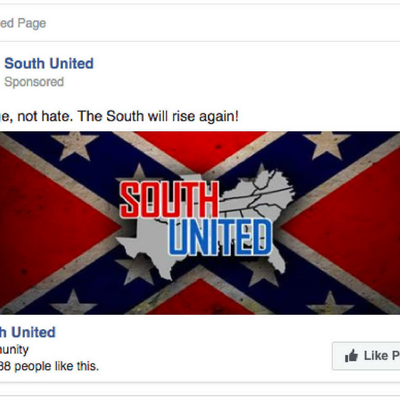 This ad received more than 500,000 impressions and 40,000 clicks after it was created on October 14, 2016. It targeted Facebook users who were interested in topics like the Confederate Flag or Southern Pride.
Photo: Screencap/Handout
More than half of the Facebook ads created by the Kremlin-backed Internet Research Agency to influence Americans during and after the last presidential election made references to race, according to a new analysis by USA Today. The news organization reviewed every one of the 3,517 IRA ads released to the public earlier this week by the House Intelligence Committee (IRA), and its reporters discovered that nearly 2,000 of the ads referred to race — accounting for some 25 million impressions from targeted Facebook users.
Previous examinations of a smaller selection of the ads established that the IRA worked to influence voters using already contentious American issues like race, immigration, gun rights, sexual orientation, and political party tribalism, but this new analysis makes it clear that racial tension was the Russian operation's go-to wedge.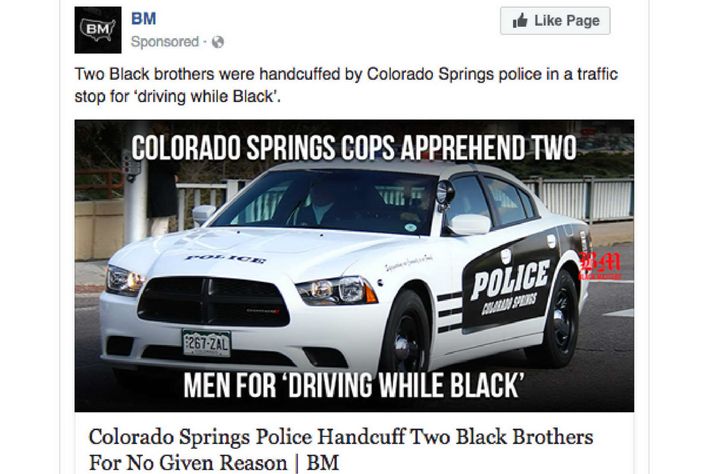 Fifty-five percent of the ads targeted race, which was also a primary angle for many of the 24 percent of ads that focused on crime or policing. The IRA's use of divisive racial ads ramped up as Election Day approached in 2016, as well as after Trump was elected. In fact, the vast majority of ads from September 2016 to May 2017 focused on race in one way or another. And while it should be noted that many IRA ads did very poorly with Facebook users, the race-related content performed better on average.
The IRA also seems to have used references to pop culture, including memes related to Pokémon or SpongeBob Squarepants, early on as a way to build rapport and credibility with audiences ahead of the racially divisive content.
The ads, which were purchased in rubles using 470 fake accounts and pages, rarely made direct references to Donald Trump, Hillary Clinton, or any of the other politicians who ran in the 2016 cycle. (Very few ads targeted swing states, either.) Instead the IRA mostly mimicked the style and tactics of identity groups on opposing sides of the American electorate and tried to reinforce or expand already existing divisions.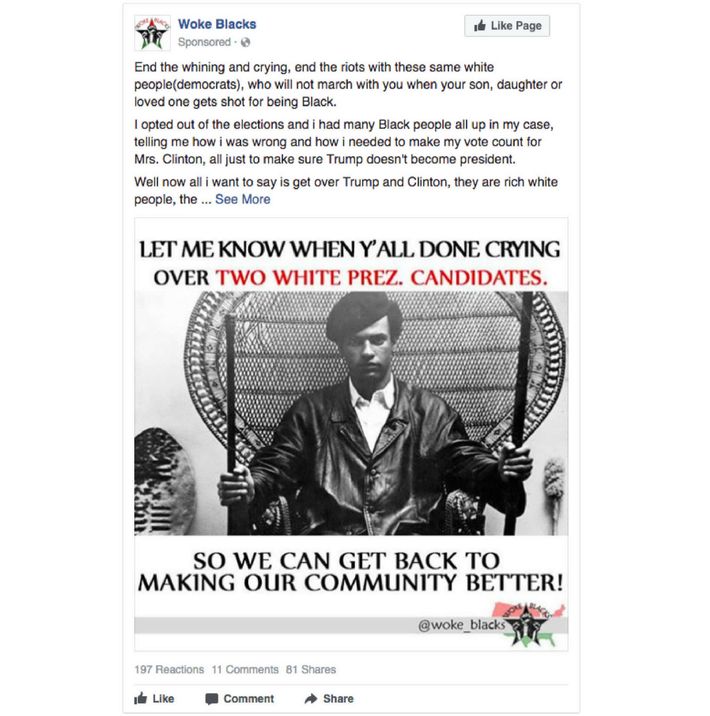 A Washington Post feature in November showed a range of the IRA's Facebook ads, including who the ads targeted and how well they performed at engaging those audiences. One IRA ad in that sample, from the fake group "Black Matters," targeted adults in places like Ferguson, Missouri, and Atlanta who had expressed interest in topics like Malcolm X or HuffPost's Black Voices vertical. Like many other IRA ads, it sought to exploit the deaths of black Americans who had been killed by police officers.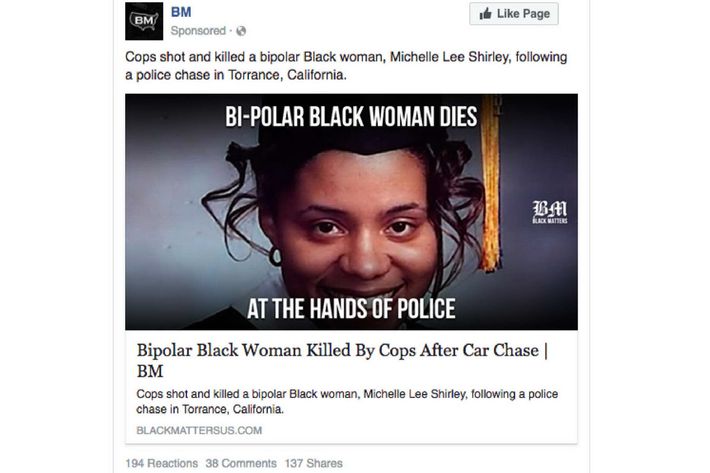 Another ad from the same "Black Matters" page asked for "Kings and Queens" who have been silenced to share their stories and contribute to the page. "We want America is know what bothers you as a member of the Black community," the ad claimed.
Posing on the other side, another ad — targeting users who liked the fake "Being Patriotic" page — ran in mid-October in 2016 and showed an image of police officer's funeral and decried "another gruesome attack on police by a [Black Lives Matter] movement activist."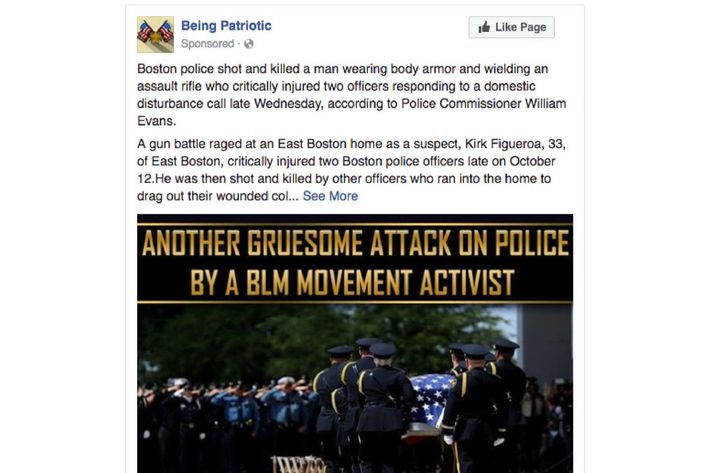 As one academic commented to USA Today in response to their findings, Russian intelligence agencies have been attempting to leverage U.S. racial discord since the 1950s. Those efforts have now obviously gotten a lot easier in the age of social media and ad micro-targeting.
The 3,500 ads released by the House Intelligence Committee are also only a fraction of the IRA's overall Facebook activity, as it shared around 80,000 posts on Facebook using its accounts and pages, as well.
In February, Special Counsel Robert Mueller indicted 13 Russians on charges of attempting to meddle in the 2016 election, including several people associated with the Internet Research Agency. The indictment alleged that the Russians' efforts were often intended to help Trump defeat Clinton. All told, the IRA's operation is estimated to have targeted as many as 126 million U.S. Facebook users between 2015 and 2017.