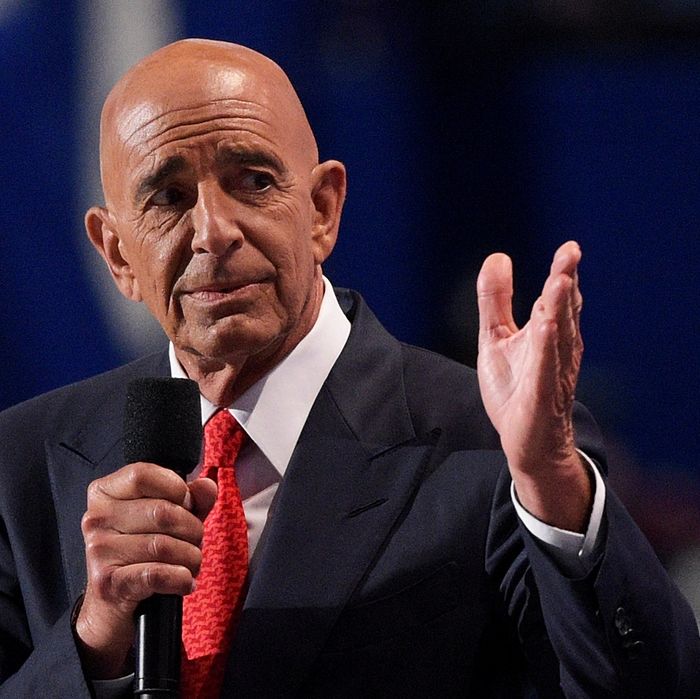 Tom Barrack speaking at the Republican National Convention in 2016.
Photo: Jeff Swensen/Getty Images
The Mueller investigation has reportedly reached Tom Barrack, one of President Trump's only close friends and confidants. The Associated Press reports that Barrack has been interviewed as part of Special Counsel Robert Mueller's investigation into Russia's meddling into the 2016 presidential election. It's not clear what investigators asked Barrack about, but he and Trump have been friends for decades, giving him "rare access and insight into Trump," the AP explains. Barrack, a California real-estate investor, was also a top fundraiser for Trump's campaign, the founder of a pro-Trump super-PAC, and he chaired the president's inaugural committee.
One source told the AP and CNN that Barrack was mainly asked about Rick Gates and Paul Manafort, who have both been indicted by Mueller. Manafort, Trump's former campaign chairman, has pleaded not guilty to charges of money laundering and other crimes, while Gates has pleaded guilty to charges of financial fraud and lying to federal investigators, and is now cooperating with Mueller. Barrack was the person who introduced Trump to Manafort, and Gates worked under Barrack on the inaugural committee. The one-time interview happened "months ago," but has only come to light now. Barrack was also apparently told he was not a target of the investigation.
Another source said the interview was broader, and got into financial matters regarding the campaign and transition. Mueller's team has been looking into the Trump campaign's finances and election-law compliance for months.
Barrack is also famous for incorrectly predicting that America would see Donald Trump become "a kinder, softer, more compassionate, more conciliatory, professional executive" once he became president, and may be the only person who has ever referred to Trump as "judicious."