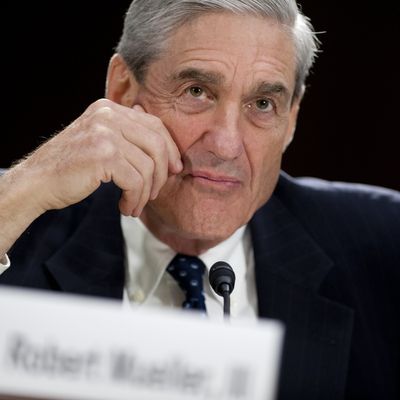 I can wait.
Photo: SAUL LOEB/AFP/Getty Images
As the debate continued on Tuesday over what Special Counsel Robert Mueller's reported questions for President Trump reveal about his investigation, further reporting underscored that we should be focusing more closely on the point of the leak, not its content.
For months the reports on the thinking within Trump's legal team were irregular, and they indicated that there were significant personal and strategic disagreements among his attorneys. If anything, the media disclosures seemed aimed at reining in Trump; attorney Ty Cobb repeatedly suggested the probe would be over soon, and insisted Trump didn't really mean it when he said he'd be happy to chat with Mueller.
But in the last few weeks, things have changed. After the departure of lead attorney John Dowd in mid-March, there weren't many lawyers left to disagree with each other. Then the April 9 raid on Trump fixer Michael Cohen angered the president to the point that he is no longer willing to be interviewed by the special counsel, according to multiple reports.
On April 19, Trump finally replaced Dowd with Rudy Giuliani. Suddenly there were more media disclosures from the president's team, all with a consistent message. Within a week Giuliani had met with Mueller's prosecutors, ostensibly to negotiate a possible interview with Trump. Afterward he subtly questioned Mueller's integrity, telling the Wall Street Journal he was trying to determine "Do they favor Comey over Trump in terms of credibility?" and "Does the special prosecutor really have an open mind?"
Mueller's list of questions for Trump, which were compiled by Trump's legal team in March, were made public on Monday. The New York Times reported that the source was "a person outside Mr. Trump's legal team." Nevertheless, Trump took the opportunity to tweet more factually challenged Mueller attacks:
A day later, a new revelation from Trump's side added more fuel to the story. The Washington Post reported that during a meeting shortly before Dowd's departure, Mueller suggested that if Trump won't talk to him willingly, he could subpoena him. The source even supplied this clip from the Bizarro World version of The West Wing:
Mueller's warning — the first time he is known to have mentioned a possible subpoena to Trump's legal team — spurred a sharp retort from John Dowd, then the president's lead lawyer.




"This isn't some game," Dowd said, according to two people with knowledge of his comments. "You are screwing with the work of the president of the United States."
While it's obvious that Trump is incapable of answering Mueller's questions without contradicting himself, Giuliani keeps playing up the idea that he's naively mulling whether it's a good idea for the president to sit for an interview. "Hopefully we're getting near the end. We all on both sides have some important decisions to make," he said. "I still have a totally open mind on what the right strategy is, which we'll develop in the next few weeks."
Trump's associates often aren't as good at treachery as they think they are, and sure enough, further down in the Post article two White House officials said the president remains hostile to the idea of an interview, and explained his new strategy for discrediting Mueller:
For his part, Trump fumed when he saw the breadth of the questions that emerged out of the talks with Mueller's team, according to two White House officials.




The president and several advisers now plan to point to the list as evidence that Mueller has strayed beyond his mandate and is overreaching, they said.




"He wants to hammer that," according to a person who spoke to Trump on Monday.




"Mueller is in Kenny Starr territory now," said another Trump adviser, referring to how the controversial independent counsel investigation of Bill and Hillary Clinton's real estate deals in Arkansas ended up examining the president's lies about his sexual relationship with a White House intern.
Mueller mentioning a subpoena may sound like he's making aggressive moves against Trump, but he made the comment nearly two months ago, and it's been obvious from the start that his quest for an interview may end with a subpoena. That move would likely trigger a long legal battle, as the courts have never ruled on whether the president can be subpoenaed for testimony. Starr issued a subpoena to President Bill Clinton, but withdrew it when he agreed to testify voluntarily.
CNN reported on Tuesday that Trump's attorneys are bracing for the possibility that Mueller will issue a subpoena. While many experts think Mueller would prevail, one source said the legal team sees the subpoena as the special counsel "precipitating a constitutional crisis." They described the legal arguments Trump's team would make to assert that Mueller is overstepping his bounds, and suggested they're no longer afraid to let the probe drag on as the courts weigh whether Trump can be compelled to talk:
Their political argument also has changed. While the lawyers were originally in a let's-get-this-over-with mode, they now believe that time is on their side — especially with the 2018 elections looming.




They believe that Trump has done a good job discrediting the investigators and the investigation itself.
From what we've seen of Mueller, he doesn't make dramatic moves until it's absolutely necessary (for example, he still hasn't called Ivanka Trump for an interview). He isn't known to leak either, but he may have sent his own signal to Trump's lawyers on Tuesday when he asked for a two month delay in scheduling the sentencing of former national security adviser Michael Flynn, who pleaded guilty to lying to investigators five months ago, and is cooperating with prosecutors. The sentencing had already been pushed off once.
"Due to the status of the special counsel's investigation, the parties do not believe that this matter is ready to be scheduled for a sentencing hearing at this time," Mueller's prosecutors and Flynn's lawyers said in court on Tuesday.
If Trump's attorneys want to wage a legal and PR battle over whether the special counsel can actually compel the president to testify, Mueller can wait.