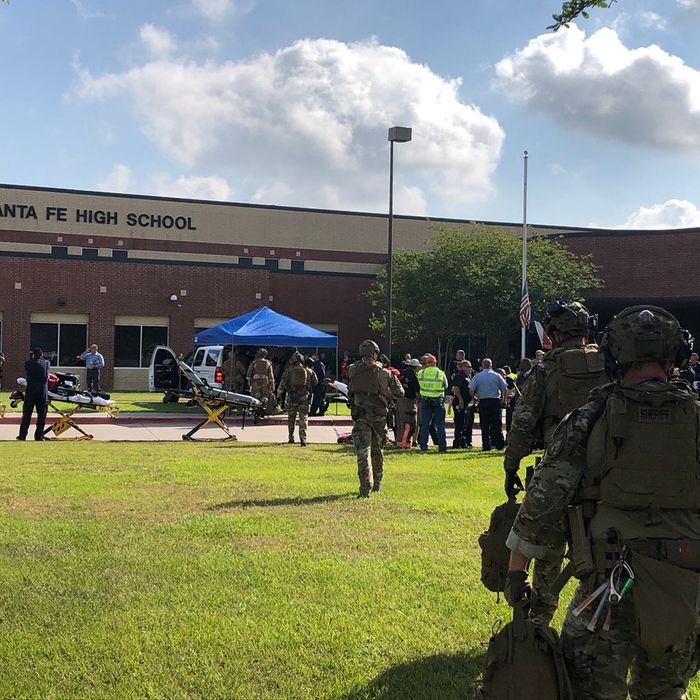 The scene outside Sante Fe High School in Texas.
Photo: Harris County Sheriff's Office
At least ten people are dead following a shooting at Santa Fe High School outside of Houston, Texas, Governor Greg Abbott said Friday afternoon. Ten others are injured, including a police officer. "It is impossible to describe the magnitude of the evil of someone who would attack innocent children at their school," Abbott said.
The shooter, identified as 17-year-old student Dimitrios Pagourtzis, is in custody. The Chronicle reported that his now-defunct Facebook page included photos "of a T-shirt that said 'born to kill' and clothes adorned with German nationalist iconography." Abbott said Pagourtzis's journals showed he planned to kill himself after attacking the school. He surrendered to police instead.
Abbott said there are two other "persons of interest," including one who was detained at the scene of the shooting after police observed "suspicious reactions."
Abbott identified the weapons used in the attack as a shotgun and a .38 revolver, both of which were legally owned by the shooter's father. Abbott said it was not known if Pagourtzis' father knew he had the guns. Explosive devices were also found on and off the school campus, according to the Sante Fe Independent School District.
The shooting began at around 7:45 a.m. at the school of 1,477 students, witnesses say. That's when the gunman entered an art class and began shooting.
Student Damon Rabon told CBS News that he was in a classroom one door away from the shooting. He said he saw the shooter in the school hallway. "He had a black trench coat on, a sawed-off shotgun with a pistol grip and I think something sharp on this chest," he said. He added that his teacher pulled the fire alarm "to let everyone know to get out of the school."
Another student told reporters "I've always kind of felt like eventually it was going to happen here."
Sante Fe High School had a police officer on duty when the attack began. John Barnes is a retired Houston Police Department officer who began working for the Santa Fe Independent School District police department in January. The 49-year-old confronted Pagourtzis during the attack and suffered a shotgun wound to the arm. HPD captain Jim Dale told the Chronicle that Barnes needed surgery to repair his injuries and said doctors had to restart his heart twice.
As news of the shooting began to spread, students from Stoneman Douglas High School in Florida, the site of a deadly shooting in February, began tweeting.
President Trump spoke about the shooting Friday morning at the White House. "This has been going on too long in our country. Too many years, too many decades now," he said. "We grieve for the terrible loss of life and send our support and love to everyone affected by this absolutely horrific attack."
This post has been updated throughout