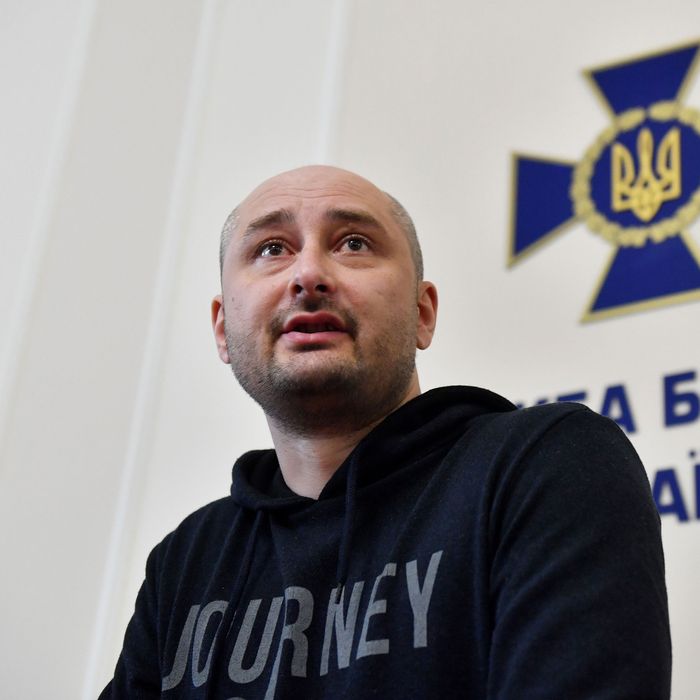 Arkady Babchenko, alive.
Photo: Sergei Supinsky/AFP/Getty Images
On Tuesday, Russian journalist Arkady Babchenko, an outspoken critic of Vladimir Putin, was reportedly shot and killed in Kiev. On Wednesday, at a news conference organized to give reporters updates about his assassination, he showed up alive.
The 41-year-old appeared Wednesday with the head of the Ukrainian Security Service (SBU) to admit that he faked death in order to foil a very real plot to murder him. Vasily Gritsak, chief of the SBU, said investigators have nabbed a Ukrainian man who was recruited by Russia's security service and paid $40,000 to kill Babchenko.
"We have prevented an attempted murder of Babchenko by carrying out a special operation," Hrytsak said. "Thanks to this operation, we were able to foil a cynical plot and document how the Russian security service was planning for this crime."
Babchenko, whose arrival at the presser was greeted with gasps from the assembled reporters, was emotional in his remarks, thanking the SBU and apologizing to his wife, who was apparently unaware of the hoax. "I would like to apologize for what you all had to go through … because I've buried friends and colleagues many times, and I know it's a sickening-vomiting feeling when you have to bury your colleagues," he said. "Also I would like to apologize to my wife for the hell she went through in those two days. Olechka, I'm sorry, but there were no options here either."
Less than 24 hours before the press conference, Ukrainian officials announced that Babchenko had been shot while leaving his house to buy bread. His wife found him bleeding on the ground and he died in the ambulance en route to the hospital, they said. The news quickly spread around the world and appeared, for the moment at least, to worsen the already strained relationship between Moscow and Kiev.
"I'm sure that the Russian totalitarian machine did not forgive him his honesty and his fidelity to principle," Ukrainian prime minister Volodymyr Groysman wrote on Facebook. "Best friend of Ukraine, who told the truth about Russian aggression to the world. The murderers must be punished!" Kremlin spokesman Dmitry Peskov responded with accusations of Russophobia: "This is the highest level of cynicism amid such a brutal murder, to shake the air in such a Russophobic way, instead of talking about conducting a thorough and impartial investigation."
A former soldier in the Russian Army, Babchenko went on to become a war correspondent and prominent Kremlin critic. He went into exile in the fall of 2017. In Kiev, he went to work for ATR, a Ukrainian TV channel. Here's how his colleagues reacted upon seeing that he was still alive: