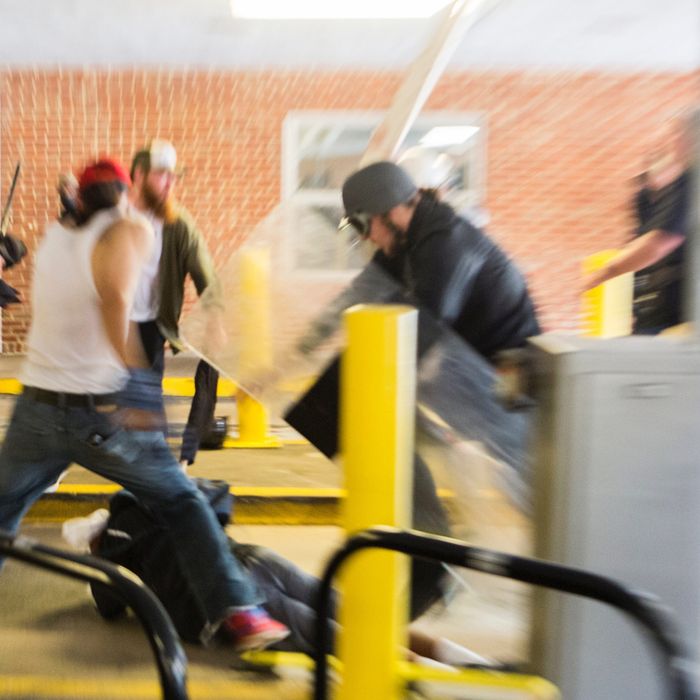 DeAndre Harris is beaten at the 2017 Unite the Right rally in Charlottesville.
Photo: Mark Abramson
A self-avowed "white civil rights" activist was found guilty of malicious wounding Tuesday for his role in the beating of a black man at last summer's Unite the Right rally in Charlottesville, Virginia. The newly published image above shows Jacob Scott Goodwin, who argued that he was defending himself, holding a shield and attempting to strike DeAndre Harris, who is on the ground. The jury didn't buy his story and it's not hard to see why.
The beating left the 20-year-old Harris with a spinal injury, a broken arm, and cuts to his head that required eight staples. Video of the attack went viral in the days after the rally and internet sleuths helped identify some of the men beating Harris, including Goodwin.
Goodwin argued that he was the victim. He said he "was terrified" of Harris, who struck another white nationalist in the head with the flashlight just before he was attacked. Harris, who was acquitted of assault and battery charges in March, then fled into a parking garage where Goodwin said he became afraid.
"I thought he was a hostile . . . To be honest, I was terrified," Goodwin said."[I thought] I'd probably perish or be sent to the hospital and be terribly hurt."
Assistant commonwealth's attorney Nina-Alice Antony told a different story. Goodwin was the instigator, she said. "He was outfitted for battle," she added. "He's got large goggles, boots. He's got a full body shield."
The jury agreed, convicting Goodwin and recommending a ten-year sentence and a $20,000 fine. The 23-year-old from Arkansas was the subject of a NBC News documentary that aired last month. In the video he explained why he was in the streets that day. "I went to Charlottesville to protest politicians trying to buy into that fad that we're progressive and we want to remove this racist history," he said. "That's why I went, because I believe in preserving my ancestry."