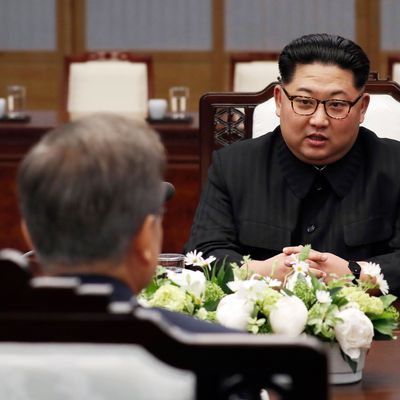 Things seemed fine between Kim Jong-un and Moon Jae-in back in April.
Photo: Korea Summit Press Pool/AFP/Getty Images
North Korea on Monday abruptly canceled talks with South Korea that had been scheduled for Wednesday, citing a U.S.-South Korea air force drill that it said presented a threat to its sovereignty.
North Korea's state-run Central News Agency called the military exercises a "provocation," and said that they doubled as preparations for invading the country. The rhetoric was familiar from past iterations of the military drills, which usually prompt a strong reaction from the North.
But with North-South relations thawing to a remarkable degree in recent months, Kim Jong-un's decision to scuttle the Wednesday talks — which North Korea had proposed in the first place — came as a surprise to everyone, including Washington.
The move may also throw a wrench into planning for the highly anticipated summit between President Trump and Kim Jong-un in Singapore on June 12, though State Department spokeswoman Heather Nauert said the U.S. would not shift in its planning. 
The agenda for the Wednesday meeting had included discussing a formal cessation of the Korean War, which never officially ended. Kim Jong-un and South Korean president Moon Jae-in spent a few cordial hours together in late April, during which Kim stepped into South Korean territory for the first time, and the two leaders signed an agreement to foster better relations between the two countries.
And earlier on Tuesday, North Korea appeared to shut down a nuclear test site, in a step designed to indicate its seriousness about making major concessions ahead of the meeting with Trump.
But North Korea's about-face on the meeting underscores the country's fundamental and enduring unpredictability, despite its recent turn toward quasi-conventional diplomacy. It also highlights how much leverage Kim now enjoys over President Trump. For decades, North Korea angled for a direct meeting with the U.S. in an attempt to help establish itself as a serious player on the world stage. (The country came closest to this goal when Secretary of State Madeleine Albright made an ill-fated trip to Pyongyang in 2000.)
With Trump eager to do what none of his predecessors would, North Korea now wields a whole new level of sway in the relationship, with the capacity to make America look foolish for trying to engage it on more favorable terms than it has, say, Iran.
For these reasons and so many more, it's a good idea to hold off on over-congratulating President Trump for a major diplomatic breakthrough — much less touting him for a Nobel Peace Prize — just yet.