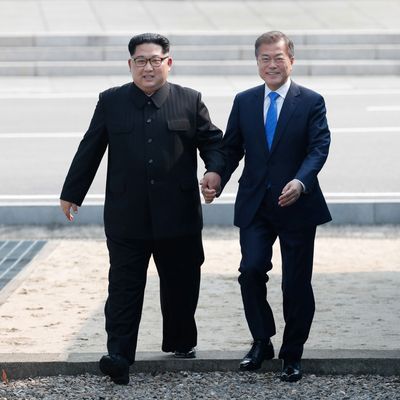 At least one promise Kim Jong-un made to Moon Jae-in last month is in the process of being redeemed.
Photo: Xinhua/Inter-Korean Summit Press Corps via Getty Images
Over the years peaceful gestures made by the North Korean regime with respect to its nuclear program have not been particularly reliable. As recently as 2012, Pyongyang pledged to place a moratorium on nuclear and missile testing in exchange for food aid. So the promises made by Kim Jong-un to South Korean president Moon Jae-in last month to initiate concrete steps toward denuclearization aren't exactly carved in stone.
But one step that was discussed, the closure and demolition of North Korea's nuclear testing site at Punggye-ri appears to be fully under way, according to satellite photographs. Here's a report from The Guardian:
The pictures, taken on 7 May, are "the first definitive evidence that dismantlement of the test site was already well underway", according to a blog post by 38 North, a website run by former US diplomats.

The Punggye-ri site in the northeast of the country was used for all of the North's six nuclear tests and lies deep within mountains. Kim pledged to close the complex after his historic meeting with South Korean president Moon Jae-in, saying North Korea no longer needed the site …




The new images show key buildings and several smaller sheds have been torn down and a rail line connecting one of the entrances had been removed. Excavation of a new tunnel appears to have stopped in March.




"This activity along with the rail removal could be further evidence of an operational shut down," according to 38 North.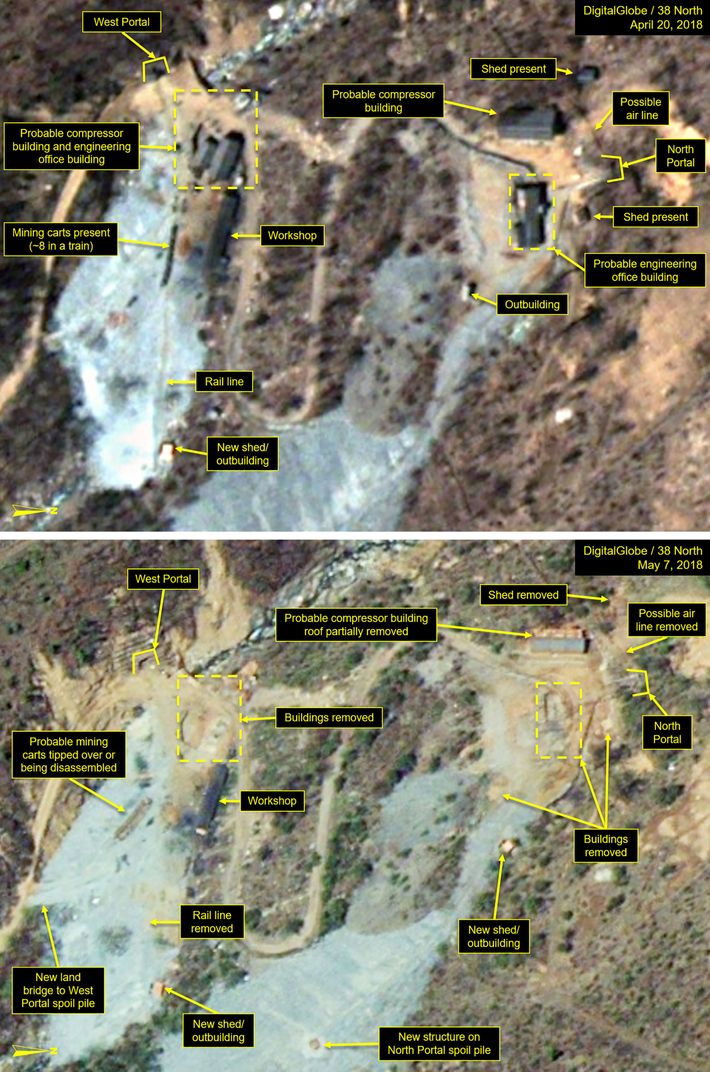 The images do not definitively show the sort of irreversible closure skeptics would hope for, as CNN reports, though that could be coming soon:
Some key facilities remain intact and the tunnel entrances remain open, however. The authors speculate that may be because they'll be blown up in front of members of the international media later this month.




North Korea's Foreign Ministry announced over the weekend it would invite journalists to watch the site's shuttering as early as May 23.
The significance of this particular testing site (used for all six of North Korea's known nuclear tests) is subject to debate as well:
[I]t's also possible North Korea no longer needs the site. After a half dozen tests over a period of more than a decade, some experts believe that Pyongyang is far enough along in its nuclear weapons development that it no longer has to detonate bombs underground to move its program along.
Still, verified action to redeem specific North Korean promises is a rare and positive thing, and part of what some have called a "charm offensive" by Kim Jong-un in advance of his June 12 meeting in Singapore with Donald Trump. We should all hope that Trump knows enough to avoid the temptation of believing at this early juncture that he's turned around the entire situation on the Korean peninsula. The photos from Punggye-ri are consistent with a happy outcome of negotiations, but hardly a guarantee.