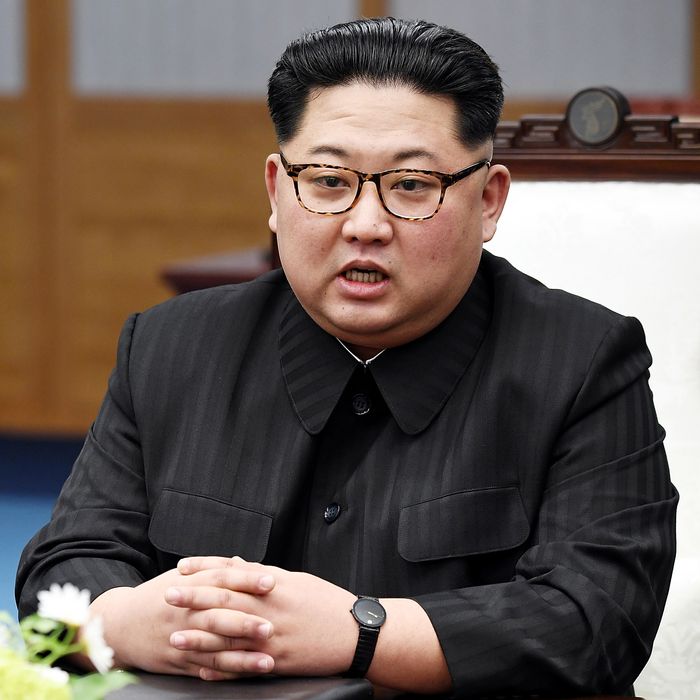 Guess who's back?
Photo: Pool/Getty Images
For years North Korea lobbed bizarre, belligerent attacks at the United States as it continued advancing its nuclear program, crescendoing with Kim Jong-un claiming in a speech on January 1 that his nukes are capable of hitting the U.S. mainland. President Trump responded by bragging about the size of his "nuclear button," raising fears that 2018 might see a nuclear war started on Twitter.
In the same speech, Kim suddenly and inexplicably extended an olive branch to South Korea, expressing hopes for a "peaceful resolution" to their decades-old conflict. This was followed by a series of diplomatic overtures surrounding the Winter Olympics in Pyeongchang, and Trump eagerly accepting an invitation to meet Kim.
The situation progressed with astonishing speed and ease. Kim met South Korean President Moon Jae-in and they announced their "common goal" of denuclearization on the Korean Peninsula. Three Americans held in North Korea were released. June 12 was set as the date for the historic Trump-Kim summit. Trump acknowledged that "everyone" (or at least a handful of Republicans) thinks he deserves the Nobel Peace Prize for his pending diplomatic achievement.
Then this week North Korea started acting like the nation we knew five months ago. The North announced it was suspending talks with South Korea set for Wednesday, calling a U.S.-South Korea air force drill a "provocation," and claiming, as it has many times in the past, that the military exercises present a threat to its sovereignty. Hours later, Pyongyang said it may call off Kim's summit with Trump as well — if the U.S. remains focused on its demands for denuclearization.
"If the U.S. is trying to drive us into a corner to force our unilateral nuclear abandonment, we will no longer be interested in such dialogue and cannot but reconsider our proceeding to the DPRK-U.S. summit," said Vice Foreign Minister Kim Kye-gwan in a statement published by the North's state-run media.
North Korea's sudden shift "caught Trump administration officials off guard," according to the New York Times, and prompted an "an internal debate over whether Mr. Kim was merely posturing in advance of the meeting in Singapore next month or was erecting a serious new hurdle."
Casual observers of foreign policy should not be shocked that North Korea, which was threatening to nuke the U.S. less than six months ago, would make another dramatic reversal. That's especially true if you know a bit about the history of efforts to curb North Korea's nuclear weapons program.
Even armed with some historical knowledge, however, it's hard to say how serious Kim is about his threat to call off the summit, or exactly what he's trying to achieve. North Korea has a history of abruptly canceling or postponing meetings with other nations, but most experts say it's unlikely that he's actually thinking of abandoning talks with Trump. While Kim Kye-gwan's statement is a departure from the conciliatory language Pyongyang has offered in the past few weeks, the actual threat is mild, and U.S. officials said they're proceeding as if the summit is still on.
"We are aware of the South Korean media report," White House press secretary Sarah Huckabee Sanders responded. "The United States will look at what North Korea has said independently, and continue to coordinate closely with our allies."
At the very least, it appears North Korea is trying to assert that it isn't the weaker partner in the negotiations. It seems North Korea was annoyed by U.S. officials claiming that the diplomatic breakthrough was the result of its maximum pressure campaign. A week ago, Pyongyang said those are "senseless remarks," and credited their own "proactive efforts" for turning the situation around. The latest statement says the U.S. is misreading North Korea's "magnanimity and broad-minded initiatives" as "signs of weakness and trying to embellish and advertise as if these are products of sanctions and pressure."
Oliver Hotham, managing editor of Korea Risk, told CNN that the White House's aggressive stance was bound to spark some pushback. "The Trump admin has been acting like denuclearization is a done deal, talking about economic incentives and shipping North Korean nuke hardware out of the country," he said. "Now the North Koreans are making it clear this is not going to be a cakewalk and they can play tough too."
North Korea may also have some more concrete goals, like sidelining John Bolton. Trump's new national security adviser recently floated the idea of using the "Libya model" to denuclearize the Korean Peninsula. Bolton was was undersecretary of state for arms control in 2004 when Muammar Gaddafi gave up Libya's nuclear program in exchange for sanctions relief — and North Korea said it's well aware that several years later, the U.S. turned on Gaddafi and he was killed by rebel fighters.
Kim Kye-gwan said North Koreans "do not hide our feeling of repugnance" toward Bolton, and called out his Libya remarks. "It is essentially a manifestation of awfully sinister move to impose on our dignified state the destiny of Libya or Iraq which had been collapsed due to yielding the whole of their countries to big powers," he said.
Though Secretary of State Mike Pompeo, who has now met with Kim twice, is not mentioned by name, the statement also rejects his recent suggestion that in return for dismantling its nuclear program, North Korea will get business opportunities with American corporations — not aid.
"The U.S. is trumpeting as if it would offer economic compensation and benefit in case we abandon nuke," Kim Kye Gwan said. "But we have never had any expectation of U.S. support in carrying out our economic construction and will not at all make such a deal in future, too."
Various Trump aides, including Bolton and Pompeo, have repeatedly said that that what they want from the summit is "complete verifiable irreversible denuclearization of North Korea." Of course, Pyongyang would love it if they could move the goal posts before the meeting, making the U.S. back off on this demand.
They may be hoping that since Trump prematurely painted himself as the president who resolved the North Korea situation, he's so desperate for a successful summit that he'll give up on full denuclearization. It wouldn't make any sense for Trump to cave over this relatively mild threat, but maybe North Korea willl luck out again. They probably didn't expect Trump to agree to their summit offer in the first place.
This post has been updated throughout.