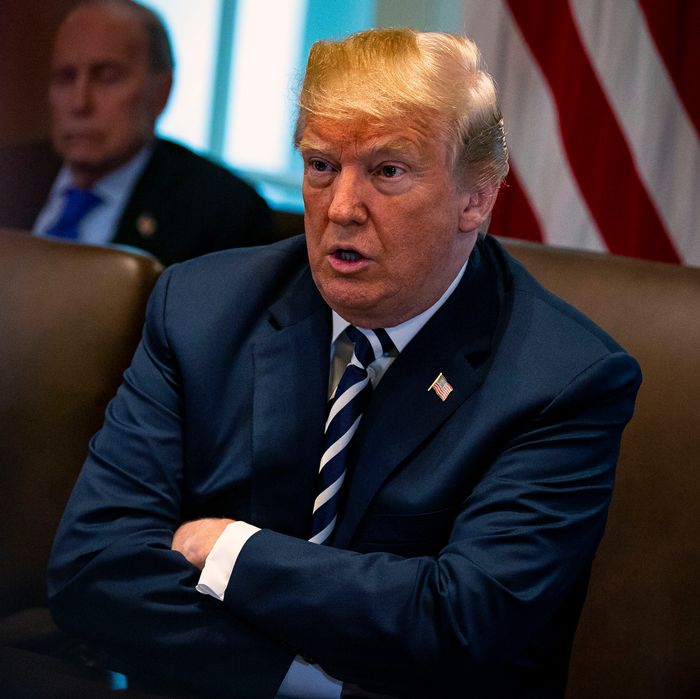 Nobody knew diplomacy could be so complicated.
Photo: Pool/Getty Images
For several weeks, the White House has struck a triumphant tone regarding North Korea. President Trump stayed up until 3 a.m. to welcome home three Americans who were imprisoned in North Korea. A potential Nobel Peace Prize was discussed. A garish coin commemorating Trump's June 12 meeting with Kim Jong Un was minted.
Then, just as quickly as Trump agreed to a summit without consulting his advisers, the situation reversed. A week ago North Korea abruptly suspended talks with South Korea, and released a statement suggesting it might call off the Trump summit as well if the U.S. continued conducting military exercises with the South, pushing denuclearization, and making belligerent remarks about using the "Libya model" of nuclear disarmament.
The U.S. canceled the military exercises that offended Pyongyang, and Trump assured the North's totalitarian leader that the U.S. would not seek to depose him.
"This would be with Kim Jong Un something where he'd be there. He'd be in his country. He'd be running his country," Trump said. "His country would be very rich. His people are tremendously industrious."
Then Trump offered some confusing remarks regarding Libya. On Face the Nation, National Security Adviser John Bolton had referenced the "model" by which former president Muammar Gaddafi agreed to give up Libya's nuclear-weapons program and allow in British and U.S. inspectors in 2003. The North Koreans don't like any talk of Libya because, as they noted in their statement, the U.S. turned on Gaddafi less than a decade later and he was killed by militants.
Trump contradicted Bolton, saying Libya "isn't a model that we have at all," but he also seemed to think his national security adviser was talking about the 2011 U.S. military action against Gaddafi.
"We never said to Gaddafi: 'Oh, we're going to give you protection, we're going to give you military strength, we're going to give you all of these things; we went in and decimated him," Trump said.
Somehow, Trump wound up issuing what sounded like a new threat.
"Now that [Libya] model would take place if we don't make a deal, most likely," he said. "But if we make a deal, I think Kim Jong Un is going to be very, very happy. I really believe he's going to very happy."
Incredibly, days later Vice-President Mike Pence opted to double down on the threat Trump had stumbled into.
"As the president made clear, this will only end like the Libyan model ended if Kim Jong Un doesn't make a deal," Pence said Monday on Fox News. When asked if that could be interpreted as a threat, he said, "Well, I think it's more of a fact."
Trump has started suggesting that his historic meeting with Kim "may not work out for June 12," and on Thursday North Korea agreed, in a far more belligerent fashion.
"Whether the U.S. will meet us at a meeting room or encounter us at nuclear-to-nuclear showdown is entirely dependent upon the decision and behavior of the United States," said North Korean Vice Foreign Minister Choe Son Hui.
Choe also went off on Pence, calling him a "political dummy" for comparing North Korea, "a nuclear weapon state," to Libya, which "had simply installed a few items of equipment and fiddled around with them."
"As a person involved in the U.S. affairs, I cannot suppress my surprise at such ignorant and stupid remarks gushing out from the mouth of the U.S. vice-president," she continued. "In case the U.S. offends against our good will and clings to unlawful and outrageous acts, I will put forward a suggestion to our supreme leadership for reconsidering the D.P.R.K.-U.S. summit."
The Trump administration has yet to respond to the latest comments. Despite the recent uncertainty over the summit, on Wednesday it was reported that a White House team would head to Singapore this weekend to work on logistics for the trip.
The North's quick shift to rhetoric closer to its previous talk of Kim's "nuclear button" and taming "the mentally deranged U.S. dotard with fire" underscores what little progress has been made, despite Trump's self-congratulatory tone.
In an appearance before the House Foreign Affairs Committee on Wednesday, Secretary of State Mike Pompeo assured lawmakers that the Trump administration has yet to give Kim anything, and will hold firm until he takes "credible steps" toward denuclearization."
"We have made zero concessions to Chairman Kim to date, and we have no intention of doing so," Pompeo said.
So far, other than holding off on its nuclear and missile tests, Pyongyang hasn't taken many concrete steps either. Three U.S. hostages were released, but they can always find new ones. Pyongyang said it will close the Punggye-ri nuclear test site, and a group of journalists are currently traveling to watch the ceremony. While satellite images show some demolition at the site, there have been no irreversible changes, and there's speculation that the North might not need the site anymore.
So we're at the point where both sides have done some talking, but there's been little tangible progress made toward peace. Choe says the fate of the summit is "entirely dependent upon the decision and behavior of the United States," while Pompeo says, "that decision will ultimately be up to Chairman Kim."
MIT nuclear expert Vipin Narang told Vox that if the summit doesn't happen on June 12 for whatever reason, the best-case scenarios are the two sides agreeing to a delay to continue lower-level diplomatic outreach, or an indefinite hold that leaves the two countries on slightly better terms because they've held direct talks.
But it's also possible that "the temperature rises just as quickly as it falls and we go back to 2017," Narang said. And that means a return to the routine of missile tests and new sanctions that would leave the U.S. and North Korea once again uncomfortably close to war.