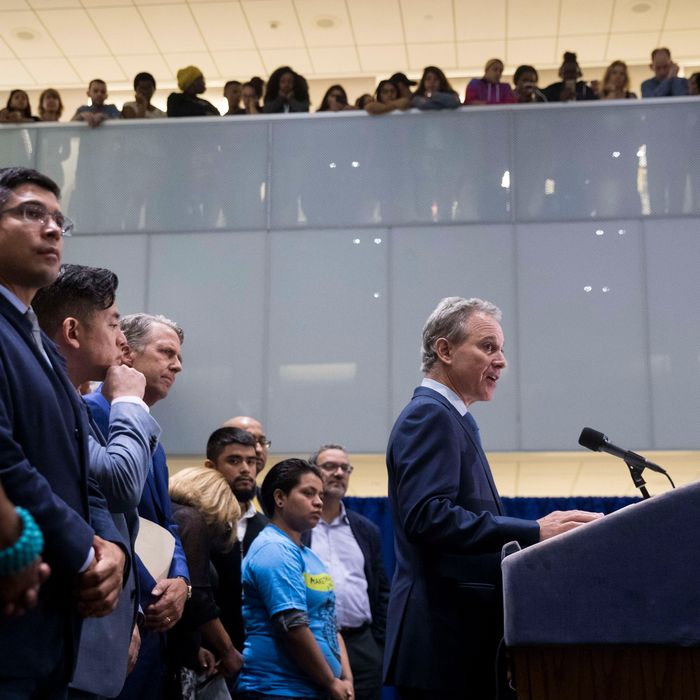 New York Attorney General Eric Schneiderman announces the filing of a multi-state lawsuit to protect DACA recipients, at John Jay College of Criminal Justice, September 6, 2017 in New York City.
Photo: Drew Angerer/Getty Images
About a week before Rod Rosenstein appointed a special counsel to lead the Russia investigation, a group of attorneys general from Democratic-leaning states sent him a joint letter imploring him to do exactly that. And to make their pitch, the prosecutors rallied behind another prosecutor, James Comey, whom Donald Trump had fired as FBI director days earlier. "As prosecutors committed to the rule of law, we urge you to consider the damage to our democratic system of any attempts by the administration to derail and delegitimize the investigation," the 20-strong coalition of lawyers wrote in their letter.
Among them was Eric Schneiderman, whose precipitous fall from his perch as the attorney general for the state of New York now seems to cast into doubt the very future of the legal #resistance to Trump he and other high-profile state attorneys general were happy to lead. "If it's hard to get checks on the presidency from Congress, we're going to try to fill that space," Schneiderman told Andrew Rice in a profile where he seemed determined to turn New York into a "backup" to other structural failsafes that may not be working as they should. "I'm willing to bet on the rule of law. I think at the end of the day, it's what people want. I will bet on that to survive this presidency."
Instead, the Trump administration survived him. But that doesn't mean all his efforts thus far — against a federal government that has been hostile to civil rights, the environment, consumers, immigrants, the Affordable Care Act, and other initiatives on the chopping block — will have been for naught. Or that the hundreds, if not thousands, of pages of legal filings the state of New York has filed in high-profile disputes ranging from Trump's crackdown on sanctuary cities to his ill-conceived travel ban are now good for nothing. "We have an incredible team of tireless public servants who will continue the work," Amy Spitalnick, a spokeswoman for the attorney general's office, told me this morning in an email.
Spitalnick added on Twitter that Barbara Underwood, now the state's top appellate lawyer, will fill in for Schneiderman as acting attorney general. Later on Tuesday, Underwood herself released her own statement giving reassurance about the pending matters ahead. "The work of this office is critically important," she said. "Our office has never been stronger, and this extraordinarily talented, dedicated, and tireless team of public servants will ensure that our work continues without interruption."
Underwood, who will be overseeing a force of more than 600 attorneys, is a lawyer's lawyer — a former law clerk to Justice Thurgood Marshall, law professor at Yale, longtime federal prosecutor in Brooklyn, district attorney in Manhattan, and an advocate who has argued 20 cases before the Supreme Court. One 1998 New York Times profile as she was settling into a top post at the Department of Justice called her "intimidatingly smart." It seems like whatever work Schneiderman left unfinished will be in good hands.
And as personality-driven and publicity-friendly as Schneiderman's time in the limelight was, his office was far from the only one willing to take Trump to court. Xavier Becerra, the California attorney general and Schneiderman's counterweight on the West Coast, said in a statement sent to New York he would continue to fight in federal court and elsewhere. "States are protecting their people, values, and economy, and that will continue as leaders throughout the country continue to emerge to resist and persist," Becerra said. "New York has and will continue to be a leader in our fight for forward-leaning values, opportunity, and the rule of law."
The cases against the Trump administration are legion. They include multi-state efforts to protect Dreamers from Trump's callous decision to end the DACA program; to preserve penalties for automakers that don't adhere to national fuel-economy standards; to oppose the Environmental Protection Agency's proposed rollback of the Clean Power Plan and other pro-environment regulations; to prevent further crippling of the Consumer Financial Protection Bureau by acting director Mick Mulvaney; to block the Department of Commerce from adding a citizenship question to the 2020 census; and a regulatory bid to stop the Department of Health and Human Services from instituting a rule that would give religious health-care providers conscience rights to object to medical procedures that purportedly go against their beliefs. None of these battles will be going away.
And lest we forget: Schneiderman had one last solo victory lap last month over the finalization of a $25 million settlement for victims of the fraudulent Trump University.
Perhaps as a result of Trump's constant attacks on federal law- enforcement officials and longtime public servants, we've been conditioned to think of individual prosecutors in utilitarian terms — at once disposable and yet indispensable to keeping law and order. But as constitutional tradition teaches us, our government remains one of laws and not of men, transcending who may be in charge of enforcing the laws at any given time. The work doesn't stop just because a key figure leaves the team. After Preet Bharara was fired, Manhattan federal prosecutors kept working and are even holding the president's and a close associate's feet to the fire. The same goes for the FBI and for Robert Mueller, the special counsel Schneiderman may have played a role in getting appointed. Even if he goes, his work will continue uninterrupted.
The same principle applies to the office Schneiderman led. As embodied in the spirit of that letter he and 19 of his colleagues signed, the rule of law, fragile as it is, will hold together whatever investigations, lawsuits, and legal maneuvers the attorney general's office may be managing. It's too early to tell if the office will live up to the hype of taking over whatever strands of the Russia investigation — or even into Trump's business dealings — that Mueller may not feel comfortable pursuing at the federal level. But the possibility is there. And Schneiderman's legalistic gambit to short-circuit the presidential pardon power is still on the table. Long after he's gone, this last-ditch effort to hold Trump accountable, brazen and opportunistic as it may be, could well become his defining feat if the New York legislature ever takes him up on it.