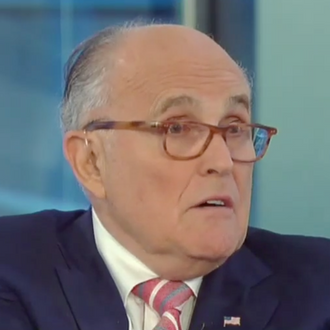 "Quiet Sean, I'm trying to tell you what's in the pee tape."
Two weeks ago, President Trump finally found a new attorney to lead the understaffed team handling his response to the Russia probe: his old friend Rudy Giuliani. Through public statements, apparent leaks, and the exit of White House lawyer Ty Cobb (who advocated for cooperation with Robert Mueller), the former New York mayor signaled that he was cleaning up Trump's legal team. From now on, they would be a unified force making aggressive, carefully calculated moves to undermine the special counsel.
Then in his very first TV interview as Trump's attorney, with Trump shadow adviser Sean Hannity no less, Giuliani contradicted the president's stories on potential obstruction of justice, the Stormy Daniels affair, and even his relationship with fixer Michael Cohen.
In response to Hannity's first softball — what's the status of the Russia investigation — Giuliani basically confirmed that he leaked Mueller's questions for Trump (which were actually composed by the president's attorneys) as part of an effort to paint the special counsel as unfairly biased. Then he offered up a brand-new explanation for why Trump fired FBI director James Comey:
He fired Comey because he would not, among other things, say that he was not a target of the investigation. He's entitled to that. Hillary Clinton got that, and he couldn't get that. So he fired him, and he said "I'm free of this guy" and he went on Lester Holt … [Trump] said I did it because I felt that I had to explain to the American people their president was not the target of the investigation. 
Many pundits were quick to note that firing Comey because he wouldn't say what Trump wanted about the Russia investigation sounds like the very definition of obstruction of justice. But Giuliani's statement is like an onion of legal errors. It also contradicts two of Trump's previous explanations for Comey's firing.
In Deputy Attorney General Rod Rosenstein's official justification for firing Comey, which Trump supported, he faulted him for publicly releasing "derogatory information" about Hillary Clinton regarding her private email server, though she was not charged. Later on Hannity, Giuliani said the problem was actually that Comey didn't go far enough: "Hillary, I know you're very disappointed you didn't win. But you're a criminal. Equal justice would mean you should go to jail."
Comey being fired because he wouldn't publicly clear Trump also contradicts the president's claim that he ousted him over the Russia probe in general. Moreover, Giuliani's description of the Lester Holt interview is factually incorrect. Trump said he fired Comey because he was thinking, "You know, this Russia thing with Trump and Russia is a made-up story." He said nothing in the NBC interview about his duty to let the American people know their president isn't a crook.
Giuliani was just getting started. Later in the interview he claimed that paying "some Stormy Daniels woman $130,000" would turn out to be "perfectly legal," not a violation of campaign finance law. "Sorry I'm giving you a fact now that you don't know. It's not campaign money. No campaign finance violation," he said.
"They funneled it through the law firm" Hannity interjected, offering Giuliani one last out, which he didn't take.
"Funneled it through a law firm, and then the president repaid it," Giuliani replied.
A month ago, Trump said "no" when asked if he knew anything about the Stormy Daniels payment. When pressed on why his lawyer gave her $130,000, Trump said, "You'll have to ask Michael Cohen. Michael is my attorney. You'll have to ask Michael."
Giuliani went on to offer details on how Trump reimbursed Cohen. He pointed to Cohen's hefty retainer, saying, "When I heard Cohen's retainer of $35,000, when he was doing no work for the president, I said that's how he's repaying it, with a little profit and a little margin for paying taxes for Michael."
That also bolstered the argument from federal prosecutors in Manhattan that much of what was seized in the Cohen raid is not protected by attorney-client privilege, as he was "in fact, performing little to no legal work."
When Hannity pointed out that Cohen said he acted without Trump's knowledge, Giuliani backtracked a bit, saying the president "didn't know about the specifics of it, as far as I know."
"But he did know about the general arrangement that Michael would take care of things like this. I take care of things like this for my clients," Giuliani said. "I don't burden them with every single thing that comes along. These are busy people."
It seems Giuliani thought that Trump reimbursing Cohen would clear him of alleged campaign finance violations, but he might have actually done the opposite. As the Washington Post explained, it's still not okay for Trump's campaign to take a massive, unreported loan:
By not reporting a loan from Cohen meant to aid the election of Donald Trump, the campaign would have violated the law. Had Cohen not been repaid, the violation was his own, as an agent of the campaign making a contribution to it of that size.
Giuliani's various gaffes were so bad that even other Fox News anchors had to acknowledge them. Fifteen minutes after Hannity ended, Laura Ingraham highlighted the inconsistencies in his statements.
"I love Rudy, but they better have an explanation for that. That's a problem," Ingraham said.
But about two hours after Giuliani made his remarks, the White House had yet to come up with anything.