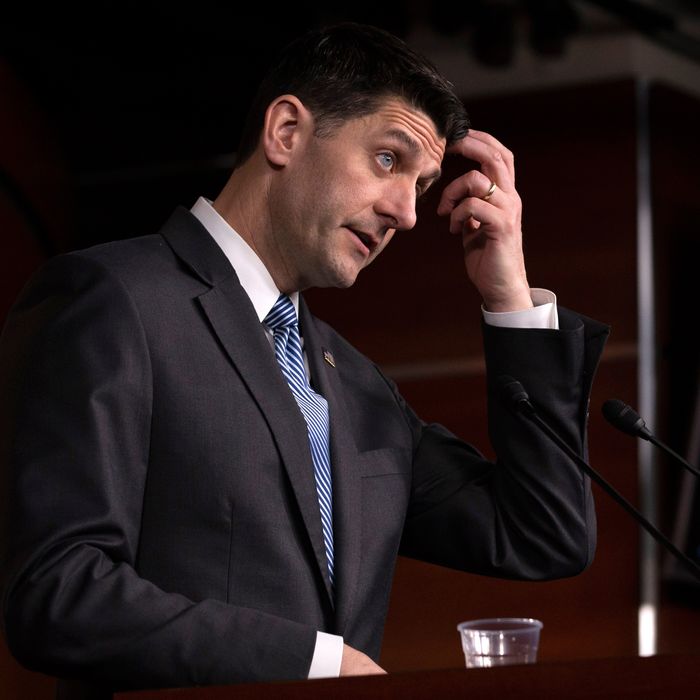 Retire, Paul.
Photo: Alex Edelman/Getty Images
Last September, Paul Ryan told Dreamers that they could "rest easy": Congress would take action to resolve the "serious humane issue" raised by President Trump's cancellation of Deferred Action for Early Childhood Arrivals (DACA).
Eight months later, Congress has done no such thing; former DACA recipients are already getting deported; and the speaker is scrambling to prevent moderate Republicans from forcing him to allow a vote on a bipartisan DREAM Act (which he knows would likely pass).
As a general rule, the leadership of the House's majority party gets to decide which legislation does and does not come up for a vote. This allows the Speaker and his allies to steer clear of issues that divide their caucus. But if 218 House members decide that leadership is blocking action on a matter of vital importance — despite the fact there is majority support for a bill to address the problem in the chamber — they can sign a discharge petition and force the leadership's hand.
This does not happen often, for a simple reason — the costs of getting on the wrong side of your party's leadership are quite high, and can include the loss of fundraising opportunities and committee chairmanships. But a number of Republican House members from districts with significant immigrant populations have decided that the costs of inaction on the Dreamer issue are even greater: Florida Republican Carlos Curbelo has convinced 19 of his GOP colleagues to sign his discharge petition, which would force votes on multiple pieces of immigration legislation, from the hard-right bill favored by Judiciary Committee chairman Bob Goodlatte, to "amnesty" proposals that only a small minority of Republicans support — but that would likely pass, nonetheless, on the strength of nearly unanimous Democratic backing.
Assuming all 193 Democrats support Curbelo's petition, he is just five Republican signatures short of wresting control of the immigration issue from Paul Ryan's hands.
The Speaker does not want that to happen. As the Washington Post reports:
House Republican leaders made a full-court press Wednesday to forestall a GOP immigration rebellion that they fear could derail their legislative agenda and throw their effort to hold the majority in doubt.




The effort began in a closed-door morning meeting where Majority Leader Kevin McCarthy (R-Calif.) warned that a freewheeling immigration debate could have sharp political consequences. It continued in the evening, when the leaders of a petition effort that would sidestep were summoned to a room with House Speaker Paul D. Ryan (R-Wis.), McCarthy and three other top leaders.




Their message, according to attendees, was that efforts were underway at the highest levels, including with the White House, to get immigration legislation on the House floor before the midterm elections.
The morning meeting appears to have had little effect. Curbelo collected two more signatures Wednesday from Republicans John Katko and David A. Trott. And it's hard to believe that anyone invested in the Dreamers issue would take Ryan's promises of a forthcoming, White House–approved bill seriously. The Trump administration had an opportunity to give its blessing to various bipartisan measures combining amnesty for Dreamers and border security pork. Instead, it insisted on holding the Dreamers hostage to sweeping cuts in legal immigration that few Republican officeholders support. When the Senate voted down four immigration bills in February, the president's proposal garnered the fewest votes of all.
And there is little sign that Trump was chastened by this experience. In a recent interview with NPR, White House chief of staff John Kelly insisted that relief for Dreamers must come in a bill that includes all "four pillars" of the president's immigration agenda, which include a fully funded border wall and massive cuts to legal immigration.
But Ryan might not need to show GOP moderates a politically viable, White House–backed immigration plan in order to kill their effort. Members of the House Freedom Caucus are imploring the Speaker to bring Goodlatte's bill to the floor — not because they think it can pass, but rather, because they believe doing so would nullify the discharge petition. Breitbart details their reasoning:
The discharge petition offers an amendment to a bigger immigration bill created by Rep. Bob Goodlatte and Rep. Mike McCaul, the chairmen of the House judiciary committee and the House homeland security committee.




The petition's status as an amendment means that it is sidelined if the House debates the Goodlatte bill[.]



House conservatives are threatening to withhold support from this week's farm bill unless Goodlatte's immigration package is brought to the floor.
For most of recent history, House leadership has walked all over its moderate members, while coddling its far-right firebrands. Last year, Paul Ryan forced his most vulnerable incumbents to vote for throwing millions of people off of health insurance and raising effective property taxes on a wide swath of their own voters. Now, as many of those moderates are looking ahead to brutal reelection fights — or else, near-certain electoral death — they're finally trying to coerce the Speaker into taking them seriously.
For now, though, they're still five signatures short of giving him a reason to do so — and Dreamers, a reason to rest a bit less uneasy.